---
Coleman Big Basin 15 Big and Tall Adult Sleeping Bag is a very comfortable synthetic rectangular hooded 3-season bag with a great temperature rating and price tag.
---
Key features & benefits
Rectangular bag.
Double-batt offset quilt construction.
Great hood design.
ZipPlow zipper design.
Temperature rating 15 F (-9 C).
Great price.
---
What this Coleman Big Basin 15 Bag is about
Coleman has several sleeping bags in this Big and Tall series, you can see this Coleman Heritage Bag as an example. They have even camping cots from this series. This Big Basin 15 bag is one of their evergreen products, it has been on the market for at least 15 years already.
They describe it as a hybrid rectangular/mummy bag, but this is a true rectangular bag with an added hood for extra comfort and heat preservation.
Materials & insulation
This is an all-synthetic sleeping bag with a durable ripstop-reinforced polyester shell and a fleece-lined footbox for extra warmth and comfort. The inner insulating material is what they call the Coletherm hollow polyester. So the bag is easy to maintain and to keep clean, and it is machine-washable.
They give the temperature limits shown in the picture below, but the official rating is 15 F (-9 C). This would make it a true 3-season bag. As usual, it is best to test it in controlled situations to be sure, such ratings are always an average value, but we as users are all different.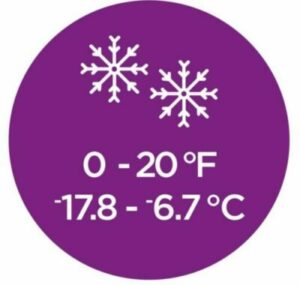 Note that the bag is very large so this itself reduces a bit its thermal efficiency because your body produces heat that will disperse in a larger volume. But I already mentioned its nicely designed hood which is adjustable to prevent heat loss, you can close it as the picture shows: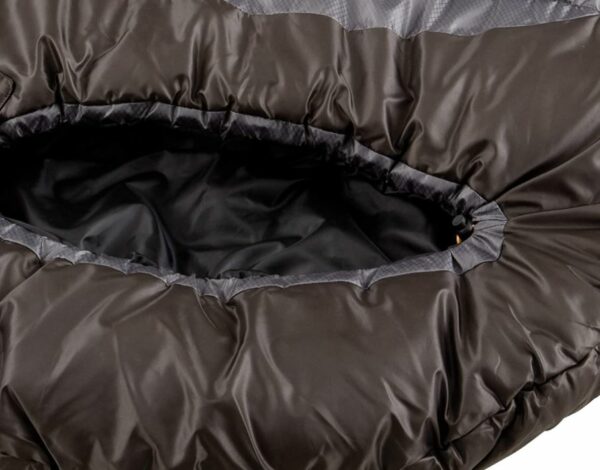 They have also applied a double-batt, offset quilt construction which is supposed to eliminate potential cold spots. A Thermolock draft tube is added to prevent heat from escaping through the zipper, see the picture below.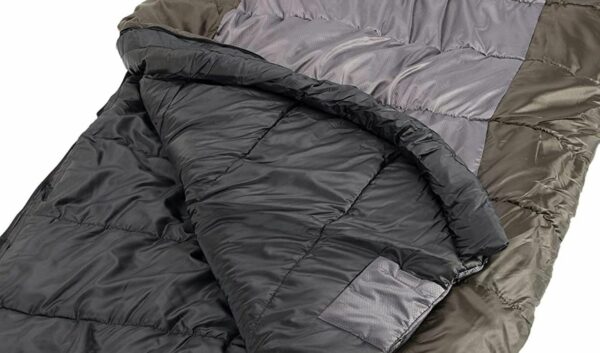 With such a draft tube snagging can happen, so to avoid this they have added what they call the ZipPlow shown in the picture below, a zipper guide that pushes fabric away from the zipper's teeth. The zipper is a two-way type for custom ventilation.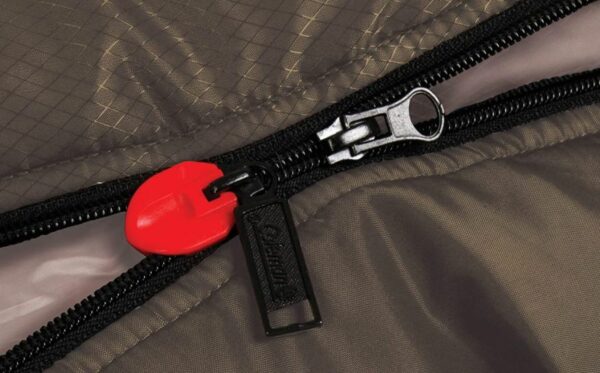 ---
Who is it for
Regarding the weight and packed size, the bag is heavy and a bit bulky, it weighs 7.98 lb (3.6 kg) and the packed size is 15 x 10.25 x 10.25 inches (38 x 26 x 26 cm). So this is not something to carry in the backpack, accept it as a good car camping pad and you will have a great outdoor sleeping item.
Regarding seasons, I already mentioned above, with such features and in view of its declared temperature rating, this is a bag for a 3-season use. Because of the hood, I would rather use this bag for cold weather camping than their Heritage Big and Tall Sleeping Bag which is officially with a better temperature rating.
Regarding the dimensions, you have seen its name so indeed the bag is large, it measures 92 x 39 inches (233 x 99 cm), and they build it in one size only. Officially it is for people up to 6 ft 6 in (198 cm) tall. Because of this width, I have included it in my list of extra wide sleeping bags for adults.
Regarding the price, this is an incredibly affordable sleeping bag. No doubt this is one of the reasons for its enormous popularity and its long presence on the market.

---
Specifications
Weight: 7.98 lb (3.6 kg).
Dimensions: 92 x 39 in (233 x 99 cm).
Temperature rating: 15 F (-9 C).
Packed size: 15 x 10.25 x 10.25 in (38 x 26 x 26 cm).
Insulation: synthetic.
---
Final thoughts, rating, pros & cons
So this Coleman Big Basin 15 Big and Tall Adult Sleeping Bag has a bit complicated name, but this is a nicely built and easy to use and to maintain bag, machine washable and very reliable.
In its more than 15 years on the market, only on Amazon the bag has collected more than a thousand of reports by users, so all is known about it. The price is simply incredble. Fully recommended. I have included it in my list of best 3 season sleeping bags and best car camping sleeping bags.
Please see below how I rate this sleeping bag, the same criteria are used for all of them here in the site so you can easily compare:
If you need more options, please check in my list Coleman Sleeping Bags for Adults. Bookmark this site and visit again, this will keep you informed because we add texts here regularly. Thank you for reading and have a nice day.