---
The Sea to Summit Amplitude Down 5F Sleeping Bag is hooded, EN tested, 3-season-plus, RDS certified, with quality YKK zippers and unique features.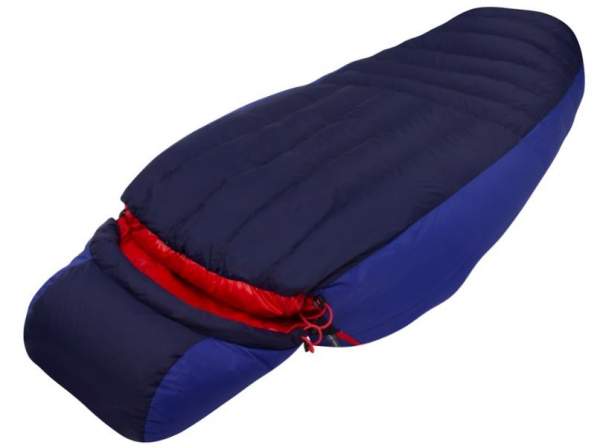 ---
Key features & benefits
Down 750+ fill.
RDS certified.
EN tested.
Lifetime guarantee.
YKK zippers.
Unique design.
Compression bag included.
---
What this is about
I would start with 5F in the name, so this is about the temperature rating. But they have the same bag also as a 25F version. However, each of these has two separate sub-sizes regular (R), long (L), and the 5F version also comes as a double (D).
You will see sometimes notation AmpII and AmpIII, these II and III describe the 25F and 5F versions, respectively, and Amp just comes from the word Amplitude.
So now you realize this is a complete series of 5 sleeping bags. I shall focus on the 5F option here. All three of its sizes are shown in the picture below with some numbers.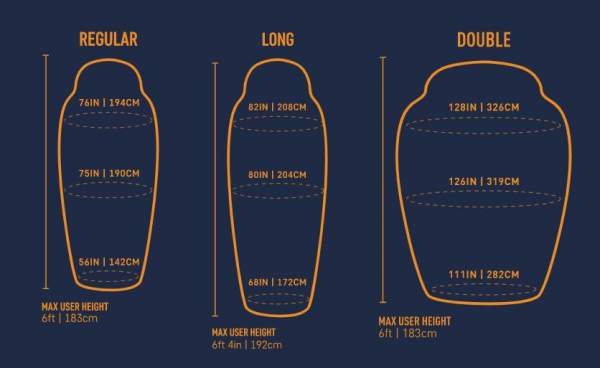 Zippers
There are 3 zippers in total, two on the sides and one on the footbox. These are YKK #5 quality zips from the best known Japanese brand. The pictures below show some of the unzipping options for the two side zippers.
The footbox zipper can be open independently when you need extra ventilation. Note also that you can zip two or more of such bags side by side.
Insulation & materials
The insulation here is their top-quality water-resistant and treated ULTRA-DRY Down 750+ Loft, 90% down cluster premium duck down. It comes certified by Responsible Down Standard (RDS). 
As for the shell fabric, at Sea to Summit site they write this is a 30D nylon, but at REI there is 20D nylon statement. Not sure why the difference, but in any case this is a thin yet strong material. At REI, they write that the bag is EN tested.
You have baffles over the chest to prevent down shift as you roll over in your sleep. The picture below shows its excellent hood with draw-cords.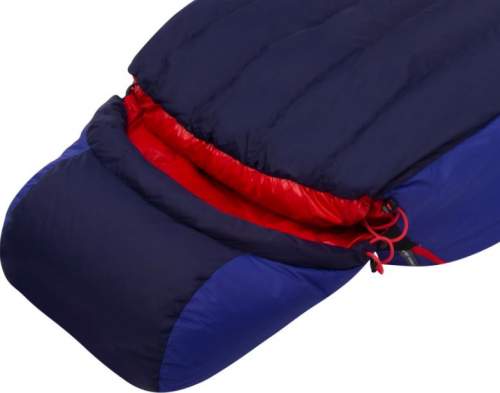 All versions, except the double, include an internal zipper pocket shown below. You also get a lightweight Ultra-Sil compression bag and a storage cube.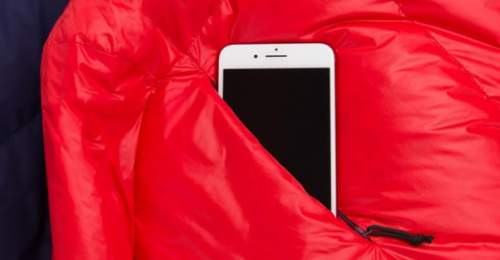 You have realized from the pictures that the bag is a mummy type but with a generous size. Yet another detail is that the zippers are very close to the bottom. There are other sleeping bags with such a design, and from what I know the logic of this is that the warm air tends to go higher inside the bag, so with such a low positioned zippers there is less chance for this air to escape. This should increase its thermal efficiency.
---
Who is the Sea to Summit Amplitude Down 5F Sleeping Bag for
Regarding seasons & climate, the manufacturer describes it as a 3.5-season bag. They claim that the comfort range is 5 to 60°F (-15 to 16 C). I mentioned its EN testing, but no matter which testing you have, this is just a guideline to help you compare products. It cannot be used as a guarantee of warmth, we all have a different feeling of cold and warmth.
You have seen its zippers that allow for various venting options. Its hood and all other details show that you can close it fully and avoid cold drafts. So this statement from the brand sounds realistic. They recommend using this sleeping bag with a greater than 3.5 R-Value sleeping mat. You can see some nice options in my list of best cold weather sleeping pads.
Regarding the size, you have seen already the three options above. So here just to stress that the R size is for users of up to 6 ft (183 cm) and the L option is for users of up to 6 ft 4 in (192 cm).
Regarding the weight, they describe it as a car camping sleeping bag. So for example the R version of the 5F bag weighs 3 lb 1.2 oz (1395 g).
You can compare this with 2 lb 7 oz (1.11 kg) of the Big Agnes Orno UL 0 Degree bag or with 2 lb 11 oz (1.22 kg) of the NEMO Disco 15 Sleeping Bag. So it is a bit heavier than these two but this is still very reasonable for its temperature rating.
The packed size you can understand best from the picture below. The official compressed volume for the R version is 10.4 liters. The L version compresses to 12.3 liters.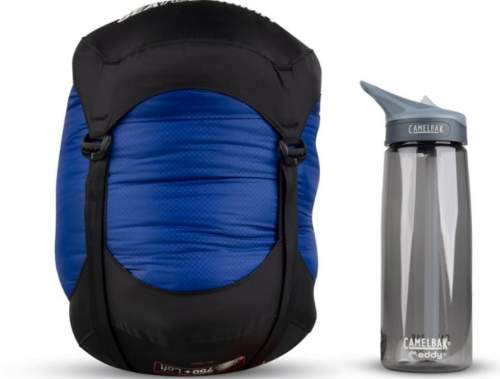 Regarding the price, this is a high quality outdoor product from a renown brand, and this is reflected in the price which is quite steep. You will have links below to compare some options.
---
Specifications
Type: relaxed mummy style sleeping bag.
Weight:
– R: 3 lb 1.2 oz (1395 g).
– L: 3 lb 8.3 oz (1595 g).
Girth shoulders/hips/feet:
– R: 76/75/56 in (194/190/142 cm).
– L: 82/80/68 in (208/204/172 cm).
Temperature rating: 5 F (-15 C).
Stuff sack size (L x D) for R bag: 18 x 8 in (46 x 20 cm).
Compressed volume R bag: 10.4 liters.
Stuff sack volume R bag: 14 liters.
Gender: unisex.
---
Final thoughts & rating
In summary, this Sea to Summit Amplitude Down 5F Sleeping Bag is a typical product of this top brand. This means high quality materials, unique design elements, plenty of sizes and temperature ratings to choose from, but also a steep price.
This is a great sleeping bag if you can afford it. Fully recommended. I have included it in my list of best 3 season sleeping bags and best car camping sleeping bags.
Below you can see how I rate this sleeping bag against my usual rating criteria so that you can easily compare it with other items of this type:
BEST PLACEs TO BUY

For more options, please check under the category Sleeping Bags. Bookmark this site and come again, this will keep you informed because I add texts here regularly. Let me know if you have questions or comments, there is a comment box below. Have a nice day.