---
Here you have my list of 14 best day hiking backpacks for women in 2019, all top-notch products from renown brands, very reliable packs with great features.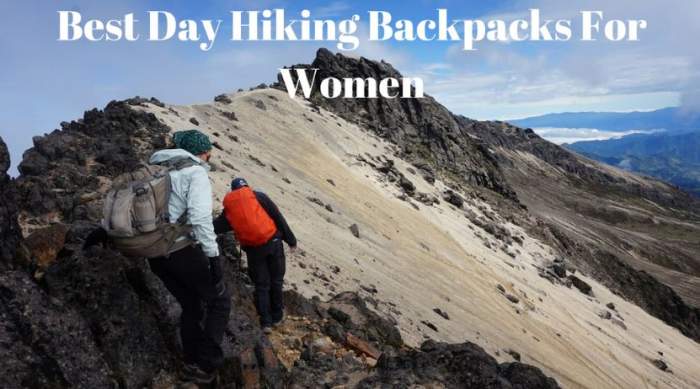 ---
My list of the best day hike backpacks for women
Here is my list, the backpacks are ordered alphabetically so the numbers are not ranking:
I give these packs with short descriptions only, but all of them are presented in detail in my full separate reviews so please follow the links to read more.
What is included
You realize from the names of the packs that the capacity is in a wide range, from 14 to 45 liters. Day tours may imply a variety of activities and in very different climates and environments, so you need appropriate tools.
Some of the packs are with an internal frame and those you need if you plan to carry a bit more load. Some are without any frame and this is again fine for their size and purpose.
Some of the packs are with adjustable torso size and some are without this feature. So I point out this most of the time as it may be of importance to you.
Having a rain cover is always important for my tours in the Alps, but this may not be essential for you. So I indicate this for each of them.
You will notice that some packs come with a bonus reservoir. This adds value and functionality but it also increases the price.
---
1. CamelBak Sequoia 22 Pack For Women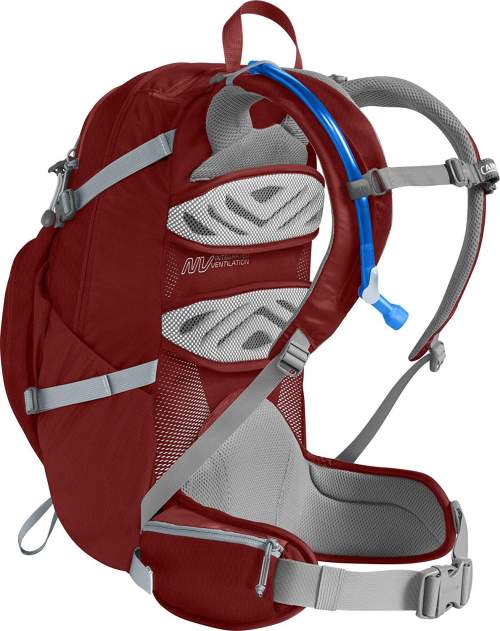 This great pack is worth the money itself, but it comes with a bonus 3-liter reservoir. In addition to this, the reservoir has its own external insulated compartment so you do not have to mess with other stuff when you refill it. As you see from the picture, the pack comes with a nice back panel padding and ventilation design, and the construction is very durable.
The pack is a panel-loading type so it looks like a normal commuting pack and you can indeed use it for that purpose as well, just remove the reservoir and use the space for a laptop. There is no torso adjustment here. You have many pockets and attachment elements so the pack can accommodate much more than what you might expect from its official capacity. Note that there is no rain cover, and the weight is 1 kg (2 lb 3 oz).

---
2. CamelBak Sundowner LR 22 Hydration Pack For Women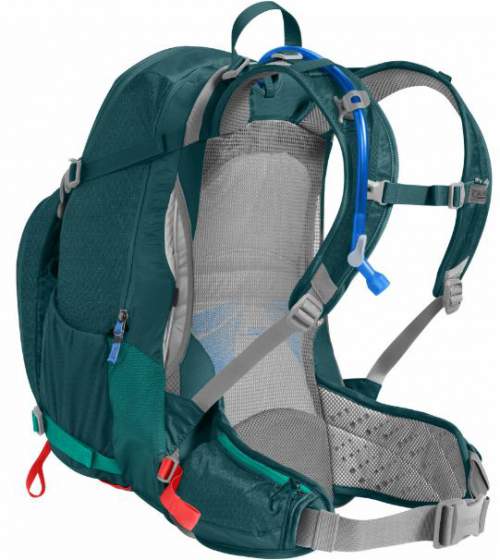 This pack comes with a bonus Crux lumbar 3-liter reservoir and you also have a Quick Link system for the water hose and the magnetic tube trap. This all is in a separate reservoir compartment so this is really a user-friendly design.
What I also like here is its trampoline-style back panel which you see in the picture. So if ventilation is important for you, this is the design to consider, there can be nothing better. I use such packs all the time and this has been so in the past two decades.
If you like pockets, you have them many here, so staying organized with such a pack is easy. But the pack is without rain cover and the torso length is not adjustable. The pack weighs 1.2 kg (2 lb 10 oz). Please follow the link for more details.

---
3. Deuter Aircontact 35 + 10 SL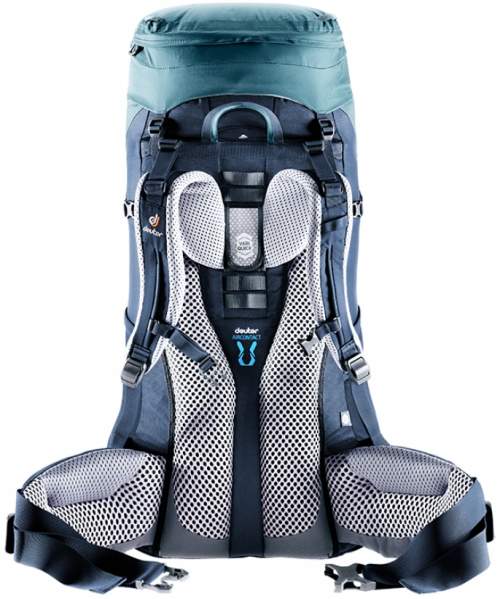 This pack is from a brand new series they launched in 2018 and it is the smallest in the series. The number 10 implies that you have an extra 10 liters of volume with an expandable collar. The lid is a floating type to adjust for such an extension. The letters SL mean slim-line which they use to describe models for women or for people with a smaller constitution in general.
The pack is a top-loading type but it also comes with a bottom compartment and a zippered divider which you can open if you want to use the whole space as one compartment. The harness is adjustable here so you can be sure you will have a perfect fit. As you realize from the picture, the padding is really generous throughout the suspension elements. There is no rain cover here, and the weight is 3.48 lb (1580 g). The pack is with an aluminum frame.
---
4. Deuter Futura 28 SL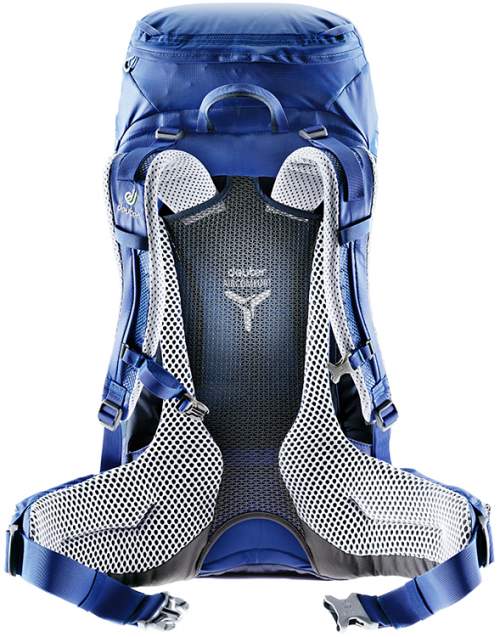 Here you have a real gem among the daypacks for women. This is the latest 2018 version, they have completely modified the celebrated Futura series and the result is shown in the picture above.
So what you see is the tensioned trampoline-style mesh back system at its best. Note that this design was invented by Deuter and used for the first time even in exactly this Futura series as far back as in 1985.
So you have the best ventilation here and the hip belt padding is simply excellent, the transition from the back mesh to the hip belt is completely smooth.
The pack comes with a bonus rain cover in the bottom pocket, and you also have a bottom compartment, who would say for such a small pack. This pack has a spring steel frame that gives tension to the mesh. Note that the torso length is fixed here. The weight is 3.13 lb (1420 g) and they build it in 3 different colors.

---
5. Deuter Speed Lite 22 SL backpack for women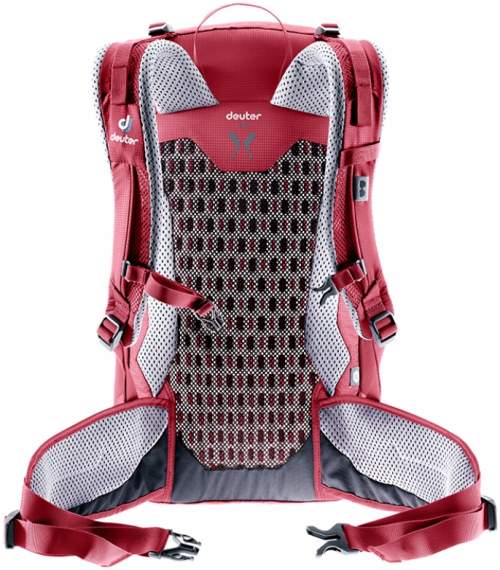 This is a daypack which belongs to the category of ultra-lightweight packs, it weighs 1.5 lb (680 g) and its volume is 22 liters. So this gives the Volume/Weight ratio of 32 liters/kg. This is a high number in view of the fact that the pack has a frame. Namely, you have a tensioned Delrin U-frame which is behind the honeycombed back panel visible in the picture above. The harness is fixed here.
The pack is a panel-loading type and it has 6 pockets and a remarkable number of attachment elements and straps. So you have dual straps on the sides and they are connectable on the front of the pack so you can use them to attach skis. There are also dual daisy chains on the front, dual attachment loops for trekking poles or axes and paired with dual bungee tie-offs, plus a convenient sunglass attachment system on the shoulder strap. Please follow the link for more.

---
6. Deuter Speed Lite 30 SL Women's Day Pack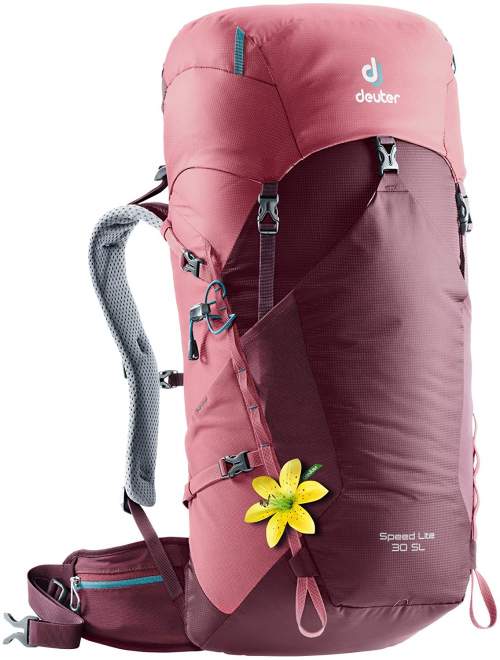 This pack is from the same Speed Lite series as the other Deuter's pack above but it is bigger, the design is quite different and it has more features. So this is a top loading pack with a classic lid and collar. This also includes two extra lid pockets. Here again you have a somewhat minimalist design and the pack weighs only 1.89 lb (860 g). This implies that the volume/weight ratio is 35 liters/kg which is a quite high value for this size range.
You have 7 pockets in total and numerous attachment elements which include two daisy chains on the front and the convertible dual side straps that you can pass over the front and in this way attach skis or a snowboard. Note that the hip belt is wide but without padding yet the carrying capacity of this pack is 25 lb (11.3 kg).

---
7. Gregory Jade 28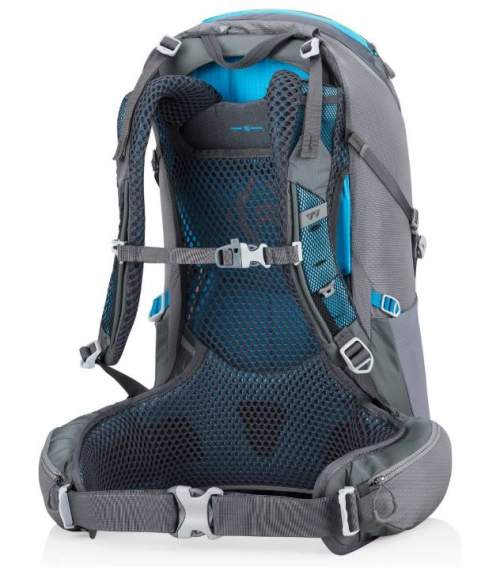 This Jade 28 is the version 2019, a panel loading pack built in two sizes. It comes with a bonus rain cover included. The pack is with an adjustable torso length and the length range is different for the two sizes.
The suspension is what they call the FreeFloat dynamic suspension with a trampoline type back panel that completely separates the pack from the body. This means that you have excellent ventilation here. The suspension is supported by a flexible 4 mm spring steel peripheral frame.
The pack is lightweight with its 2 lb 9 oz (1.16 kg), and the price is reasonable in view of the rain cover included. Please follow the link to read more.

---
8. Gregory Juno 25 Hydration Pack For Women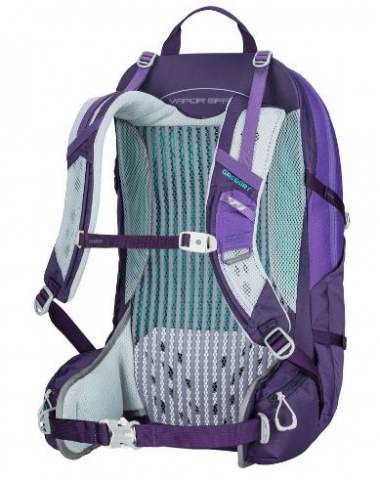 This Juno 25 pack is from a women-specific series and the corresponding pack for men is the Citro 25. The Juno includes also a 20-liters pack, just to know if you need a smaller pack. These are packs with some great features, and you also have a bonus reservoir included. You also have an external compartment for the reservoir.
This pack has a strong steel frame and a great suspension in general, but it is still a lightweight design; it weighs only 2.4 lb (1.09 kg). The harness is not adjustable and the pack comes without rain cover.
This is a panel-loading type with a long zipper on the top. You have 7 pockets in total and the pack is with dual compression straps on each side and dual trekking poles attachment loops, plus a Quick Stove system for glasses.

---
9. Gregory Maven 35 pack for women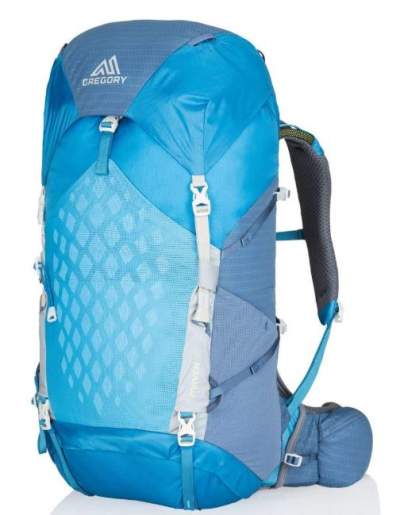 I would dare to say that Maven (and the corresponding Paragon packs for men) is one of the best packs that Gregory has built so far. This is a big series which includes several packs, so you also have the Maven 45, Maven 55, and Maven 65.
The Maven 35 comes with a rain cover included and the harness is adjustable. You have what they call an Aerolon suspension which is lightweight and breathable but with a metal frame.
There are 7 pockets and all attachment elements which you may expect from such a pack. It has also the quick-stow feature on the shoulder strap for attaching glasses on the go. Note that it also has a bottom access. It is built in two sizes 33 and 35 liters, and the weight for the bigger version is 1.33 kg (2 lb 15 oz).

---
10. Gregory Swift 25 pack for women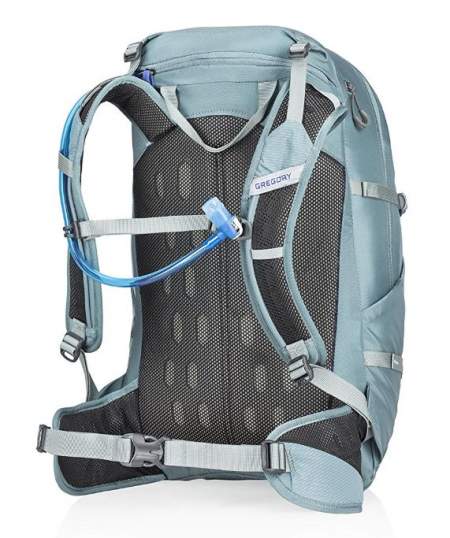 The Swift series is a new one which Gregory launched in 2018. The corresponding packs for men are under the name Inertia. So the pack which I give here is just a representative of the series, all of them are daypacks, and you have 20, 25, and 30 liters.
This pack looks very similar to their Juno series, so if you are puzzled what the main difference is here it is – these packs have no metal frame. As you may guess, this also implies its main feature – this is an ultra-lightweight pack that weighs only 1.54 lb (0.7 kg). So if the weight is your major concern, this is definitely a pack to consider.
The pack still has a suspended mesh for ventilation. Note also that it comes with a bonus reservoir. It has 4 pockets, and the attachment loops for poles are also available. Dual compression straps are on each side, plus some webbing loops on the top, so you can carry lots of stuff outside.

---
11. Kelty Zyp 28 Pack for Women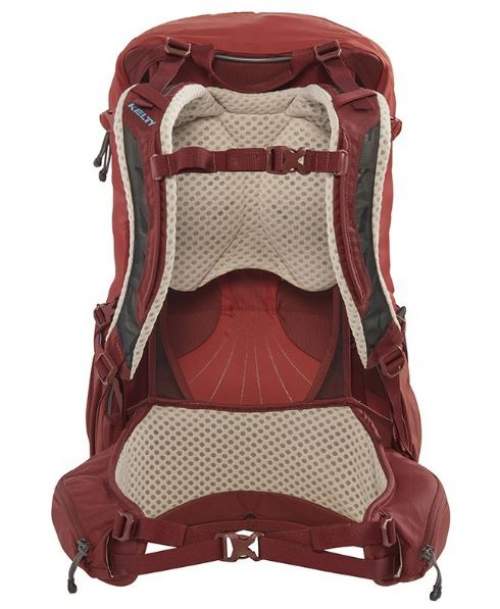 I have decided to show you the back panel of this Zyp 28 pack in the picture above because this is indeed its best part. So what you have here is a completely new pack from Kelty's new 2019 series and the picture above shows its adjustable shoulder harness. They call it PerfectFit system and the name is appropriate. You adjust the harness with the pack on your back, so you have the best possible way to find the ideal position for the harness.
The pack has a steel frame that gives tension to the mesh which is almost invisible in the picture above. So you have a perfect ventilation and air flow in all directions.
Note that there is no rain cover here and this is my main objection to this pack. The weight is 2 lb 13 oz (1.275 kg) and the capacity is 1708 in³ (28 L). Please follow the link for more.

---
12. Osprey Mira AG 34 pack for women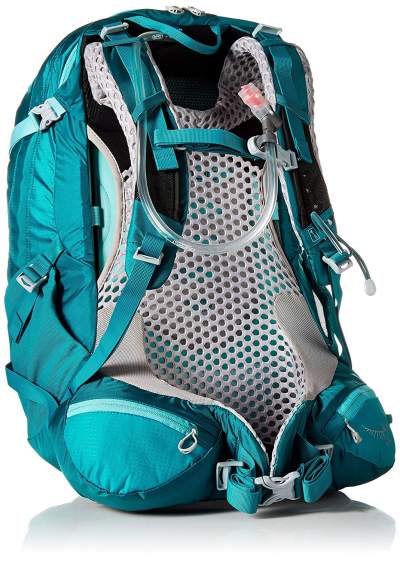 This Mira AG 34 is a part of the Mira & Manta series. These are two famous series by Osprey, for women and men. So again, this pack is just a representative of a series, and if you need something smaller check this Mira AG 26 and Mira AG 18 packs.
If you are not familiar with it, the letters AG mean anti-gravity, and this implies a continuous tensioned mesh which covers all the back and the hip belt. It becomes even more tensioned when you spread the hip fins and put the pack on the back. So this is an excellent option if you need a ventilated pack, quite comparable to the Deuter Futura design.
They build it in two sizes, 32 and 34 liters and the weight of the larger pack is 2.78 lb (1.26 kg). The pack comes with a bonus hydration reservoir and you also have a rain cover included. The harness length is not adjustable. You have 8 pockets plus a bottom pocket where the rain cover is stored.

---
13. Osprey Raven 14 pack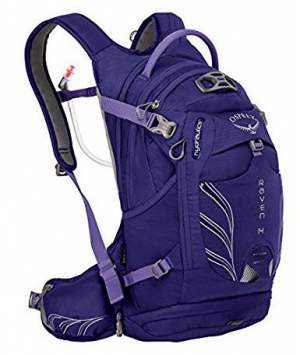 The Raven 14 is from the Raven & Raptor series by Osprey. Those are small daypacks with many features that make them suitable for mountain bikers. It comes with a 3-liter Hydraulics reservoir included and you store it in its own separate external sleeve behind the harness. It also comes with a unique shoulder strap zippered sleeve for the water hose.
The suspension is without a metal frame, this is normal in view of its size, but you have a mesh that covers the back so ventilation is good. On the bottom, you have a separate compartment where you have a Roll-out ToolWrap for bike gear. The pack comes with plenty of pockets, you have them two on the hip belt as well. The weight is 1.54 lb (0.7 kg).
As I said, this is a representative of the series, so they also have a smaller 10-liter version. Please follow the link for more.

---
14. Osprey Sirrus 24 pack for women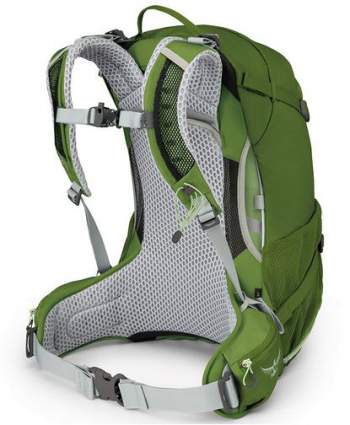 The Sirrus 24 is again a pack from a big series, and they also have the corresponding Stratos series for men. So if you need something bigger, just to know that you also have the Sirrus 36 and Sirrus 50.
This is a great series by Osprey and the latest version of these packs have the tensioned mesh which is very similar to the Osprey's AG packs, you can see it in the picture above.
This pack is without an adjustable harness but they build it in two sizes so you can choose. Note that you have adjustability in the largest packs in the series. It comes with a bonus rain cover and plenty of features. I do not think it is much behind their other celebrated series like Ariel and Aura.
This is a very lightweight pack which weighs only 2 lbs 5 oz (1.05 kg) but you still have an aluminum frame here. You have 6 pockets and plenty of straps and attachment elements.

---
How to choose
Obviously, these all packs are very different and you can have different priorities, and there can be no one which could be declared as the best daypack for every parameter. So here I give some possible features and the most appropriate packs for each of them, this might help you in making an informed choice:
Best Harness Adjustability
Deuter Aircontact
35 + 10

According to this, the Deuter Aircontact 35 + 10 has collected more points than other packs, and the Osprey Mira AG 34 and Deuter Futura 28 SL are in the second and third place. So what do you think? Is there a pack that is missing and you think it should be added? Please let us know.
Thank you for reading. It will be great to hear your opinion so use the comment box below and let me know. This list will be updated with new models so stay tuned. Have a nice day.
---