This Gregory Jade 28 review is about the new pack version with a highly breathable and ventilated adjustable women's specific suspension system, with a rain cover and a reasonable price.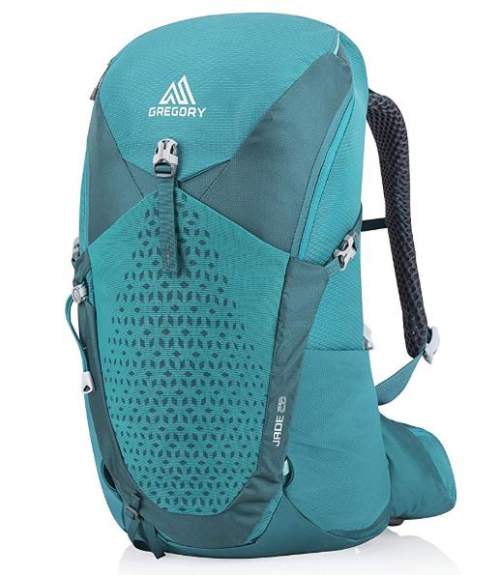 ---
Key features
Panel loading pack.
OpenAir ventilated back panel.
Built in two sizes.
Rain cover included.
Adjustable torso length.
Lightweight.
Women-specific harness and hip belt fit.
Reasonable price.
---
So what this Jade 28 is about
This pack has been on the market for a number of years, and this what you have here is its 2019 version. This is a series with 5 packs in total and this 28-liter is the smallest. They are different in the design, you can realize this if you compare this smallest with the Jade 58 pack presented in my other text.
You might want to know that they build a separate Zulu series for men with the same features. When the new version appeared, I wrote about this in my separate text.
So Jade 28 is a panel loading pack (picture below) and this means that you have a long inverted-U shaped zipper which opens the pack from the top to about 2/3 of its length. This allows you to access your gear easily.
This is a daypack but they designed it to handle lots of weight for such a use. This is what defines its place on the market and separates it from the crowd. So this relatively small pack will allow you to carry up to 35 lb (16 kg) of weight.
They build it in two sizes extra-small/small (XS/S) and small/medium (S/M), and this implies 26 and 28 liters of volume. This also means two torso sizes, 14 – 17 inches, and 15 – 19 inches. But in addition to it, the torso length is adjustable so you can definitely find your best fit.
The pack is hydration compatible, there is a sleeve in the main compartment for a water bladder, and the hose can be routed along any of the shoulder straps. The pack comes with a rain cover (shown below) stored in a dedicated pocket located on the underside of the top lid.
---
Features
The suspension
Here you have what they call FreeFloat dynamic suspension with a trampoline type back panel which completely separates the pack from the body. So you have excellent ventilation suitable for a warm climate and if you are sweating a lot in general.
This is supported by a flexible 4 mm spring steel peripheral frame which is partly visible from outside. There is also a fiberglass anti-barreling stay for some extra stability and rigidity in the case of a heavy load, plus a lightweight HDPE frame sheet. So this is quite a lot of stuff behind the harness, who would say for such a small pack. For such a strong construction this is a lightweight pack, it weighs only 2.56 lb (1.16 kg).
The shoulder harness slides up and down so it is fully adjustable. There are Velcro tabs that keep it in place behind the structure. There are markers to guide you when you want to reposition it, one is visible in the picture below. The pack is with an adjustable sternum strap equipped with an emergency whistle, and load lifters are in place as well.
The EVA foam cushion on the hip belt and shoulder harness is very pleasant and breathable, covered with a nice mesh. If you are familiar with the previous version of the Zulu-Jade packs, then here in the hip belt and lumbar padding is the biggest change, this part is totally redesigned, see the picture.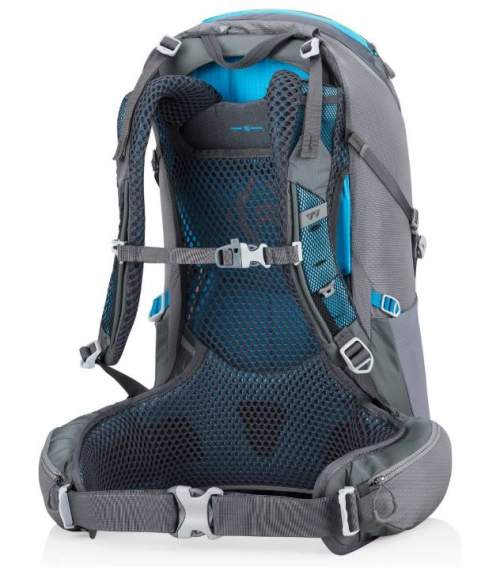 Pockets
One zippered pocket is on the top.
One zippered pocket is inside underneath the panel.
Large stretchy pocket with a buckle is on the front.
Two stretchy pockets are on the sides.
Two quite large zippered pockets are on the hip belt, see the picture.
Attachment points & straps
QuickStow attachment loop for sunglasses is on the left shoulder strap, picture above.
Dual side straps on each side. The lower are with inside/out feature to pass them through the side pockets or over them.
The tool loop is on the left bottom side, and it is paired with a bungee higher on the pack. This is suitable for hiking poles.
Other features
Extra durable material is on the corners of the frame.
Reinforced bottom with a double layer of fabric.
Please see more in this short video which presents three smaller packs in the Jade series, 28, 33, and 38 liters:
---
Specifications
Type: day hiking pack.
Two sizes: XS/S & S/M.
Weight: 2 lb 9 oz (1.16 kg).
Volume:
– XS/S: 1587 in³ (26 l).
– S/M: 1709 in³ (28 l).
Weight capacity: 35 lb (16 kg).
Torso fit:
– XS/S: 14 – 17 in (36 – 43 cm).
– S/M: 15 – 19 in (38 – 48 cm).

Dimensions:
– XS/S: 20.5 x 12.25 x 10 in (52 x 31 x 25 cm).
– SM: 21.5 x 12.25 x 10 in (55 x 31 x 25 cm).

Waist/Hips fit:
– XS/S: 26 – 45 in (66 – 114 cm).
– S/M: 27 – 46 in (69 – 117 cm).
Materials:
– Body: 210D honeycomb crypto rip HD nylon and 210D high tenacity nylon.
– Bottom: 420D high-density nylon and 135D high-density polyester.
– Lining: 135D high density embossed polyester.
– Comfort Grip molded zipper pullers.
Warranty: limited lifetime.
---
Gregory Jade 28 pack for women vs Competitors
Here is an interesting comparison, this Jade 28 side by side with two other women-specific packs and all of them with great and ventilated back panels.
The Deuter Futura 28 SL is the only pack here with a zippered bottom compartment, so this is an extra benefit and also extra weight. The Kelty Zyp 28 is from a completely new series they launched recently, a beautifully designed pack but without the rain cover.
If you would have to choose one of them this would be a hard task indeed, those are all great packs. Please follow the links to see more.
---
Final thoughts, rating, pros & cons
So this new version of the Gregory Jade 28 pack for women is indeed improved. The pack is tested by women for a perfect fit, and no doubt you will realize this. I would love to see bottom straps, but you might have noticed that they are missing in all three packs in the comparison table above. The rain cover adds value. Fully recommended.
Note that I have included this pack in my list of best daypacks for women.
The price is high but there is the rain cover included, if you would order it separately this would cost around $30, you can check this here. So in view of this, I would say this is a fair price for such a top-class pack from such a renown brand. Please see how I rate it against the usual set of criteria used for all the packs here in the site:
If this pack is small for you, check the Gregory Jade 38 for women from the same series.
I wish to stress that this is not a paid or sponsored post, and I have no business relationship with the brand. What do you think? Do you also think that the new version is an improvement? Please share your thoughts, the comment box below is for that purpose.