---
The Gregory Jade 38 Pack for Women is a feature-rich backpack with a ventilated back panel, adjustable torso length, two access points, a rain cover, and much more.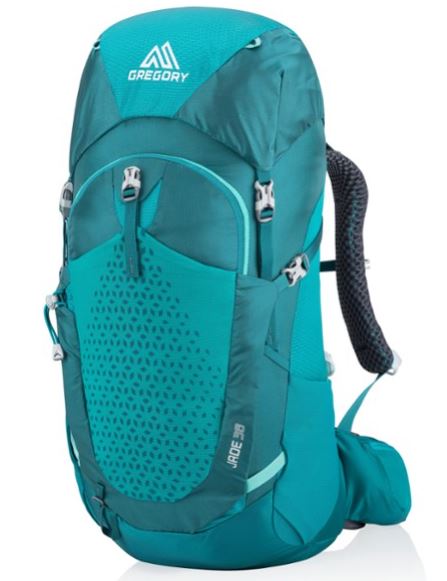 ---
Key features & benefits
Pack for women.
Two sub-sizes.
Top access under the lid.
U-shaped front access.
Rain cover.
Adjustable torso length.
Free Float hip belt system.
Ventilated back panel.
---
What this Gregory Jade 38 backpack for women is about
The Gregory Jade series includes several packs, and this one is in the middle of the series that includes also Jade 28, Jade 33, Jade 53, and Jade 63 packs. They may look similar but there are some important differences.
Note that this series has been around for at least 12 years already, so there are other sizes available as well, but those are from the previous versions. The series has been updated a few times in the past. There are even the same sizes on the market that are different. The version shown in the picture above is the last one.
These packs are also on the market under the name Gregory Mountain Products Jade packs. For example, you can see this pack on Amazon under the name Gregory Mountain Products Jade 38 Backpacking Backpack.
This is a gender specific series for women; they build a separate series for men under the name Zulu packs. It implies a 3D comfort cradle hip belt with a 3D construction for hotspot free, body-hugging comfort, and a women's specific die-cut shoulder harness.
You have seen how many packs there are in the series, but in fact there are more because you have two sub-sizes for each of the packs mentioned above. This means that there is a Jade 35 and a Jade 38 packs, you will see the numbers below, and they are under the same nominal name as Jade 38.
Access points
This was about the series, now back more to this particular pack. So you have a top loading pack with a lid and a collar underneath it. But there is also a large inverted-U shaped front zippered access.
This is why there is no bottom compartment. Frankly, for such a medium sized pack, the front access with its zipper only adds a bit of weight, I do not think it is really necessary but this is an extra feature so you have it in any case.
Once you get into the main compartment, you have a large space and the only subsection inside is an inner hydration sleeve. Note also that the pack comes with a rain cover included.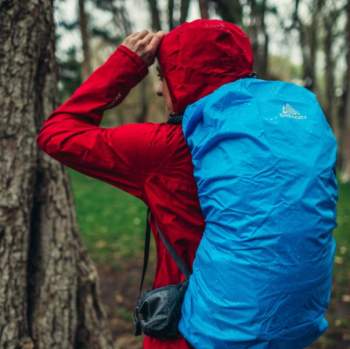 The pack is hydration compatible with its inner sleeve equipped with a SpeedClip hydration hangar. This is compatible with Gregory's 3D Hydro reservoir (not included).
Suspension system
The suspension is based on a perimeter frame. You have an adjustable torso length and the ranges are given in the specifications below. This is convenient because several family members can use the same pack and have a perfect fit.
You have a tensioned open-air back panel shown in the picture below. I see it described as 'revolutionary' but this system has been around for decades, introduced by Deuter in their Futura packs. I have been using a Deuter Futura for several decades already. So yes, if you need a ventilated pack, this is it.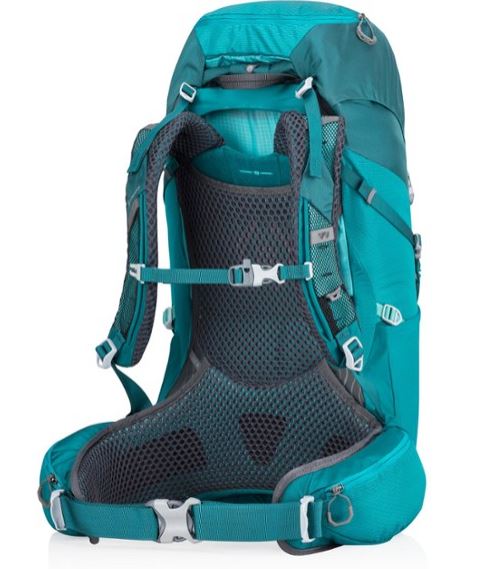 Note that ventilation features are also in the hip belt because the tensioned mesh continues smoothly all the way down to lumbar area and the hip belt. This is something you do not have in the mentioned Deuter design.
What you do not see is their proprietary Free Float flex design. It allows the hip belt to pivot and flex with the natural movements of your body. This reduces fatigue and the belt wraps smoothly and comfortably around you lower back and hips.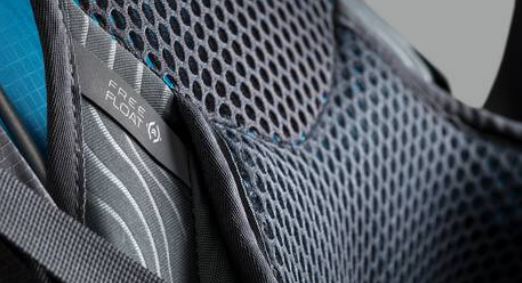 The pack has the usual load lifter straps and a sliding type adjustable sternum strap equipped with a whistle.
Pockets and other details
You have a full set of pockets and they include:
Dual side stretch mesh pockets, see one below.
Dual zippered hip belt pockets, one also shown below.
One top lid zippered pocket.
One zippered pocket is underneath the lid.
One large front pocket equipped with a buckle.
The mentioned rain cover comes in its own dedicated pocket.
Attachments and straps include the following:
Quickstow system on shoulder harness for sunglasses, the picture below.
You also have a trekking poles attachment system.
The pack has dual upper and lower compression straps on both sides.
There are webbing attachment loops on the lid as well.
The materials
The frame is a 4 mm diameter spring steel combined with a fiberglass anti-barreling stay. This is what gives tension to the back panel mesh.
The fabric is a 210D Honeycomb Cryptorip HD nylon and a 210D High Tenacity nylon. The bottom is a 420D High Density nylon and a 135D High Density polyester. The lining is a 135D High Density embossed polyester, and the padding is a dual-density LifeSpan EVA foam.
Please see more in this short video:
---
Who is it for
I already mentioned its gender-specific design, so this is a women's pack.
Regarding the volume, as mentioned above there are two sub-sizes, so the pack is large enough for long day tours and for overnight if you go light. The pack is also nicely suited for overnight hut tours where you do not have to carry sleeping equipment. 
Regarding the weight, the volume-to-weight ratio for the two sub-sizes is 28 and 30 liters/kg, so this puts the pack in the group of very light packs. In fact, I find this amazing in view of all its features. 
---
Specifications
Two sub-sizes: XS/S, S/M. 
Volume:
– XS/S: 2136 in³ (35 l).
– S/M: 2319 in³ (38 l).
Weight:
– XS/S: 2 lb 12 oz (1.25 kg).
– S/M: 2 lb 12.5 oz (1.26 kg).
Torso range:
– XS/S: 14 – 18 in (36 – 46 cm).
– S/M: 16 – 20 in (41 – 51 cm).
Hips range:
– XS/S: 26 – 45 in (66 – 114 cm).
– S/M: 27 – 46 in (69 – 117 cm).
Dimensions:
– XS/S: 23 x 12.25 x 11 in (58 x 31 x 28 cm).
– S/M: 24 x 12.25 x 11 in (61 x 31 x 28 cm).
Rain cover weight: 0.15 lb (68 g).
Carry weight: 35 lb (16 kg). 
---
Final thoughts & rating
In summary, I hope you have realized that this Gregory Jade 38 Pack for Women is indeed full of useful features. Nothing substantial is missing here, except a pair of bottom straps that would make it perfect.
The pack is versatile, by size it is in between a day pack and an overnight pack, and its adjustable torso length makes it useful for several family members. Fully recommended. I have included it in my list of best Gregory Backpacks For Women.
Below you can see how I rate it against my usual rating criteria so that you can easily compare it with other items of this type:
BEST PLACEs TO BUY
This is a great pack and there are many sellers that offer it, here are some: 
For more options, please check under the category Mid Size Packs. Bookmark this site and come again, this will keep you informed because I add texts here regularly. Let me know if you have questions or comments, there is a comment box below. Have a nice day.
---
FAQs
Who owns Gregory backpacks? Is Gregory owned by Samsonite?
Samsonite International S.A. purchased Gregory Mountain Products from Black Diamond in 2014. The acquisition cost was apparently $85 million.
Can I wash my Gregory backpack?
Yes you can. Use a damp sponge with mild soap and wipe out the pack from inside and outside. You can also rinse the pack completely with a cool water. 
What is high tenacity nylon?
This term is mentioned above. So this is a high-performing polyamide and it has an extraordinary coefficient of elasticity, excellent tenacity and abrasion resistance. It also has and exceptional resistance to chemical agents and heat stress. When compared to high-tenacity polyester, this material is usually lighter.