---
This Kelty ZYP 28 Pack for Women is a pack from a completely new series Kelty launched recently, with a metal frame and an adjustable torso size.
---
Key features
Panel loading pack.
Steel frame.
Adjustable torso length.
PerfectFit system.
---
What this ZYP 28 pack is about
This ZYP 28 is a women-specific pack from the series of three that also includes the packs of 38 and 48 liters, you will see them all below on the bottom of the page. The series includes also three men-specific packs Zyp 28, Zyp 38, and Zyp 48 liters.
So this is the smallest pack in the series and it is the panel-loading type while the bigger packs in this series are with a fixed lid. The pack is also hydration compatible, so you have an inner sleeve where you can store your water reservoir.
Note that the pack is without a bottom compartment, but this is not expected for such small packs. Though in the comparison table below you will see one with a bottom compartment. So the panel entry here is the only one, the bigger packs in the series have yet another side entry point.
---
Features
The suspension
This pack is rather small, yet it comes with a peripheral steel frame which gives tension to the mesh which you have in the large part of the back panel. Note also that the shoulder harness can be moved up or down so you can find your best fit, i.e., the shoulder harness is fully adjustable. The harness is separated from the tent's body and you have a really good ventilation here, see the picture: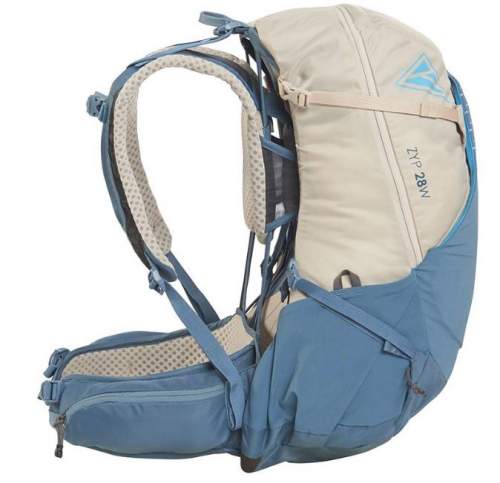 But here you have something special, they call it PerfectFit system and this implies that you adjust the torso length with the pack on your back. They use this system in many of their packs, and you will not find something similar in any other brand on the market.
Note also that this is the smallest of all their packs built so far that have this excellent adjustability system, and this is the smallest of their packs in general that has an adjustable torso size. So even for Kelty's standards, this is quite an exceptional backpack.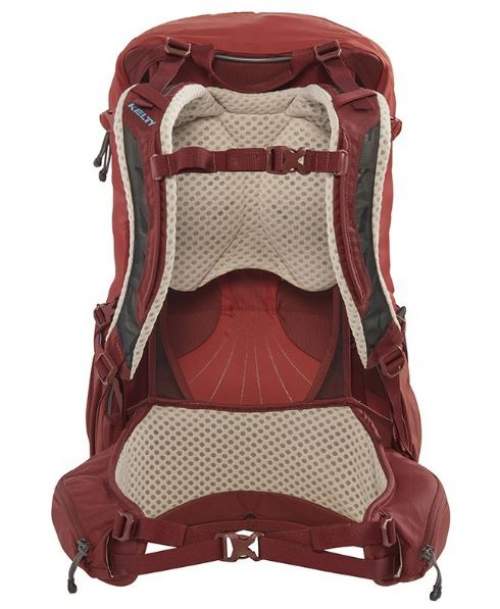 The padding is excellent on the shoulder harness where you have a very cool looking mesh covering the foam. The hip belt padding is a bit less impressive but this is completely enough for such a size. The picture above shows you that you have load lifters and also an adjustable sternum strap. So clearly, nothing is missing here and this is an excellent design.
Observe also the front straps on the hip belt, they create those V-shaped profiles on both sides which converge to the front buckle. This is for a perfect hugging of your hips when you tighten the hip belt. This is always the best design to have with those front straps.

See in this video how the PerfectFit system works:
Pockets
This pack has 6 pockets (some shown in the pictures below) and they include the following:
Two zippered hip-belt pockets.
Two side stretch mesh pockets.
One large stretch mesh front pocket. Here you have access from two sides, it is sewn in to the pack on the top.
One zippered pocket on the top.
Attachment elements & straps
The pack comes with dual compression straps on both sides, and you can use them also to keep in place any long items carried in the side pockets.
It also has dual loops on the bottom for poles, and they are paired with bungee cords higher on the pack. See how it looks with poles attached: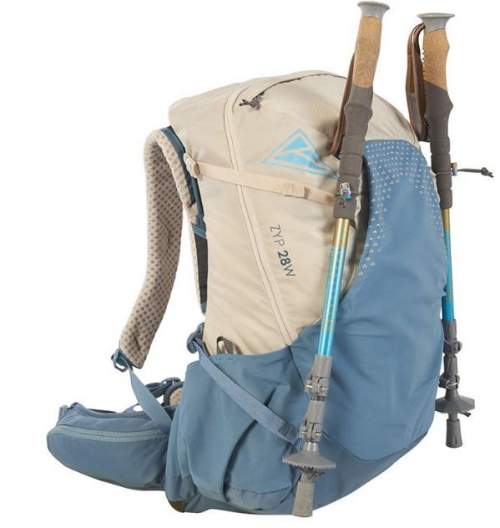 Please see a bit more about these Zyp packs for women in this short video:
---
Specifications
Weight: 2 lb 13 oz (1.275 kg).
Volume: 1708 in³ (28 L).
Dimensions: 21 x 13 x 9 in (53 x 33 x 23 cm).
Torso range: 14.5 – 20 in (37 – 51 cm).
Optimal carry weight: 10 – 30 lb (4.5 – 13.6 kg).
Body fabric: 210D nylon.
Reinforcement fabric: 420D nylon.
Frame: sprung steel.
---
Kelty Zyp 28 Pack vs Competitors
I have decided to show you this Zyp 28 side by side with the best packs for women in this size range, I am convinced that it deserves only the best. So as you see it stands really well when compared with the other two that are also women-specific packs. This is the only one here that has the harness adjustability:
---
Final thoughts, rating, pros & cons
My only true objection to this Kelty Zyp 28 Pack for Women is about the missing rain cover, but this may not be so important to you. In any case, they built it nicely and it has some features that you would not expect in such relatively small daypacks. Such an adjustable harness is a bonus as it allows for several members of a family to use it, adjusting the torso size is in seconds. I have included this pack in my list of best day hiking packs for women.
The price is reasonable for such a brand and such a pack. Please see how I rate it against the criteria used for all packs here in the site:
If you need more options, please check my page with packs below 35 liters. You might want to check how this pack compares with yet another women-specific daypack, the Gregory Jade 28.
Note that this is not a sponsored text and I am not paid by the brand. Please use the comment box below in the case of questions or comments. Have a nice day.