---
This text is about Osprey Mira 26 for women, the new improved AG version of the pack. With less than 1.2 kg of weight and 26 liters of volume, this is a multipurpose pack suitable for around-town use as well as for various outdoor day activities.
---
Benefits from using this pack
This pack simply looks great, and it sits nicely on the back.
It is a multipurpose pack, small enough to be used for everyday use, and big enough for short outdoor day-tours. Its construction as a panel loading pack is what makes it suitable for such a dual purpose.
The water bladder compartment can be used as a computer compartment for city use.
---
Best price & place to buy
The best place regarding the price and shipping conditions is usually Amazon.com.
---
Description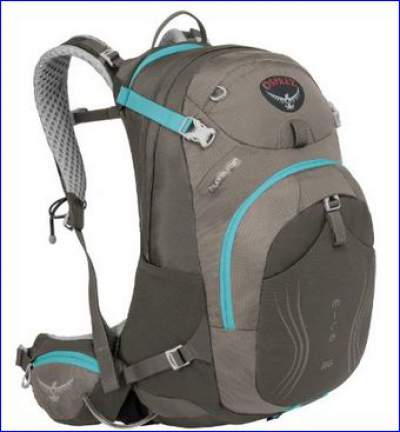 This pack is a women-specific design, and very similar to the Osprey Manta series. Women  design in general implies:
a more narrow and anatomic harness to fit women's body,
conically shaped waist belt,
more soft buckles.
The access is panel-type, so you have a long zipper on the top and it continues along the sides of the pack.
The pack is hydration compatible, the water bladder is included, and you have a separate zippered compartment for it behind the harness. The water hose runs along the shoulder strap and it has a magnet to fix it to the sternum strap. This is the same what you may see in Manta 28 AG pack.
As mentioned above, you can remove the bladder and use this zippered compartment for a computer if you use the pack for the job and for commuting purposes.
The pack is small but you still have two compression straps on both sides. This can be used to cinch the pack in case of less load or to attach some stuff from outside, like a sleeping pad, tent poles, or even a tent.
You also have helmet attachment point on the front of the pack. There is yet another light attachment point close to the bottom.
Below, on the bottom, you have a separate zippered pocket for rain cover.
---
AG system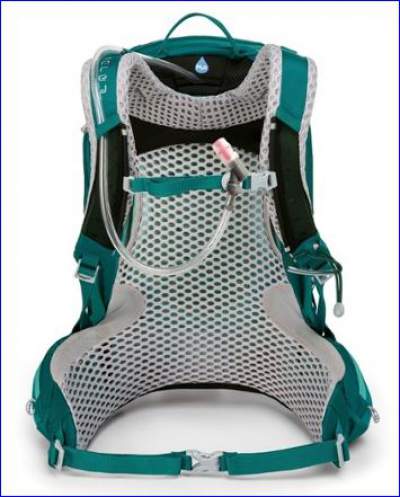 The central part of this system is the tensioned, wide open mesh. It covers all the back side of the pack, and it continues seamlessly over shoulder harness, and over the hip belt. See it in the picture here on the right.
Its design is such that it hugs the body everywhere, and in such a way it distributes the weight on a huge surface instead of focusing it to the waist are only.
This is an award-winning design that saves you from hot spots. It has been added to several Osprey's series, like Atmos, Aura, and Manta.
The tension in the mesh is achieved through a light wire frame that goes around the perimeter of the pack.
The harness is not adjustable, but this is not such an issue for the pack of this size. In fact, you will rarely find it adjustable in this size range, see the comparison table below. To some extent, you can adjust it only through the load lifters. The sternum strap is adjustable in both directions.
---
Pockets
Two zippered pockets are on the hip belt. The usual two stretchy pockets are on the sides of the pack, and they are with top and side entrance, so you can put your water bottle both ways.
One very small zippered pocket is on the top. On the front of the pack you have a larger zippered organization pocket, it has two extra mesh pockets inside. On top of this pocket, you have one more stretchy mesh pocket with a buckle, it is visible in the first picture above.
---
Stow-on-the-go system
This is a unique Osprey's feature, but not unique to this series only, you will find it in many packs of this brand presented in the site. This includes a bungee cord on the left shoulder strap and an additional loop on the side of the pack. Reason: to attach your trekking poles while you are walking, to have free hands for other things, for a scramble, to take a photo, or to eat something.
In this short promotion video you can see the features of this Mira, as well as Manta series, have a look:
---
Pros & cons
  Cons
  Pros

No bottom compression straps.

Multi-purpose pack, for outdoor and around town use.
Rain cover.
Water bladder included.
Quality materials.
It is hard to find weak sides of this backpack. The previous version of the pack has scored an enormous 4.9/5 average rate at Amazon. The new version is clearly better, and it is no surprise that the only review at Amazon so far gave it 5/5 rate.
---
Specifications
Two sizes:
– 1587 cub in (26 L); 20 x 12 x 12 in (50.8 x 30.5 x 30.5 cm).
– 1485 cub in (24 L); 18 x 12 x 12 in (45.7 x 30.5 x 30.5 cm).
Weight:
– S/M: 2 lb 9.6 oz (1.18 kg).
– XS/S: 2 lb 8.2 oz (1.14 kg).
Torso fit:
– S/M: 17 – 20 in (43 – 51 cm).
– XS/S: 15 – 18 in (38 – 46 cm).
Waist size:
– S/M: 27 – 48 in (68 – 122 cm).
– XS/S: 24 – 45 in (61 – 114 cm).
Water bladder 2.5 L, included.
Carry weight: 30 lb (14 kg).
AirSpeed back panel.
Materials:
– Main body: 210 D High Tenacity Nylon.
– Accent: 100 D Nylon Mini Hex Diamond Ripstop.
– Bottom: 210 D High Tenacity Nylon.
– Frame: 3 mm peripheral light wire.
Colors: 3, see the pictures.
---
Differences between the old and the new AG version
The single organization pocket on the front in the new AG version. In the old version, you have two separate zippered pockets with vertically positioned zippers, and entrance from the side.
AG suspension mesh system in the new model.
---
Conclusions
To summarize this text about the pack Osprey Mira 26 for women, the previous version has already been very popular and received an almost perfect average rating. There is no doubt that anti-gravity features added to the new version will only increase its rating. Several other series of Osprey packs have received numerous prizes mainly for these AG properties. So Mira 26 AG is indeed a nicely designed multipurpose pack. The included water bladder and the rain cover truly add value to this already top-quality pack. This pack is a great choice for anybody.
If you need a bigger pack from the same series, please check this Mira AG 34 backpack. Check also this Deuter Futura 28 SL if you need a classic top-loading pack.

Thank you for reading. I hope the text has been useful and I shall be happy to have some comment from you. Please share it. Have a nice day.