---
This Kelty Redwing 36 Pack for Men and Women is a new pack in this well-known series with packs in many sizes. This is a very light pack yet with a steel frame. Keep reading.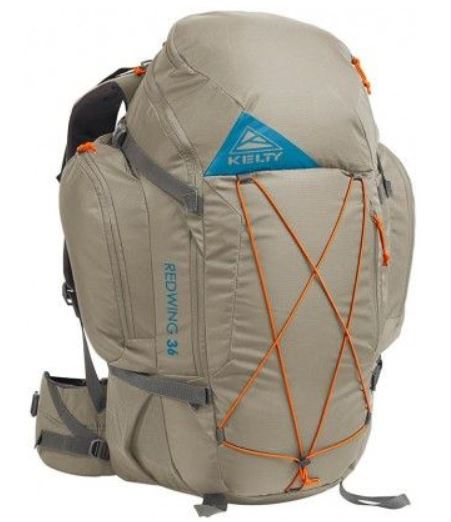 ---
Key features & benefits
Lightweight pack.
Ventilated back panel.
Steel frame.
Great price.
---
What this is about
The Kelty's Redwing series has been around for a number of years and they have many packs under this name. But as far as I know they did not have the 36-liters version yet. They build it now on two variants, separate for men and for women.
So what you have here is a new pack in the series, but this is not all. This series has been reshaped quite a lot for the coming season. I shall be adding texts about these new packs here in the site, so stay tuned.
---
Overview of features
This is a pack that could be described as a hybrid top loading. Namely, you have a huge inverted-U shaped zipper that opens the pack like a suitcase all the way to the bottom. The zipper goes over the top so you do not have a classic lid here.
The pack is hydration compatible and you have an internal sleeve, you will see this in the video below.
Suspension
You have a fixed torso length here, with the usual small adjustability on the shoulder straps. This is a small pack but you have a spring steel frame and an HDPE sheet. This makes it different from the Kelty Redwing 32 pack that has been around for many years already.
The back is ventilated in the central area, and this is what they call the AMP-Flow ventilated back panel. As usual with Kelty's packs, you have a generous and pleasant padding on the harness and on the hip belt.
The load lifters are in place and you also have the usual sternum strap. The picture below shows its suspension.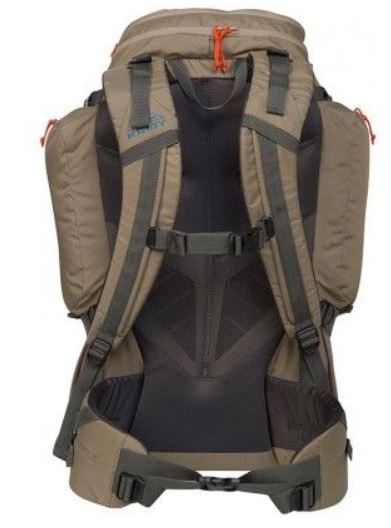 The pockets
There are many pockets here, 6 in total plus 2 pass-through pockets, this is quite typical for Kelty and also for this series. Here is what you have:
The usual dual mesh pockets are on the sides. Note that the pack is rather short and it is difficult to keep a water bottle here because of the upper side pockets that are close. This holds in particular if the upper pockets are fully loaded as in the picture below.

Side view.

This issue is with practically all the packs that come with such upper zippered pockets. I have this in my Deuter pack and know this well after years of using it. Having an additional side entry point to these lower side pockets would help a lot, pity that manufacturers do not introduce it with such packs.
Nevertheless, these upper side pockets are my favorite feature (in particular on a longer pack). So you have them here on both sides. This is a huge space for storage, very useful and I love it, see one below: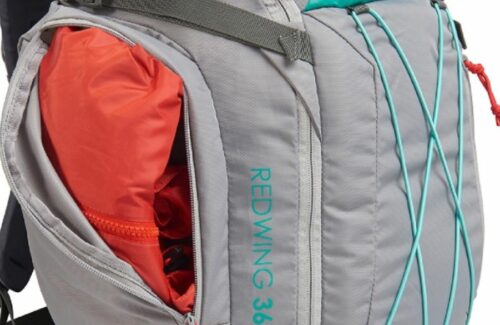 There is more to this: these side zippered pockets are accompanied by pass-through pockets behind them. So here you can pass any elongated object and store it in the lower mesh pockets. It will stay firmly in place. You can see one in the picture below.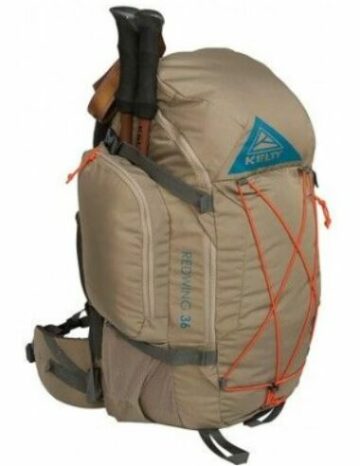 There is one zippered pocket on the front with the vertical zipper on the right side, see it below.
One zippered pocket is in the top of the pack. Here you also have a key clip inside, shown below.
But note that there are no hip belt pockets here, pity. All in all, there are enough pockets here but the functionality of the side mesh pockets with respect to water bottles is questionable.

Compression straps and attachment points
There are dual side compression straps, you can see them in the pictures above.
You also have dual loops for the trekking poles, you can combine them with the side straps to keep the poles in place.
On each side of the hip belt, there is one stabilization strap, you can see them in the pictures above. This you can use to keep the pack closer to the body to be more stable when you navigate some exposed sections.
A bungee cord is on the front, so here you can keep any piece of clothing or whatever fits.
Please see more in this short video, this is the pack for men:
Here is the pack for women, the same features:
---
Materials
I already mentioned the steel frame. But the durability doesn't end there, you also have a strong 420D polyester fabric here.
So the weight of 2 lb 9 oz (1.16 kg) is indeed remarkable for a pack so strongly built and with so many features. I am impressed, as usual with Kelty.
---
Who is it for
Regarding the size, in the categorization used here in the site, this pack is in the mid-range (35-55 liters). But this is clearly still small enough to be used as a great day hiking pack on some tours where you have lots of equipment.
Regarding the style, this is a really versatile pack. It does not look like a strictly outdoor pack, it has a somewhat low profile and you can use it for travel and for commuting.
Regarding gender, as mentioned, they build separate packs for men and women. We are not equally built, and all top-manufacturers acknowledge this by making such separate versions for men and women. This is about the hip belt profile, the harness width, and a few more details.
Regarding the price, you have seen its all features, and the price is more than fair for what you get here.
---
Specifications
Weight: 2 lb 9 oz (1.16 kg).
Volume: 2197 in³ (36 l).
Dimensions:
– Men's pack: 23 x 17 x 10 in (58 x 43 x 25 cm).
– Women's pack: 22 x 17 x 10 in (56 x 43 x 25 cm).
Fits Waist/Hips:
– Men's pack: 30 – 44 in (76 – 112 cm).
– Women's pack: 27 – 43 in (69 – 109 cm).
Manufacturer's warranty: limited lifetime
---
Final thoughts, rating, pros & cons
So as you see, Kelty has again built a great pack. This versatile Kelty Redwing 36 backpack is suitable for hiking and for travel, and it is designed so that you will carry the weight comfortably. In spite of its steel frame, it is surprisingly lightweight.
The organization is excellent as usual with this brand, and the price is simply amazing. Though it lacks some features and I have listed them below, so check if those are essential to you or not. In any case, fully recommended.
Please see how I rate this pack, the same criteria are used for all the packs here in the site, so you can compare easily:
If you need more options in this size range, check under the category Mid-size packs and also among Daypacks.
Note that we add new texts on a regular basis, so bookmark this site and check occasionally. There is a subscription form below for our weekly newsletter, so subscribe and stay informed. Have a nice day.