---
Kelty Redwing 32 backpack review presented here is about the new version of a very popular pack. This is a versatile ultra-lightweight pack of 0.9 kg only, suitable for day hiking and mountaineering, commuting, day life, and travel.
---
Kelty Redwing 32 liter backpack – general description
Redwing 32 is very similar to the larger packs Redwing 40 and Redwing 44 from the same series and with very similar organization features and quality.
With its 32 liters make it a typical day pack as compared to the other two that could be placed in the group of the weekend, or overnight packs.
One of the differences is the absence of any true frame in this pack. You have only a simple high-density polyethylene (HDPE) panel. I do not find this as a particularly great feature for a pack of this size.
It is described as a trail pack, a pack for day use and commuting, and for travel. It is indeed suitable for any of these activities.
The pack has a long U-shaped zipper which goes along the front and on the top. It can be open partly, from the top only, or fully when the compression straps are unlocked. This is why it is called hybrid-load type.
But the reality is that the upper side straps are in fact on your way, and you cannot unzip it fully until you unlock the buckles. You can see this in the picture above. Perhaps not a big deal, but just to explain the reason for the terminology. I prefer classic top loading packs, but this is just me.
The back is really nicely padded and the same holds for the shoulder harness, you can get some feeling from the picture below. The hip belt padding is rather tiny. The belt can be tucked away behind the lumbar padding section when not in use.
There are two compression straps on each side, this you will use to cinch the pack down in the case of a small load, to secure it and to increase overall stability.
Pockets
You have two side zippered pockets, two side stretch mesh pockets, one top stash pocket, one front organization pocket, one stash pocket behind the front pocket (new feature, see the picture above).
One nice feature on both sides: you have a pass through behind the upper zippered pockets, shown in one of the pictures above. This you will use to store longer objects, like tent poles or trekking poles. They are obviously secured by the zippered pockets and stored in the mesh pockets below.
One sleeve is in the main compartment, for the dual hydration/laptop use. There are no hip belt pockets. I shall never understand why.
---
Here is a nice short video about Kelty Redwing 32 pack, have a look:
---
Technical specifications & summary of features
Weight: 2 lbs (0.9 kg).
Volume: 1950 cu in (32 L).
Dimensions: 22 x 14 x 11 in (56 x 36 x 28 cm).
No frame; only HDPE.
One size.
No harness adjustability.
Material:
– Body: Poly 420 D Small Back Stafford.
– Reinforcement: Poly 75×150 D Tasser Coal.
Dual side pockets.
Dual water bottle pockets.
Front pocket with organization.
Front stash pocket.
Top stash pocket.
HDPE padded panel.
Hex mesh on the back, shoulder straps and waist belt.
Sternum strap.
Load lifter straps.
Side compression straps.
Dual use laptop/hydration sleeve.
Hide-away daisy chain and handle.
Ice axe/trekking pole loops.
Key fob.
Hide-away air-mesh waist belt.
3 colors:
---
What is new in the new model
Hide-away daisy chain and handle, instead of the suitcase type handle in the old model.
Two attachment loops on the bottom, instead of one in the old model.
New stash pocket on the front, behind the front pocket; this is not available in the old model.
No aluminum stay, which is present in the old version.
Re-designed back panel padding and harness padding.
Re-designed sternum strap sliders.
New version more narrow, for one inch only.
The old version was considerably heavier, 2 lb 8 oz (1.34 kg).
A small difference in volume: old version 1900 cubic inches, new 1950 cubic inches. Both carry the generic number of 32 liters.
Colors changed in the new version.
---
Pros & cons, users' experience
Side pockets have both bad and good side, similar to the whole series. The upper zippered pocket is too close to the lower mesh pocket. It is hard to put a water bottle in the lower pocket when the upper one is full.
The upper zippered pockets do not take much space from the main compartment when they are full. So this is a good feature, but it causes what I mentioned above.
 Cons
 Pros

Fixed harness, no adjustment.
No rain cover.
No bottom compartment.
No hip belt pockets.
HDPE frame only.
No bottom compression straps for sleeping pads.

Good price.
Extremely lightweight.
Quality materials.
Reliable.
Versatile.
Rating of Kelty Redwing 32 backpack
Volume to weight ratio -

9.5/10

Features and bonuses -

8.2/10

Comfort -

8/10

Price -

9.6/10
Summary
The Kelty Redwing 32 backpack is incredibly lightweight, and its volume-to-weight ratio is VW=36. No many packs can match this. Its price is also without a match. But it lacks some features, yet my average rating is quite high.
Comparison with other brands
Here is a comparison table with really top models of some renown brands, and with similar volumes:
Kelty
Redwing 32

Deuter Futura
PRO 34 SL

Osprey
Stratos 34
Weight (g)

0.9

1680

1247
Volume (l)

32

34+4

34
Loading type
hybrid panel-top


top

panel
Lower compartment

no

yes

yes
Hydration compatible
yes

yes

yes
Rain cover

no

yes

yes
Metal frame

no

yes

yes
Harness adjustable

no

no

no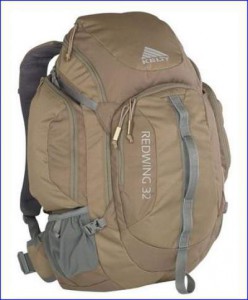 Kelty Redwing 32 liter backpack is a very good tool but I rank it below the other brands in the table although it is so lightweight and with a reasonable price.
But its weight cannot be used as an argument for a good ranking because it implies the following:
The absence of a true frame. Note that you have a spring steel frame in the Deuter pack.
The absence of the bottom compartment (which adds to the weight because of one external zipper, one internal divider, and sometimes yet another internal zipper on the divider).
The absence of a rain cover (all other models in the table have it).
No hip belt pockets.
No bottom compression straps.
So in view of all this, its weight is no surprise at all. Yet, I still rank it high because of its overall quality and reliability.
---
Conclusion
To conclude this new Kelty Redwing 32 backpack review, this pack has been around for many years. The new version is a complete redesign of the old model, and many things are improved. The pack is incredibly lightweight, but this comes at a price. It lacks some features which I like to have with a pack, like a rain cover, bottom compartment, strong frame, bottom compression straps, all of them needed for real hiking. If these features are not essential for you, then this is a pack worth considering.
You might want to compare this pack with yet another ultra lightweight tool, the Osprey Talon 33 modified in 2017. If you need some smaller packs from the same brand please see these Kelty Ruckus 28 models.
This is an addition in January 2018; there is a tactical version of this pack the Kelty Redwing 30 Tactical just launched, so have a look.
Thank you for reading. If you find this text useful I shall be happy if you share it with others. Your comments in the box below are most welcome.

---