---
The Kelty Zyp 38 Pack is from their new series with excellent ventilation and PerfectFit suspension which is without a match, and all this at a great price.
---
Key features & benefits
Adjustable torso size.
Great ventilation.
Lightweight pack.
Top and side access.
Very good price.
---
Where to buy
This Kelty Zyp 38 backpack is available on Amazon. They operate globally so please follow the link and check shipping conditions for your location.
---
What this is about
The Kelty Zyp series includes three packs and this is in the middle, the largest is Kelty Zyp 48 and the smallest Kelty Zyp 28. There are differences among them and you will see this in the video below.
This is a top-loading pack with a fixed lid and collar underneath it. In the main compartment, you have a reservoir sleeve. Note that the lid is with one strap only.
But there is also a side access here shown below. On the right, you will find a vertical zipper that allows for getting the stuff that is deeper in the pack. This is why you do not have a bottom compartment.
---
Overview of features
Suspension system
You have what they call NadaTech Suspension and they are modest enough to call it "genius". But indeed this is a great system and it implies an empty space between the padding that is at your shoulders and the hip belt and lumbar padding below. There are only two straps on the sides which allow for the harness to slide up and down. You can see this in the picture: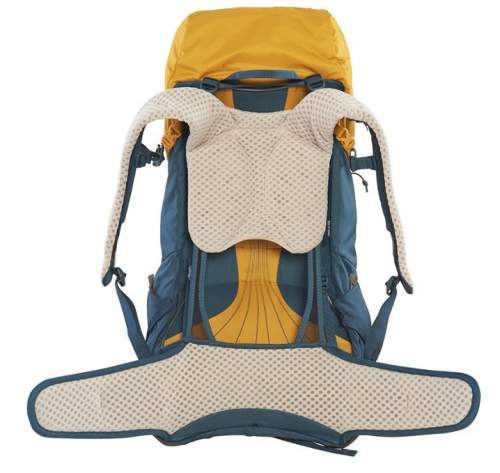 Note that the upper padding zone is rather large so there is a lot of contact with the body. But this is a very breathable mesh so ventilation is not compromised.
Yet another great feature here is its PerfectFIT Technology, a unique system used by Kelty only. This implies that you adjust the torso length when the pack is on your back, with full weight. There are two straps on the sides, so you pull them and release the pack which will slide up or down to your perfect position. There is nothing better on the market, I am totally confident about this.
The side view below shows how separated the suspension is from the pack itself. So when you carry the pack, there is plenty of gaps to allow for air circulation.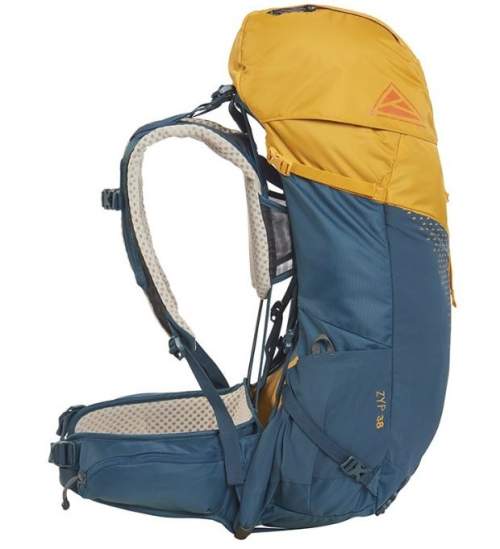 This all is supported by a steel perimeter internal frame so the structure is rigid and strong. The official maximum carry weight capacity is 40 lb (18.14 kg). Load lifters are in place as well as the sternum strap.

Pockets
This pack has very interesting pockets design, 7 in total, so here is what it brings:
One zippered pocket is on the lid, very large and useful.
There are two side stretch mesh pockets.
Two huge mesh stretch pockets are on the front. They are big enough that you could put a smaller tent in any of them.
Two zippered pockets are on the hip belt pockets. They are large enough for any smartphone.
Straps & attachment elements
On both sides you have the usual lower and upper compression straps. Note that there is no inside-out feature on the side pockets regarding the lower compression straps.
Dual straps are on the bottom, so here you can add anything. They are long enough for a pad or bag.
Dual loops for poles are on the bottom, and they are paired with two bungee tie-offs.
Please see more about the Zyp series in this video:
---
Who is it for
This is a size that is in between a daypack and an overnight or weekend pack, so I think it is good enough for both worlds. This will depend on your activity, equipment, and the season. There are plenty of straps and large pockets to store and carry your gear from outside.
They build it in 5 different color combinations, and there are separate packs for men and for women.
---
Specifications
Weight: 3 lb 2 oz (1.418 kg).
Volume: 2319 in³ (38 L).
Torso fit range: 16 – 22 in (41 – 56 cm).
Carry weight capacity: 40 lb (18.14 kg).
Dimensions: 28 x 13 x 9 in (71.12 x 33.02 x 22.86 cm).
Body fabric: 210D nylon.
Reinforcement fabric: 420D nylon.
Frame: sprung steel.
---
Kelty Zyp 38 backpack vs Gregory Paragon 38 & Deuter Aircontact Lite 35+10 
To better understand the features of this pack, it may be useful to see how it stands when compared with some other top-notch packs. So here are two of them, both very light and functional packs.
The Gregory Paragon 38 is a bit lighter although it offers more features. The Deuter Aircontact Lite 35+ 10 is heavier but its padding is massive and it has more features as well. All three are great packs from top brands and no doubt you will be doing great with any of them.
Deuter
Aitcontact
Lite 35+10
---
Final thoughts, rating, pros & cons
So you have seen it, the manufacturer describes this Kelty Zyp 38 Pack as a lightweight hiking pack designed with comfort and breathability in mind. In my view, they succeeded in all these features. The pack is indeed very light and comfortable, and the breathability is excellent. The price is more than appropriate, I am sure this is a bargain for such a top-quality pack and for such a renown brand. Fully recommended.
Please see how I rate it against my standard set of criteria. I apply them consistently to all the packs here so you can compare easily:
If you need more options, please visit my page with packs in the 35-55 liters range. You will find top brands' packs presented in detail.
Note that I am not paid by the brand, and this is not a sponsored text. I love to hear from you, so please use the comment box below.