The Mystery Ranch Coulee 25 Pack for Women is a high quality and reliable daypack with an adjustable torso length, removable hip belt, and a unique access design.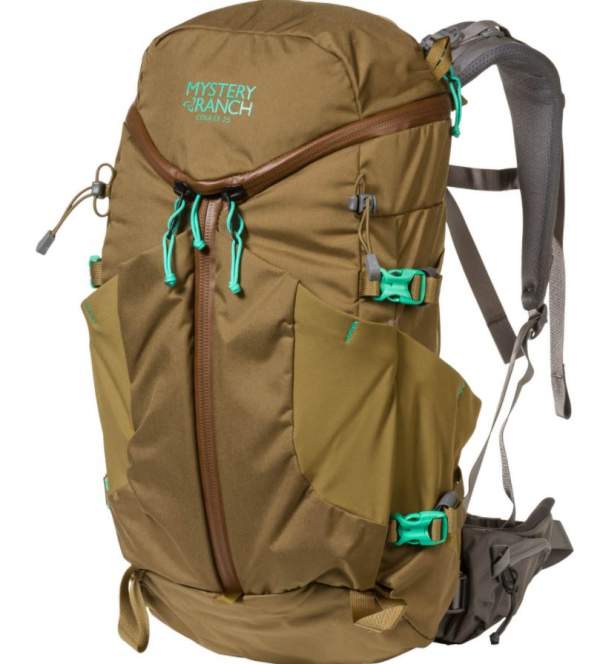 ---
Key features & benefits
Adjustable torso length.
Removable hip belt.
High quality fabric & zippers.
---
What is in the name
This Mystery Ranch Coulee 25 Pack for Women is a part of their series that includes also Mystery Ranch Coulee 40 Pack for Women, and they build separate versions for men as well. So this is a daypack, the number 25 in the name indicates its volume. 
Access 
You have a single access point, but it is very specific and unique to this series, with three zippers converging to the same spot. The picture below shows some details. So what you see are two top zippers that you can open independently, and this allows for the top access.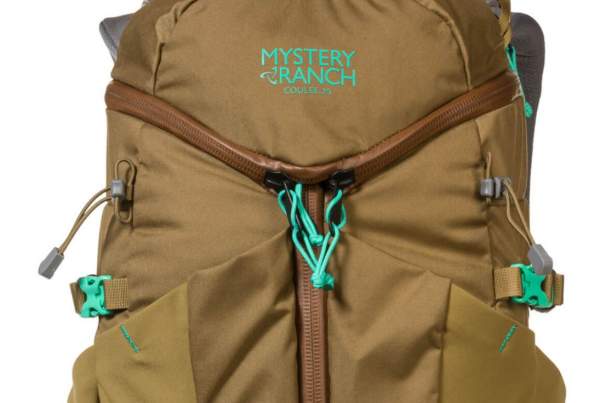 But if this is not enough, you can unzip the lower zipper that runs to the bottom of the pack. This allows for access to any item in the pack, see how this looks: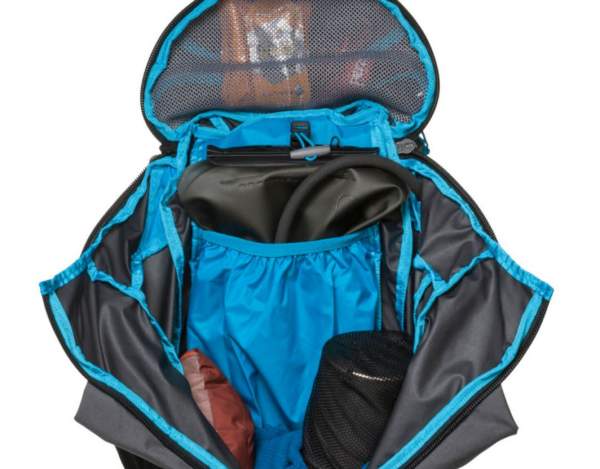 The picture reveals also some inner details. So you have an inner hydration sleeve, and an attachment element for a bladder is visible above it. There are hose ports on both sides of the pack so you can route the hose any side you want. You can use most of 3-liter bladders here.
Suspension
The suspension is based on an internal but removable HDPE frame sheet for rigidity and support. This is a small pack and such a support is completely enough. Something similar you can see in my text about the Osprey Talon Pro 30 pack.
The picture below shows the back panel and the shoulder harness. You realize that the padding is excellent, and you have all necessary adjustment options. These include load lifter straps, a sliding and adjustable sternum strap, etc.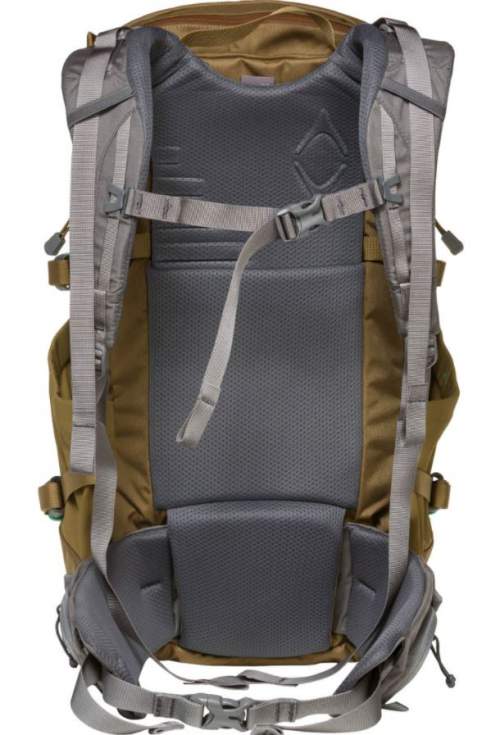 The torso length is adjustable, all you have to do is to break the Velcro connection and to slide the harness up or down. Then press to re-engage the connection. With this you can have a perfect fit in a given range (numbers are given below). This allows also for the pack to be used by different people as the adjustment is very easy. 
When necessary, you can remove the hip belt. This may be the case when you use a climbing harness. This makes the pack really versatile and suitable for technical climbing as well. You detach the belt on the sides, see the picture below, and then pull it out.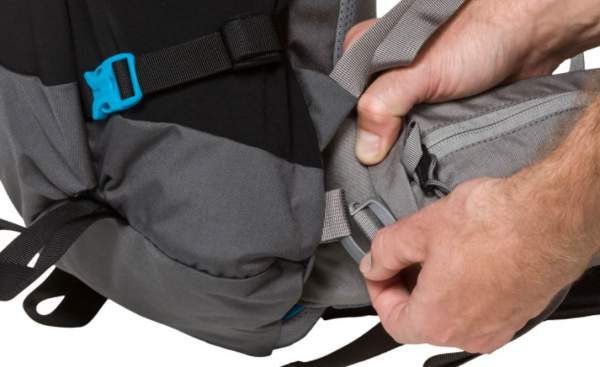 Below you can see how it looks without the hip belt. In this case, its weight is all on your shoulders of course, and the pack's functionality is also reduced because you have no hip belt pockets.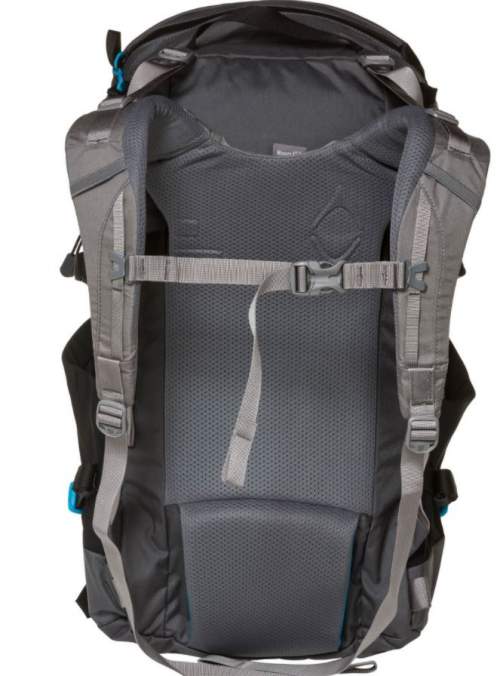 The side view below shows that this is a concept where the pack is in contact with the body. If you want a better ventilation, this is not a design for you. Check my Osprey Stratos 24 as an alternative, they also have Sirrus 24 for women.
Pockets
For such a small pack, you have them plenty, 7 in total.
So on the top you have a small zippered pocket for small items like glasses, keys, etc.  
There are two hip belt pockets. One is visible below.
There are also two side mesh pockets for bottles, see the picture below.
There are two deep front pockets for items that you might have close at hand and use on the go.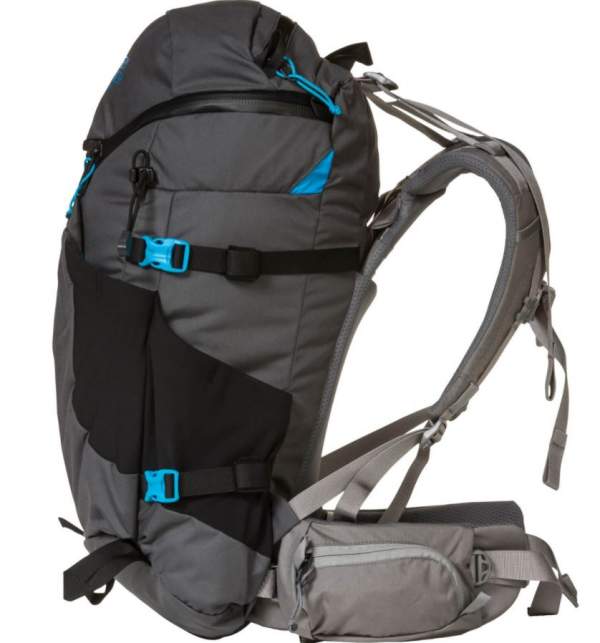 Attachments & straps
There are webbing loops on the bottom, one on each side. These are paired with bungee cords on the top. So here you can attach trekking poles or ice axes.
One extra loop is in the middle on the bottoom.
Dual compression straps are on the sides, you can see one pair in the picture above. This is for load stabilization and lash on options.
Materials
The fabric is a 330D Robic nylon and the mentioned zippers are top quality YKK products. so this is probably the best you can have. Note that they offer two different colors, you have seen it in the pictures.
The pack is built to be strong and reliable, and it is not really light, it weighs 2.9 lb (1.3 kg). So the volume/weight ratio is quite low, around 19 liters/kg. You can reduce the weigh by removing the inner panel and the hip belt, but I would never do this. These details add to its functionality and performance.

The detail that I miss here is a rain cover, but perhaps this is not so critical for you. Please see more in this short video:
---
Specifications
Type: day pack.
Two sub-sizes: XS/S & M/L
Weight: 2.9 lb (1.3 kg).
Volume: 1525 in³ (25 l).
Carry weight capacity: 25 lb (11 kg).
Dimensions (L x D x W): 22 x 10.5 x 12 in (56 x 27 x 30 cm).
Torso fit:
– XS/S: 13-18 in (33-46 cm).
– M/L: 16-22 in (41 – 56 cm).
---
Final thoughts & rating
In summary, this Mystery Ranch Coulee 25 Pack for Women is an excellent product, it is built to perform well in any situation and there is no doubt it will. The pack is functional and versatile, suitable anywhere from commuting and cycling to technical climbing. Fully recommended. I have included it in my list of Best Day Hiking Backpacks For Women.
Below you can see how I rate this pack against my usual rating criteria so that you can easily compare it with other items of this type:
BEST PLACEs TO BUY
For more options please check among DayPacks, you will find the products of the best outdoor brands. 
Bookmark this text and come again, this will keep you informed because I add new texts here on a regular basis. Let me know if you have questions or comments, there is a comment box below. Thank you for reading.