---
This Deuter Speed Lite 22 SL backpack for women is a reliable ultra-lightweight daypack with several very useful features that make it a very versatile tool for outdoor activities and for everyday use.
---
Key features & benefits
Ultra-lightweight pack.
Pack with a frame.
Sunglass attachment loops on the shoulder strap.
6 pockets.
3 colors to choose from.
---
What type of a pack is this
The letters SL in the name mean 'slim line' so this is a daypack for women and for people with a shorter body size in general. This means that the shoulder harness is narrower and shorter in length, and the buckles are smaller.
The Speed Lite Series by Deuter contains many daypacks, all ultra-lightweight and suitable for hiking, mountaineering, climbing, commuting, travel, and for any outdoor activity in any season. You have packs of 12, 16, 20, 22, 24, 26, 30 SL, and 32 liters, with more features in the bigger packs. The series has been around for a number of years already, very popular and reliable as you would expect from a top brand like Deuter. You might want to know that this brand started making backpacks in the 19th century.
So this pack is also ultra-lightweight with its 1.5 lb (680 g) which in view of its 22 liters volume implies that you have the Volume/Weight ratio of 32 liters/kg. So this is a very high number in view of the fact that the pack has a frame.
This is a panel-loading type with a form-fitting suspension system, and the meaning of this term is simply that it is not rigid and it adapts to your body shape. The pack is with a simple main compartment where you only have an internal sleeve big enough for a 3-liter reservoir or for your notebook computer if you use the pack for commuting.
---
Overview of features
The suspension system
The suspension is based on the flexible and tensioned Delrin U-frame and a honeycombed back panel covered by a mesh. On the sides you have those two pleasant padding sections with a breathable mesh, I have noticed that they are adding this feature in all their new packs, you can see this also in the 2018 Deuter Futura 28 SL pack. This is a well-ventilated structure, definitely enough for the pack of this size.
The torso length is fixed and it is suitable for the torso range 14 – 18 inches (36 – 46 cm). You have an adjustable sternum strap with sliders, and nicely padded contoured shoulder straps covered by mesh. All these features are visible in the picture below: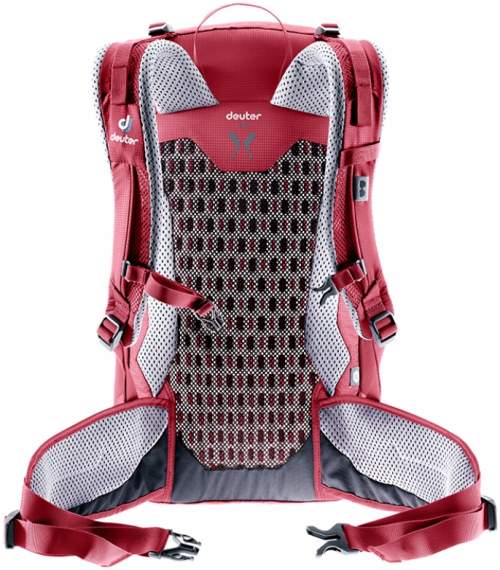 The hip belt fins are rather wide and this is just a mesh and fabric, see the picture below, but this is good enough for a pack of this size. The front straps on the belt are V-shaped so you have two of them on each side converging to the front buckle. So when you tighten the belt, those V-shaped straps pull the fins and you have a nice hugging effect around the hip. I always love to see such a design in packs.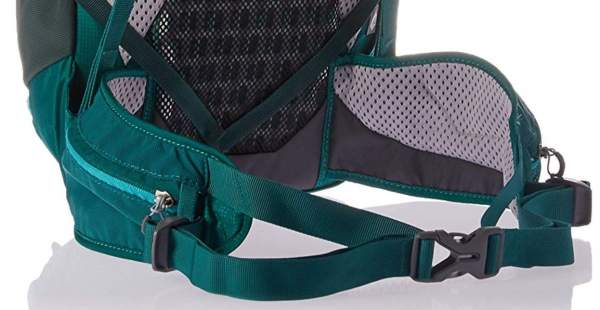 The pockets
You have one top zippered pockets for valuables and small items. On each side you have a stretch mesh pocket, and on the front you have a large stretch mesh pocket for your vet jacket or anything similar. The hip belt is with two zippered pockets. So this is 6 external pockets in total, not bad at all for such a tiny pack.

Attachment elements & straps
It looks quite technical with its dual daisy chains on the front and with dual webbing loops on the bottom that are paired with dual bungee cords on the front, so here you can attach your poles or ice axes and lots of other stuff.
The side pockets are with compression straps as well. Note that those straps are connectable on the front of the pack as well, so you can attach a snowboard or skis if needed. There are upper side compression straps so you can store elongated objects in the side pockets and fix them in place with those side straps.
On the bottom front section, you have attachment loops for a bike light. You also have the attachment system for glasses, see it on the shoulder strap in the picture, this small detail is indeed very useful: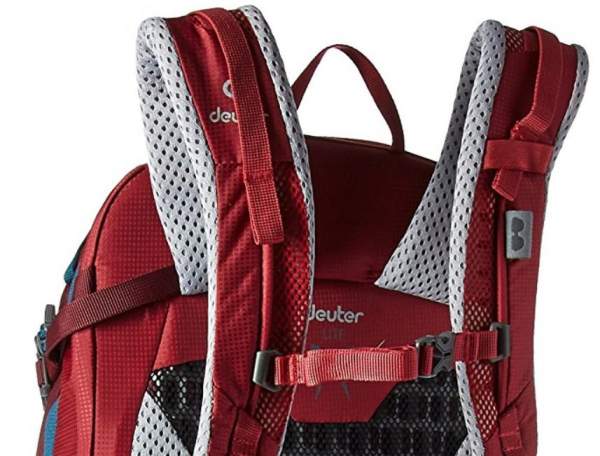 ---
Specifications
Weight: 1.5 lb (680 g).
Volume: 1343 in³ (22 liters).
Dimensions (H x W x D): 20.1 x 10.6 x 6.7 in (51 x 27 x 17 cm).
Torso fit: 14 – 18 in (36 – 46 cm).
Colors: 3.
---
Deuter Speed Lite 22 SL vs Competitors
You might want to see how this pack compares with some other top brands, so I show two of them both women-specific packs from the same size range. There are differences in the design and in the features but those are all top-notch items and you would be doing fine with any of them, so follow the links to read more and to check the updated prices.
---
Final thoughts, rating, pros & cons
This Deuter Speed Lite 22 SL pack for women is nicely built and the craftsmanship is on the highest level, this is what you would expect from Deuter. I have been using their packs for a couple of decades already and can only say the best about them, but I have no relation with this company and I am not paid by them, so my opinion is not biased except that I appreciate their products. When you see a quality item you simply recognize it as such.
I find the price quite reasonable for such a brand and such a quality item. I use Deuter packs and they are incredibly durable. Here is my rating for several parameters:
You might want to check also these Black Diamond Nitro 22 Pack and REI Co-op Flash 22 Pack which are of the same volume. If you need a bigger pack from this series, check their Speed Lite 30 SL pack.
Thank you for reading. If you still need more options to consider, check my text with the best daypacks for women, this pack is included there. Otherwise, check my page with packs below 35 liters, and if you need something larger check the packs in the range 35 – 55 liters. Please use the comment box below in the case of questions or comments.