---
Deuter Speed Lite 30 SL Women's Day Pack is an ultralight top-loading pack with an internal frame, 7 pockets, and numerous attachment elements.
---
Key features & benefits
Ultra-lightweight.
Pack with a frame.
Top loader.
Women-specific design.
---
What kind of a daypack is this
This Deuter Speed Lite series includes many packs both for men and for women (the letters SL indicate slim-line or simply packs for women or for a smaller body size in general), and this 30 SL is currently the biggest of the packs for women in this series. There are some smaller packs from this series presented in the site, like the Speed Lite 22 SL and Speed Lite 20, and you will realize they look completely different.
So the Speed Lite 30 SL is a top-loading pack, and it really looks like something you would carry to your fast and light alpine day tours. As pointed above, it is definitely in the category of ultra-lightweight packs, it weighs only 1.89 lb (860 g). This means that you have the volume/weight ratio of 35 liters/kg which is a quite high value. You can check my list with best daypacks for women (where this pack is included) and you will realize that this number is among the highest for the packs in the list.
The pack is hydration compatible so you have a reservoir sleeve inside and you can assess it through the top collar. They call it an athletic V-cut, but it looks quite boxy to me like many of their new packs launched in 2018.
This is a bit minimalist design with essentials only for carrying light to medium loads, but nothing is sacrificed regarding the quality and durability. The material is a combination of 10% polyester and 90% of polyamide which is a nylon, both with 100D. Polyester is very abrasion resistant and does not absorb moisture. Polyamide is also very durable and abrasion-resistant, with high elasticity and low weight.
---
Construction & features
The suspension
The suspension is usually the most important segment in a pack and this is normal, you want something comfortable on a day tour. The system you have here is the Deuter's Contact model, the other famous is their ventilated system which you have in the Futura packs, you will see one in the comparison table below. They also have the Air Contact type which you can see in their Deuter Aircontact Lite 35 + 10 SL Pack.
The term 'contact' here implies that the pack remains close to the body, it is essentially in contact with your back throughout its back panel. But it is still with some ventilation features, see the picture below.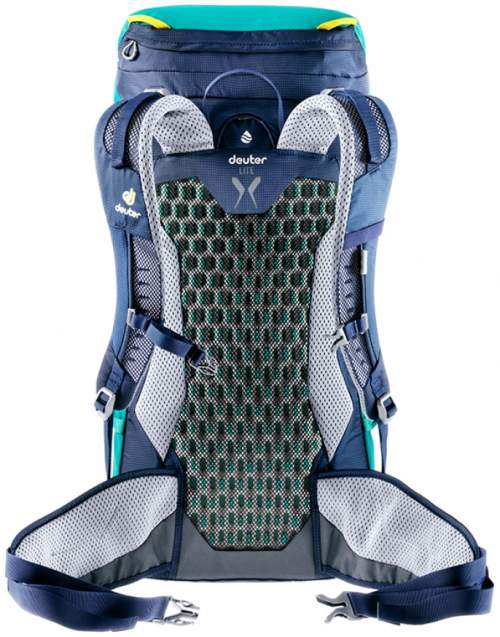 Here you have a fixed harness, no torso adjustment. This is not unusual for the packs of this size (you will see some top models in the comparison table below), but there are models on the market with adjustable harness even in this size range, see for example this Osprey Kestrel 32 and also the Osprey Talon 33 pack. But the pack is good for torso sizes in the range 14 – 19 inches (36 – 48 cm).
The shoulder harness is with a great padding and there is nothing one could object here. But the hip belt is without padding, basically just a mesh, though it is very wide and if hugs the hip nicely. You have a nice feature here, the V-shaped dual straps on both sides, that converge to the front buckle. This increases the hugging effect, I love this design, there is nothing better.
The weight is supported by an inner inverted U-shaped flexible and tensioned Delrin frame and the back panel is made lightweight and well-ventilated. All is in 3D AirMesh lining and with mesh venting inserts. So in view of this, the overall weight is not a surprise.
The harness is with load lifters, and you also have a sternum strap on the front, it is sliding type and completely adjustable.
Women-specific design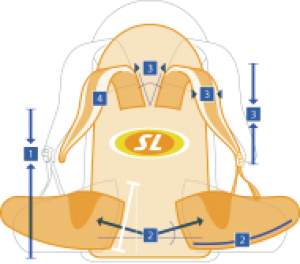 As mentioned above, this is a
women's specific design
with ergonomic S-shaped narrow-separated shoulder straps and the same ergonomic features introduced for women are in the hip belt where you have a 
more conical profile.
Also, the anchor points of the hip fins are set closer together and are slightly curved so they angle diagonally upward. The result is a belt that fits neatly without any gap.
This design also includes shorter straps, smaller buckles, as well as narrower tapered strap ends so that you have no chafing under the arms. See the picture which shows where these features are introduced.
The pockets
The lid is with one external pocket and one on the underside, bot zippered. You have the usual elastic side pockets, and you also have a large front pocket from the same material.
On the hip belt you have dual zippered pockets. So this makes it 7 pockets in total, not bad at all for such a small pack.

Attachment elements & straps
On the front, on both sides you have very long daisy chains (visible in the picture below), so you can attach anything here with some extra string. On each side of the pack you have dual compression straps, one over the mesh pocket and one higher up. Those can be reversed and you can connect them on the front, and this you can use to attach skis or a snowboard carry.
There are four loops on the lid (you see them in yellow color in the picture below), and on the bottom you have dual loops for trekking poles and for ice-axes. Those are paired with bungee tie-offs higher on the front. So all these elements make the pack look like a really technical tool, and they make it versatile as well.
Note that this new series also has a system for the attachment of glasses on the left shoulder strap.
---
Specifications
Type: top-loading women-specific daypack.
Best use: hiking, mountaineering, climbing, cycling, snow sports, travel.
Weight: 1.896 lb (860 g).
Volume capacity: 1831 in³ (30 liters).
Carry capacity: 25 lb (11.3 kg).
Dimensions (H x W x D): 25.2 x 11 x 8.7 in (64 x 28 x 22 cm).
Torso size range: 14 – 19 in (36 – 48 cm).
Three color combinations.
---
Deuter Speed Lite 30 SL vs Competitors
One way of understanding the features of such a pack is to compare it with other similar items. So I give one pack from Deuter and one from Osprey, both the absolute top in this industry, and both built as women-specific hiking daypacks. They have far more features and this is reflected in their weight, as usual. Please follow the links to read more.
---
Final thoughts, rating, pros & cons
In summary, this Deuter Speed Lite 30 SL pack for women is a minimalist design built to be ultra-lightweight and they have managed in doing this. Its volume-to-weight ratio is among the best in this size range. But as usual in such cases, it lacks a few features so this is a bit of a trade-off. The craftsmanship is at the level which you would expect from such a top brand, and this is a very reliable and versatile backpack.
The pack is bit expensive but if you can afford it I am sure it is worth the money. I am a user of Deuter's packs and can only say the best about their durability. Perhaps you might want to know that Deuter started in the 19th century, so they have had time to learn how to build packs. Please see how I rate this pack.
Nevertheless, if you need a pack with more hip belt padding and a better ventilation, then their Futura 28 SL is a pack to consider. Check also this new version of the Deuter Futura 24 pack.
Thank you for reading. If you want more options from this size range, please check my page with packs below 35 liters. Please use the comment box below if you have a comment or question. Do you have any experience with this pack? If so, please share it here. I wish you a nice day.