---
The Kestrel series has been redesigned recently and this Osprey Kestrel 32 review is about the latest version of this popular pack. With its 32 liters of volume and 1.32 kg of weight, this pack is ideal for day tours and for travel.
Standout features & bonuses
External hydration sleeve.
Integrated rain cover.
Stove-on-the-Go pole attachment system.
Adjustable torso length, plus two sizes to choose.

Osprey Kestrel 32 daypack – where does it really belong?
The Kestrel 32 is a part of the Osprey's Kestrel & Kyte series. This includes Kestrel 68, Kestrel 58, Kestrel 48, Kestrel 38, Kestrel 32, and Kestrel 28 packs for men, and Kyte 66, Kyte 46 and Kyte 36 backpacks for women. Please follow the links to see more about these packs.
However, you should know that the Kestrel 32 is the only panel-loading type pack in this great series. This means you have a long zipper which runs on the top and along the sides, and it opens wide and you can easily see things in the main compartment. So it is not completely clear to me how and why this pack is included in this series with all other packs having classic lids.
Description
This is a streamlined pack which opens up like a shell, and you have an easy access to the main compartment. The main front zipper goes roughly halfway down the pack.
The fabric is a nice mix of lightweight and durable materials, the main body is 210D nylon double diamond ripstop structure, and you have 420D pack cloth on the accent and on the bottom.
The pack is hydration compatible and it comes with an external hydration sleeve behind the harness. This is a great feature which allows you an easy access to the water bladder sleeve. You can store any bladder up to 3 liters, and there is a hanger on the top.
The suspension system
The suspension is lightweight and supportive, based on a frame sheet and a peripheral Osprey's LightWire aluminum frame which enables you to comfortably carry up to 30 lb (13.6 kg) of the load. This internal frame gives the shape to the pack, it stabilizes the load, and it transfers the weight to the hip belt.
I wish to stress that you have the torso adjustment here. All you have to do is to break the Velcro behind the harness and to slide the harness up or down. There are marks to guide you. But the pack also comes in two different sizes, S/M and M/L, and this includes the difference in volume, weight, and the torso size range, so just check it at the moment of purchase. You also have the usual load lifters for further fine-tuning.
On the back is Osprey's AirScape back panel, a rigged foam structure covered with a very breathable mesh. Ventilation channels run in several directions to improve perspiration.
Soft spacer mesh is on the shoulder straps and on the hip belt, all with a no-edge design for improved comfort. The hip belt is with ergo-pull straps systems.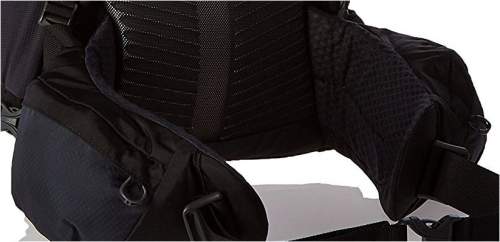 Pockets
There are 6 in total. The usual zippered pockets are on the hip belt, one on each side. One small zippered mesh pocket is completely on the top, right behind the back panel, for some smaller items, and it has a key clip.
One large stretch mesh pocket is on the front and dual side pockets of the same material are on the sides of the pack. As a separate seventh pocket, completely on the bottom is a separate zippered pocket for the rain cover.
Attachment points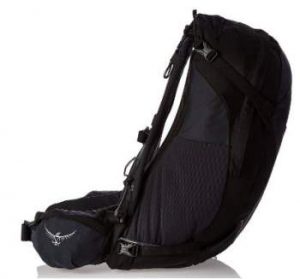 The Osprey's famous Stow-on-the-Go trekking pole attachment system is available here as well. This is for attaching the poles when you are on the go. It includes a bungee cord on the left shoulder strap and a loop on the side of the pack. You will use this to free your hands if you need to take a photo, to eat or drink something on the fly, or to do some scramble.
Dual compression straps are on the sides. They are of the StraightJacket-type, which means you can reverse them and lash them on the front. So you can store some gear here on the front, like snowshoes, or just to cinch the pack differently. Otherwise, they have the usual role on the sides of the pack.
One attachment loop is on the bottom front section, and it is paired with a bungee tie-off (which can be tucked away in a tiny pocket) higher on the pack, for poles attachment or for an ice axe. Dual tuck-away daisy chains are on the front, a very useful feature.
Specifications & summary of features
Purpose: hiking, travel.
Panel loading.
Sizes: S/M and M/L.
Weight:
– S/M: 2.82 lb (1.28 kg).
–  M/L: 2.91 lb (1.32 kg).
Volume:
– S/M: 1831 cu in (30 L).
– M/L: 1953 cu in (32 L).
Maximum carry weight: 30 lb (13.6 kg).
Torso adjustment.
Torso size:
– S/M: 16 – 20 in (41 – 51 cm).
– M/L: 19 – 23 in (48 – 58 cm).
Maximum size: 24 x 12 x 13 in (61 x 30 x 33 cm).
Warranty: limited lifetime.
Materials:
– Frame: aluminum.
– Fabric: 210D nylon ripstop & 420HD nylon pack cloth.
Hydration compatible.
Adjustable sternum strap.
Front panel stretch mesh pocket.
Dual zippered hip belt pockets.
Dual stretch mesh side pockets.
Top zippered pocket.
External hydration sleeve.
Upper and lower reverse StraightJacket side compression straps.
Dual front panel daisy chains.
Tuck away ice tool loop and bungee tie-offs.
Rain cover.
Stow-on-the-Go pole attachment.
Pros & Cons
My short summary is as follows:
  Good

  Less good

Rain cover.
Lightweight.
Very reliable.
Torso adjustment.
Great organization.

No bottom straps.
No side zippered pockets.
I know that some prefer this panel loading type, I must say I am not in this group; a lid has its purpose and it adds more features. But, as I mentioned above, the panel-type access has its good sides.
At the moment of writing this text, this new version has received a perfect score from Amazon customers, 5.0/5. See below how I rate this pack.
Rating of the Osprey Packs Kestrel 32 backpack
Volume to weight ratio -

8.4/10

Features and bonuses -

9.3/10

Comfort -

8.9/10

Price -

8.3/10
Summary
I use five criteria and the Kestrel 32 pack ranks well in all of them, no big differences, therefore the average rate is also quite high. The volume-to-weight ratio is 24 and this is good enough in view of all the features.
New and old models – differences
There are several small differences between the new model and the previous version, and here are the most important:
The rain cover pocket is moved to the bottom in the new version. It was on the front before.
There is a single ice axe loop, as compared to two in the previous model.
The back padding is modified, the ventilation channels are different.
A new choice of colors.
Osprey Kestrel 32 vs Osprey Stratos 34
It may be interesting to compare these two great packs because they are so similar. You will notice that both are panel-type. But in order to compare properly, you should know that the Stratos series has been redesigned, see more about this in my separate text.
So the new Stratos 34 is also with adjustable harness now. But the main difference is in the back system. In the Stratos pack, you have an anti-gravity inspired seamless mesh.
Here is the summary of some other differences, at least the most important ones, I might miss some so please follow the link to see more:
| | | |
| --- | --- | --- |
| | Kestrel 32 | Stratos 34 |
| Weight (kg) | 1.32 | 1.4 |
| Volume (l) | 32 | 34 |
| Front pocket | stretch mesh | zippered |
| Bottom compartment | no | yes |
| Bottom straps | no | yes |
| Bladder sleeve | external | internal |
| Top pockets | 1 | 2 |
| Price, $ | 150 | 143 |
Clearly, the Stratos 34 pack has more useful features, this is one of the best Osprey has ever built, and this holds for the whole series.
Comparison with competitors: Kestrel 32 vs Kelty Redwing 32 
See how the Kestrel 32 backpack compares with the popular Kelty's model, only some basic features are given, to see more please follow the link:
| | | |
| --- | --- | --- |
| | Kelty Redwing 32 | Osprey Kestrel 32 |
| Weight (g) | 0.9 | 1.32 |
| Volume (l) | 32 | 32 |
| Loading type | hybrid panel-top | panel |
| Lower compartment | no | no |
| Hydration compatible | yes | yes |
| Rain cover | no | yes |
| Metal frame | no | yes |
| Side zippered pockets | yes | no |
| Harness adjustable | no | yes |
The Redwing 32 is exceptionally lightweight, and its volume-to-weight ratio is VW = 36, but it comes without a metal internal frame. This is the main reason for the difference in weight.
Summary
To conclude this Osprey Kestrel 32 review, this particular pack is quite different as it is the only panel-type in the Kestrel & Kyte series. Nevertheless, it shares the same great features as other packs in the series. One of its bonuses is it's size because it is small enough to fit as a carry-on bag. I can fully recommend this pack and this is seen from my rating. You might want to see also the Talon 33 pack from the same brand, modified in 2017.
If you need something smaller from the same series, please see this Kestrel 28. I already mentioned the bigger packs from the series, they are reviewed in the site, so check these Kestrel 48, Kestrel 38.

Thank you for reading. In the case of questions or comments, please use the comment box below. Have a nice day.


---