---
Gregory Swift 20 Women's Hydration Pack is a new model on the market, an ultra-lightweight daypack with a bonus hydration reservoir included.  
---
Key features & benefits
Ultra-lightweight.
Reservoir included.
Reasonable price.
---
What this is about
The Gregory Swift 20 pack for women is a part of a brand new series they launched in 2018. It includes also the packs of 25 and 30 liters. As usual, they have a corresponding series for men under the name Inertia, you can see the Inertia 25 pack in my separate text.
This is an ultra-lightweight series and this is so because the packs have no metal frame. The words hydration pack in the name suggest that this is a daypack with a reservoir included. This adds value, the reservoir alone would cost you about $36.
The pack is the panel-loading type with a long zipper on the top and on the sides, just like any city pack. The pull loops are large and easy to use.
---
Who is it for
This is a daypack with a small volume so this is for short and fast day adventures. The pack is without lid, so it looks like an ordinary pack for commuting and I do not see any reason why it cannot be used for such a purpose. The reservoir sleeve is external and with a zipper; they write that it is not laptop-compatible but I see no reason for not using it for such a purpose if the notebook fits.

---
Overview of features
The suspension system
Here you have no frame, and this is the main difference between this pack and their Gregory Juno 20 pack. So the back is a foam panel with cut-outs and it is covered by a breathable mesh. They call this a ventilated back panel but I would not expect lots of ventilation with such a design. This is a small pack in any case, so not a big deal. But if you want a ventilated pack from this size range, check this Osprey Hikelite 18 which is with a tensioned mesh and frame.
The harness is fixed, no adjustment but this is quite normal for such a size. The contouring and the width of the harness are such to fit a female body. The foam on the shoulder straps is similar to the foam on the back, with the same perforation and mesh.
The waist belt is a very narrow strap, it is there only to prevent the pack from bouncing, I would not expect it to carry a load. Note that this is different from the Swift 25 where you have some fins on the sides. The description at several places, including Amazon as well as Gregory's site, is incorrect, there is no padding on the Swift 20 pack's belt, see the picture below.
The sternum strap is adjustable as well as the load lifters which you have here, surprising for such a small pack.
Reservoir
This is a 3D 3-liter reservoir that you carry in its own compartment behind the harness where you have Gregory's SpeedClip reservoir integration system shown below. You rout the pipe along the shoulder strap and attach it to the sternum strap through a magnet, see the picture.
Pockets & compartment
Apart from the mentioned hydration and main compartments, you also have four pockets. One media pocket is on the top, and on the sides you have stretch mesh pockets (see the picture below) where you can store water bottles or anything of the same size. One very large stretch mesh pocket is on the front, to store the stuff on the go.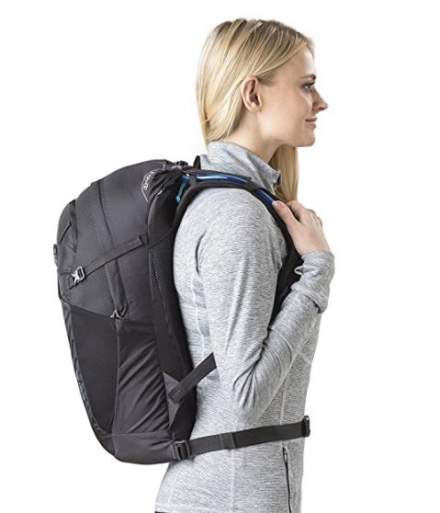 Attachment elements & straps
There is one compression strap on each side, see the picture above, to cinch the pack or to keep in place any elongated item carried in the side pockets. So this is different from the Swift 25 where you have them two. On the top of the pack you have two webbing loops to attach some items. You also have the trekking poles attachment system, with loops and bungee tie-off.
Please see a bit more about the Swift series in this video by Gregory:
---
Specifications
Type: daypack for women.
Capacity: 1220 in² (20 l).
Dimension (H x W x D): 18.1 x 11.25 x 8.25 in (46 x 29 x 21 cm).
Weight: 1.32 lb (599 g).
Carry weight: 20 lb (9 kg).
Material: 100% nylon.
---
Gregory Swift 20 pack vs Competitors
Here I give the Swift 20 side by side with two other packs which also come with a reservoir included, see how they compare. Obviously, this pack is not a close match to the Mira 18 AG which has far more features but it is heavier and it costs much more. But see the $54 price of the Teton Sports pack, this is without a match, compare this with $155 for the Mira 18 AG. Please follow the links for more.
---
Final thoughts, rating, pros & cons
So to summarize this Gregory Swift 20 Women's Hydration Pack review, you realize this is a very simple pack for light and fast outdoor day excursions and for around-town use. It still has a few useful features which you need, and the reservoir is a big bonus with this pack.
Note that it is without a rain cover if you go to areas with lots of rain. I would not use it for a heavier load, the tiny hip belt is not designed to support the weight, for such cases check the Mira 18 AG pack shown above and also CameBak Sundowner LR 22 which is also with a reservoir and designed for women.
This is a very affordable pack and you have the reservoir included. See how I rate it:
If you need to see more packs in this size range, please visit my page with packs below 35 liters, and for larger packs check here. Note, there is a comment box below, do not hesitate to ask if you have any question. Thank you for reading and have a nice day.
---