---
CamelBak Sundowner LR 22 Hydration Pack For Women comes with some unique features and a lumbar reservoir designed to shift the load from shoulders to hips, resulting in a lower center of gravity and in more stability on trails.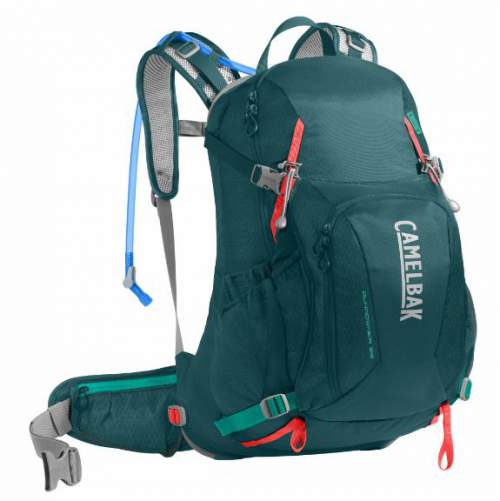 ---
Benefits & bonuses, key features
Crux lumbar reservoir 3 l.
Quick Link system for the water hose.
Magnetic Tube Trap.
Separate reservoir compartment.
Trampoline-style back panel.
Reservoir compression straps on the sides of the pack.
---
What is in the name
The Sundowner LR 22 is a women-specific design that features a shorter back panel and an S-curved harness for a closer fit. This is also a hydration pack, with 19 liters of volume plus 3 liters in the reservoir. This makes it large enough for fast and light day tours of various kinds, and you will be able to carry up to 25 lb (11.3 kg) of load, and you will do this comfortably. The letters LR in the name mean 'lumbar reservoir', more about this below.
This is a panel-loading type backpack with a long zippered entrance to the main compartment. Here you can carry everything you need for a full day out, regardless of the activity.

---
Overview of features
Reservoir
You have the new type 3-liter Crux LR reservoir, a unique design which delivers 20% more water per sip while keeping weight positioned low on your back, see the picture below. This is done for a better stability when you walk on the trail.
The reservoir is stored in its separate compartment behind the harness. But I feel that this compartment is a wasted space for such a lumbar reservoir which occupies only the lower half of the compartment. The upper part remains empty.
Note that you have special straps on both sides of the hip belt for reservoir compression, which you can adjust on the go as the amount of water changes during the day. In this way, you keep the pack all the time closer to the center of gravity. This is a clever design.
The water hose goes on either side of the harness. Magnetic Tube Trap system keeps your tube secure and accessible when you need it. You also have the Quick Link system in place so that the hose remains in place when you take the bladder out to refill.
Please see this video by CamelBak which shows all these details; the Lumbar Reservoir is one of those presented here:
Suspension
The suspension is one of the great features in this pack. This is what they call an air suspension back panel with a suspended mesh that keeps the pack away from the body and allows for maximum ventilation and airflow, the picture below shows this feature.
Ventilated hip belt is wide and comfortable with a bit of padding. Load lifters provide maximum comfort and even load distribution, not many packs of this size have them.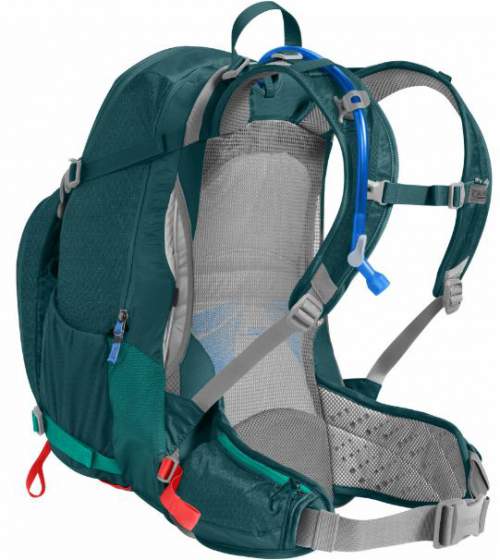 Pockets
The hip belt comes with two zippered pockets, you can see them in the picture above.
One large zippered pocket is on the front, and inside of it you have several mesh pockets for organization. This is shown in the picture below.
Dual stretch mesh side pockets are there as well, for water bottles if you have them, or for any object which you can store there and fix in place with the side straps.
There is a large shove-it pocket behind this front pocket, it is connected with the side straps and you can store a lot of stuff here. See this below.
Compression straps and attachment elements
There are four compression straps, two on each side, plus dual bungee loops on the front paired with the attachment loops on the bottom. The picture above shows how you attach trekking poles here.
There are several lashing points on the shoulder straps. See also those red straps on the front and bottom, those are attachment elements.
Here is a short video by CamelBak about this Sundowner LR 22 pack for women and the corresponding Franconia LR 24 for men, have a look:
---
Specifications 
Best use: hiking, travel.
Gender: for women.
Type: panel loading.
Weight: 1.2 kg (2 lb 10 oz).
Maximum weight: 25 lb (11.3 kg).
Volume: 19 l (1150 cu in).
Liquid capacity: 3 l (100 fl oz).
Dimensions: 50 x 29 x 33 cm (19.7 x 11.4 x 13 in).
Crux lumbar reservoir with Quicklink System.
Magnetic Tube Trap.
BPA/BPS/BPF free.
Not adjustable torso size.
Air suspension back panel.
Fits torso: 38 – 48 cm (15 – 19 in).
Fits waist/hips: 76 – 127 cm (30 – 50 in).
Materials:
– 210D nylon double diamond ripstop.
– 600D pack cloth.
– Frame: steel.
Exterior pockets: 6 plus two compartments.
---
Summary, rating, pros & cons
To conclude this CamelBak Sundowner LR 22 Hydration Pack For Women review by stressing that this is a really cool design with many great features. The expensive reservoir is included, so in view of this, the steep price may look a bit more acceptable.
The pack is one size and the torso is not adjustable, this is not so great but this is frequent in packs of this size. Make sure that you fit in the prescribed torso length. There is no rain cover, bear this in mind if you are in areas with a lot of rain like me in the Alps. Below is my rating of the pack.
The CamelBak is a renown and reliable company, famous for its hydration packs, several of them are described here in the site, so in view of this, I can fully recommend this pack if you can afford it. I have included it in my list of best day hiking backpacks for women. The corresponding version for men is the CamelBak Franconia LR 24. You might want also to check this Gregory Swift 25 pack for women which comes with a 3-liter reservoir included.
If you still need something different, please check in the Categories above on the right, there are hundreds of backpacks described in the site.
Thank you for reading. In the case of questions or comments, please use the comment box below. Have a nice day.