---
Gregory Inertia 25 Pack is from a new 2018 series of hydration daypacks which comes with a hydration reservoir included. This is a frameless design with trail-friendly features. 
---
Key features & benefits
Hydration reservoir included.
Ultra-lightweight pack.
Great price.
---
What is this about – what are Inertia packs
This Inertia 25 pack is a part of a brand new Inertia & Swift series by Gregory, which includes the packs in three sizes, of 20, 25, and 30 liters. As usual, they have different models for men (the Inertia) and for women (the Swift packs). The packs share the same features in principle, but the Swift series is anatomically different, built to fit women's body shape.
On the other hand, within each of the series there are small differences; for example, the side compersion straps are different in the 20 liters packs as compared to the packs of 25 and 30 liters.
Although it may look similar to the Citro 25 pack, the Inertia 25 is very different in the sense that this is a frameless daypack. So there is a difference in the weight and the functionality. The Inertia 25 is indeed a truly lightweight pack with only 1 lb 9 oz (0.71 kg).
Here are the basic data for the three packs from the Inertia series:
 Gregory Inertia 20
Inertia 25
Inertia 30
 1220 in³
1526 in³
1831 in³
 1 lb 7 oz
(0.65 kg)
1 lb 9 oz
(0.71 kg)
1 lb 12 oz
(0.79 kg)
 20 x 11 x 8 in
20 x 12 x 9 in
20 x 12 x 10 in
Who is it for
This is a panel loading pack, so you have a long zipper for the entrance to the main compartment. This makes the pack look like an ordinary commuting daypack. But it has extra features which you will find very useful if you use it for fast and light outdoor day tours. The separate reservoir compartment which you have here is with a zipper and it can be used for your laptop as well, so this is a versatile tool indeed.

---
Overview of features
The suspension system
On the back you have a panel with cut-outs and covered with a breathable mesh. This is all flexible but it still gives the shape to the pack. You should not expect much of the ventilation with such a design, but the question is if this is really essential for such a small pack. If it is, then check the Citro 25 from the same brand, or CamelBak Franconia LR 24.
The shoulder straps are very anatomical and with a good and ventilated padding, and you also have an adjustable sternum strap with a rail system visibile in the picture below.
The hip belt is with short fins with a bit of padding, this is good enough for such a size. Note that you do not have any torso adjustment here, and there is no metal frame. But the pack still comes with load lifters, a bit unusual indeed.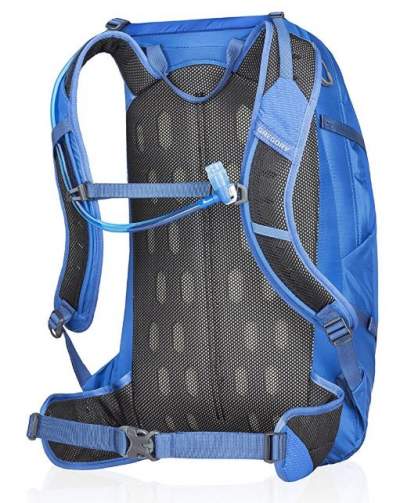 3D 3L hydro reservoir
This is an important bonus with this pack, and you even have an extra sleeve for the reservoir positioned behind the back panel. You have a SpeedClip system here so taking it out and refilling is easy, see the picture below. It is built 3-dimensional, and this is on purpose so that you can clean it easily. You have a nice handle and a large lid to open it. The reservoir is BPA-free.
The hose is with a lockable bite valve and with a magnetic attachment on the sternum strap as shown in the picture below.
Pockets & compartments
There are 4 pockets in total – those include two side stretch mesh pockets plus a large front pocket of the same material. All three are rather large and you can carry water bottles on the sides and your spare layers in the front pocket where you also have a buckle to secure the things inside. On the top, there is a zippered pocket for your smartphone or glasses.
The mentioned hydration compartment is parallel to the main compartment which is without extra features inside.
Attachments & compression elements
This pack has dual compression straps on the side; this makes it different from the smaller 20-liters version where you only have one. You also have pole attachment loop on the left side, see the picture above, and it is paired with the bungee tie-off higher on the pack. You will notice also a few attachment webbings on the top. So this is quite enough for such a small pack.
Please see a bit more in this short promotion video by Gregory:
---
Specifications
Type: frameless daypack for men.
Best use: hiking, around town use, travel.
Capacity: 1526 in² (25 L).
Weight: 1 lb 9 oz (0.71 kg).
Dimensions: 20.1 x 11.5 x 8.5 in (51 x 29 x 22 cm).
Torso fit: one size; most suitable for 16 – 21 in (41 – 53 cm).
Waist/Hips fit: 28 – 48 in (71 – 122 cm).
Maximum weight: 25 lb (11 kg).
Fabric: 210D Honeycomb CryptoRip nylon.
---
Gregory Inertia 25 pack vs Competitors
Here is the Inertia 25 side by side with two other packs from this size range. The Kelty's pack is without the reservoir, but its price is only around $66. So this would be a realistic price for the Inertia 25 as well if it was without it. Please follow the links to my detailed reviews.
---
Final thoughts, rating, pros & cons
So as you see the Gregory Inertia 25 Pack is a simple design, but it is versatile and the included reservoir is a big bonus. The pack can carry up to 11 kg but I would not go to the limits with it mainly because of the absence of the frame. You would have lots of pressure on the shoulders and the hip hins are thin for such a heavy load.
But this is not a pack for heavy loads, up to 3 liters of water plus some food for the day and spare layers, this is all you would need for fast and light day tours to some hut or a smaller summit.
The pack lacks some features which may be important for some, dependent on the climate, like the rain cover. The torso length is fixed, most likely not a big deal in view of its size. If this is important for you, check the Osprey Stratos 24 which has an adjustable torso size, and it also has a rain cover (but no reservoir).
The price is fair for what you get here, the included reservoir alone would cost you around $36. See how I rate it:
Please see also the Swift 25 pack for women from the same series and with the same features. If you need something different from this size range, please check my page with packs below 35 liters, you will find many items from the top brands there. For larger packs check here.
Please use the comment box below in case of questions or comments. Have a nice day.