---
This Osprey Skarab 24 review is about an ultra-lightweight multi-purpose versatile daypack with a hydration reservoir included. Find out more in the text below.
---
Benefits & bonuses
Bonus Hydraulics LT 2.5 liter reservoir.
Ultra lightweight.
Multipurpose daypack.
Reasonable price.
External reservoir sleeve.
Magnetic bite valve.
Two sizes, S/M and M/L.

---
What kind of backpack is this
The Scarab 24 is in the middle of the Scarab series which includes 3 packs, 18 liters, 32 liters, and this pack presented here. With 24 liters of volume, this is a pack for fast and light day tours. So this can include many activities, like day hiking, cycling, non-technical mountaineering, etc.
But this is also a hydration pack, and it comes with the bonus 2.5 liters bladder, see below. The design of the pack is quite simple, but you still have a lot of what Osprey's packs offer, and it is reliable as you can expect from this brand.
The design is such that you can use it also as a pack for commuting and for city tours. You can remove the reservoir for such occasions, and use it for other purposes, like storing a tablet or laptop in it. Above all, this is an ultra lightweight pack, with 1 lb 7.7 oz (0.67 kg) of weight.
---
Overview of features
The Skarab 24 is a panel loading type and it looks like an ordinary pack for the city use. But it has the hip belt and a few other features that make it a bit different and more functional than ordinary city packs.
The bonus Hydraulics LT 2.5 liter reservoir
This is a high-quality reservoir with an extra-wide sliding plastic clip opening for a quick and easy cleaning and refills. An additional bonus is the magnetic bite valve attachment system on the sternum strap, shown above in the picture.
The construction of the bladder includes welded baffles which are built in order to prevent water from sloshing too much. A handle on the top is very convenient for removing it and holding when refilling. It comes with an anti-microbial treatment. Here is a short video about these reservoirs, please have a look:


The suspension system
This is a small pack, and it comes without any hard frame, just a foam behind the mesh on the back. This should be fine for such a size. The back foam is with ventilation cut-outs, but do not expect much ventilation in this design. Both the harness and hip belt are BioStretch, so this material flexes and moves with the body.
The shoulder straps are padded, but the hip belt is practically just a mesh. Though this is good enough for this pack. The adjustable sternum strap is also available.
There is no harness adjustability here, but the pack is built in two sizes, S/M and M/L, see in the specifications for more.
Compression straps and attachment elements
The pack is with one compression strap on each side, so you can use them to fix gear which you would store in the side pockets.
There are dual loops on the bottom of the pack for trekking poles, plus a larger loop for an ice axe, you can see them here.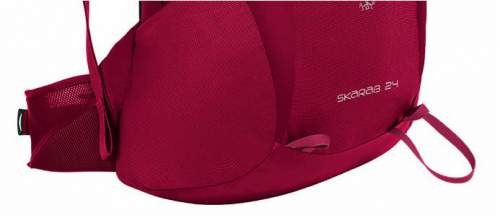 Pockets and compartments
Apart from the main compartment, the useful addition here is the external reservoir sleeve behind the harness.
On the top of the pack you have one scratch-free zippered pocket, and yet another one is closer to the front side.
On the front, you have a large shove-it stretch mesh pocket which is secured by straps on the sides and by a buckle on the top. On the sides, you have the usual stretch mesh pockets for gear or for water bottles. So in total, you have 5 external pockets plus the two compartments, not bad at all.
---
Here is a short promotion video about the Scarab and Skimmer series (for men and women):
---
Pros and cons
Here is my short summary:
  Good

  Less good

Versatile pack.
Quality tool.
Two sizes.
Very good price.
Bonus reservoir.
Ultra lightweight.

No rain cover.

Not adjustable torso length.
No frame.
Not so great ventilation.
No hip belt pockets.
The pack doesn't have a few features which I love to have, like the rain cover. The hip belt is relatively narrow so this is probably why there are no hip belt pockets.
The price & rating
The current price is $100 together with the reservoir, so this is very reasonable. You will realize this also from the comparison table below. The reservoir alone is a third of the price if you would buy it separately.
So far, the pack has received an excellent score on Amazon 4.6/5, though the number of reviews is rather small. See how I rate it.
My rating breakdown of the Osprey Packs Skarab 24 Hydration Pack
Volume to Weight ratio -

9.5/10

Features & bonuses -

8.3/10

Comfort -

7/10

Price -

9.1/10
---
Specifications 
Best use: hiking, commuting, travel.
Gender: for men.
Type: panel loading.
Warranty: limited lifetime.
Weight:
– S/M: 1lb 6.2 oz (0.63 kg)
– M/L: 1 lb 7.7 oz (0.67 kg).
Maximum weight: 25 lb (11.3 kg).
Volume:
– S/M: 1343 cu in (22 l).
– M/L: 1465 cu in (24 l).
Liquid capacity: 84.5 fl oz (2.5 l).
Dimensions:
– S/M: 16 x 12 x 12 in (41 x 12 x 12 cm).
– M/L: 18 x 12 x 12 in (46 x 30 x 30 cm).
Hydraulics LT 2.5 l reservoir included; 6 oz (0.18 kg).
BPA free.
Not adjustable torso size.
Fits torso:
– S/M: 16 – 19 in (41 – 48 cm).
– M/L: 18 – 21 in (46 – 53 cm).
Fits waist/hips:
– S/M: 26 – 45 in (66 – 114 cm).
– M/L: 28 – 50 in (71 – 127 cm).
Materials:
– 210D nylon double diamond ripstop.
– 600D pack cloth.
– Frame: foam frame sheet.
Colors: 3.
---
Osprey Skarab 24 vs Competitors
See how Osprey Skarab 24 compares with some packs of the same size, all hydration-type packs. Please follow the links to see more.
Camelbak
Fourteener 24
Gregory
Citro 25

Osprey




Skarab 24

Weight (kg)
1.2
1.05
0.67
Volume (l)
24
25
24
Loading
panel
panel
panel
Hydration compatible
yes

*

yes*
yes*
Rain cover
no
no
no
Internal frame
no
yes
no
Harness adjustable
no
no
no
Belt pockets
yes, 1
yes, 2
no
*Hydration bladder included.
As you realize, the Skarab 24 is ultra lightweight because it lacks several features, like a real frame, a rain cover, etc.
The prices of the three packs at the moment of writing this text are, respectively, $144, 130, 100.
---
Summary
Not much more to add to this Osprey Skarab 24 review, the pack is a quality product as one should expect from Osprey. From the comparison table above you realize that the Skarab 24 is not a match for the other two packs, but it is not designed to be; it is built to be a multipurpose tool.
It lacks some features, but if you do not want to spend much and need a tool for occasional use in any of the activities for which this pack is designed, then go for it. Note that its bonus reservoir can also be used with other packs which you perhaps have. Check its cousin Scarab 32 if you need a bigger daypack.

If you still need something different in this size range, please check my page with packs below 35 liters. Thank you for reading. In the case of questions or comments, please use the comment box below. Have a nice day.

---