---
In this Teton Sports Oasis 1200 Hydration Backpack review you can read about a nicely built versatile daypack with a couple of exceptional bonuses.
---
Key benefits
Rain cover included.
3-liter water bladder included.
Great price.
---
Teton Sports Oasis 1200 – description
Oasis 1200 is larger for 2 liters only from the Oasis 1100, but there are many differences between these two packs. This is a pack with a panel-type zippered access to the main compartment. Such a construction makes it very suitable for commuting and for around-town use, as well as for short and light outdoor adventures.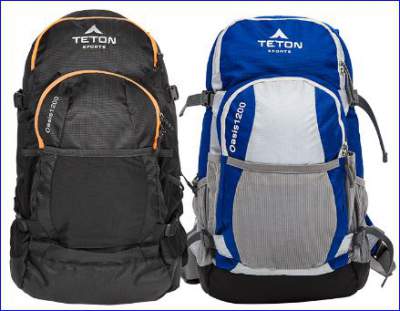 The pack is hydration compatible and you have a 3-liter water bladder included. This is FDA-compliant food grade bladder with triple-heat sealed edges, with a convenient grip handle for easy filling, and with a very wide mouth.
The water hose port is behind the neck and you can pass it along either shoulder strap. The bladder sleeve is in the main compartment, and this is what makes it different from Oasis 1100 pack where you have a separate and insulated water bladder compartment.
On the sides you have dual compression straps, those are very useful indeed. The lower run across the side pockets and fix the items inside of them. But you can store some long objects there as well and fix them with the upper compression straps, see the pictures.
Completely on the bottom of the pack, you have a separate velcro-tabbed pocket with the integrated rain cover, which is yet another great bonus with this pack.
Suspension system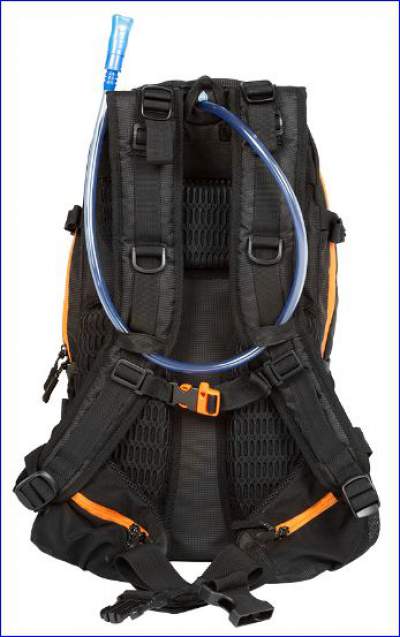 The hip belt fins are with micromesh ventilation, so strictly speaking this is not a padding but this is still better than what you have in Oasis 1100 pack.
On the back, you have T-shaped ventilation channels, and on the sides and behind the shoulders, they have added o.5 inches (1.3 cm) thick air mesh pads.
On the shoulder straps, you have load lifters, D-rings for attachment, and water hose webbing loops. The chest strap is adjustable and equipped with a safety whistle.
Note that the harness is not adjustable, all you have are the load lifter straps that can give a couple of inches of adjustment if you are a tall person. But the pack will fit you well even if you are a bit above 6 feet.
Pockets
On the front you have what they call a butterfly pocket similar to Oasis 1100, you will see it in the video, but here they have added mesh on the sides. So this can indeed keep smaller items from falling out, but in the same time, you cannot add some larger items horizontally as in the case of Oasis 1100 where you can put a tent or tent poles, etc. I guess in the present case you may try to put such items vertically and most likely they will stay there because of the compression straps with buckles that are there on both sides.
On both sides of the pack you have stretch mesh pockets for water bottles or for some other pieces of equipment. As mentioned above, they are with compression straps.
Dual zippered stretch pockets are on both sides of the hip belt, they are rather small but still very useful.
On the front you have a zippered pocket with a 2-section mesh organizer inside; the mentioned butterfly pocket is behind it. On the surface of this front pocket, you have yet another front stretch mesh pocket. Higher above this front construction you have yet another small zippered pocket with a key clip inside.
Here is a short video about Oasis 1200 pack by Teton Sports, please have a look:
---
Pros & Cons
My list is very similar to what you have with Oasis 1100 pack, see the summary:
  Pros
  Cons

Versatile.
Rain cover included.
Water bladder included.
Nicely built and good design.

No frame of any kind
No harness adjustment.
Most complaints about this pack are related to its water bladder. It really does not look durable and many have reported it leaking. They give one year guarantee for the water bladder so it is good to bear this in mind.
The design of the bladder is such that it causes the same issues as with the Oasis 1100 pack. It is bulky and not flat, it sits in the middle of its sleeve and pushes out the central section of the back of the pack, where you have the ventilation channel. This reduces ventilation, and the issue is related to the fact that the pack has no frame or panel.
But Oasis 1200 backpack has received a very high average rate on Amazon.
---
Specifications
Weight: 2.45 lb (1.11 kg).
Capacity: 1200 cubic inches (20 liters).
Size: 19.5 x 12 x 9.5 in (49.5 x 30.5 x 24 cm).
Hydration capacity: 101 oz (3 liters).
Water bladder included.
Fabric: 600 D Dobby; 210 D Polyester.
Colors: 2, blue and black.
Unisex.
Waist belt fit: up to 60 in (152 cm).
0.5 in (1.3 cm) mesh-covered pads.
T-shaped back airflow channel.
Integrated rain cover.
Limited lifetime warranty.
The water reservoir, bite valve, and drink tube are covered against defects in materials or workmanship for a one-year period.
For international warranty claims (outside the United States), shipping and duty fees are the responsibility of the consumer.
---
Conclusion
To summarize this Teton Sports Oasis 1200 Hydration Backpack review, this pack looks really great and I love it. It has very good features and comes with two bonuses. This all, together with its price really looks great and this is what makes it so popular. In view of all this, I have ranked it very high.
But bear in mind complaints by some of the customers and check the pack when you receive it, put a maximum load in it and see how it behaves. Note that other packs in this industry are much more expensive, in fact with 2-3 times higher prices, but at the same time, they are more reliable. So if you need a heavy-duty tool, be ready to spend more, otherwise, this pack may be the right choice for you.

I hope this text has been useful to you, and if this is so please share it with others. It will be great to hear from you, there is a comment box below.