---
The Black Diamond Nitro 22 Pack is a frameless zippered panel type daypack with a unique harness attachment details, a very durable fabric, and a separate external hydration sleeve.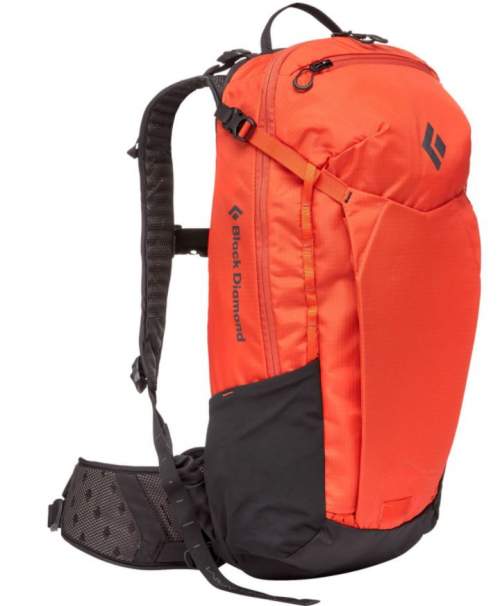 ---
Key features & benefits
Zippered panel access.
No frame.
Breathable back panel and hip belt.
Swing Arm design.
External access hydration sleeve.
Emergency whistle. 
---
What this Black Diamond Nitro 22 Backpack is about
This pack has been on the market for many years, the first time I heard about it was at least 8 years ago. But it has been reshaped of course. So this is a daypack with a large zippered panel access. From the picture above you realize that the zipper is very long so you can open it wide and have access to your stuff inside.
There is a separate hydration compartment for a bladder, it is between the back panel and the main compartment. This is useful because you have an easy access to your water bladder without messing with the things in the main compartment.
The overall shape is a bit strange in the sense that the pack is narrower on the bottom. I rather have it quite the opposite, but this is just me. Note that they build it as black and orange, see the pictures. The fabric is a 210D ripstop nylon and 210D Dobby Abrasion nylon.
Suspension
This Nitro 22 pack is with a design that keeps it close to the body. They call it the OpenAir back panel, and this means you have horizontally ridged foam panel with holes covered in large-net mesh.
This makes for a pretty breathable, flexible, and comfortable back panel, and the same construction is on the hip belt, and on shoulder straps. The picture below shows a close view of this structure: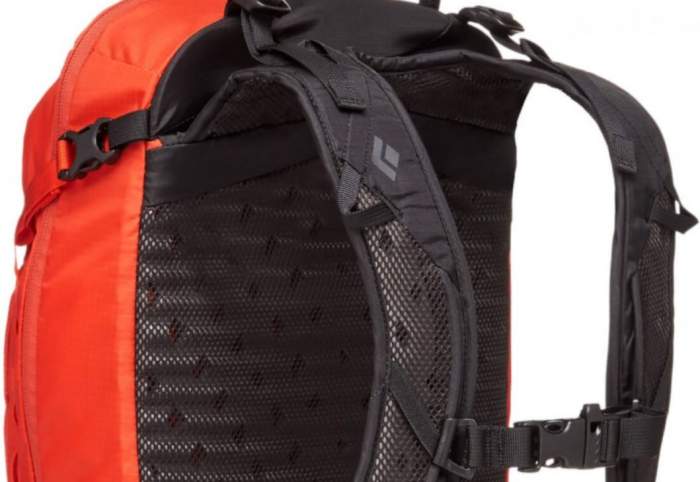 Below you can see a bit more details of the hip belt which is lightly padded but it is very wide, so this is completely enough for the pack of such a size.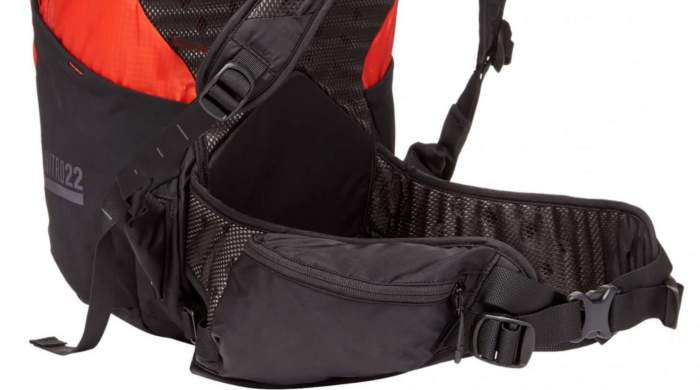 They have here what they call the Swing Arm design and I shall try to explain what this means. So the shoulder straps are connected to the pack on the top in the usual way, and you have load lifter straps as well.
But it is different on the bottom. Normally shoulder straps are sewn in and fixed to the pack on the bottom as well, yet this is not so here. There is a cord that runs behind the lumbar padding, and this cord connects those two bottom ends of the shoulder straps.
If you still do not understand the concept, the shoulder straps together with that cord create a U profile. This allows the harness to move with your body while the pack practically remains in place because it is attached to the hip belt.
This is a unique design and it is surprising to see something like this in a pack of such a size. Various designs with the same intention, but very different of course, you can see in much larger packs.
The straps on the hip belt are pull-forward type and this is much batter that the other option where you pull to the sides. You can see all this in the picture: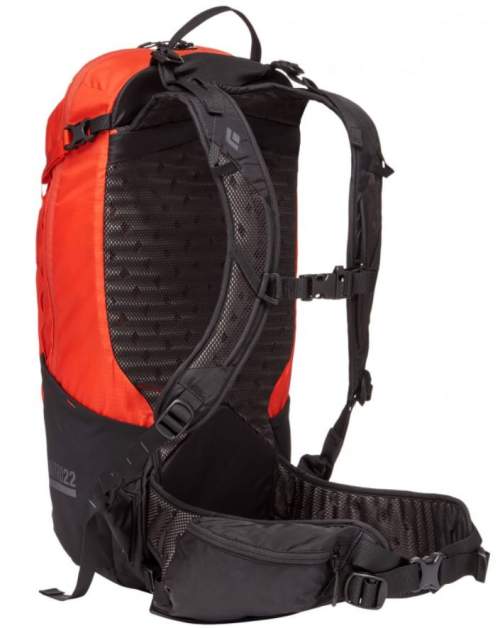 Note that the torso length is not adjustable, and the pack is quite long, better suited for taller users.

Pockets
There are two usual side mesh pockets, for water bottles or anything similar.
The hip belt is with one pocket, visible above. I wonder why not two.
A zippered pocket is on the top.
On the front you have a whole zipper-less compartment, but you can call it a kangaroo-type expandable pocket. This is a large storage space for things that you may use on the go.
Attachment features & straps
Two tuck-away type webbing loops are on the bottom.
One light attachment clip is on the bottom.
Dual upper and lower compression straps on the sides. The upper straps are directly attached to the front stash pocket so you cinch the pocket with them. The same straps you must use to keep the poles (or an axe) in place if you attach them to the mentioned bottom loops.
There is a pair of load lifter straps that double as the straps that cinch the reservoir sleeve.
Dual pull-through loops on each shoulder strap for sunglasses. 
Very useful but low profile daisy chains are available on the sides, see one below.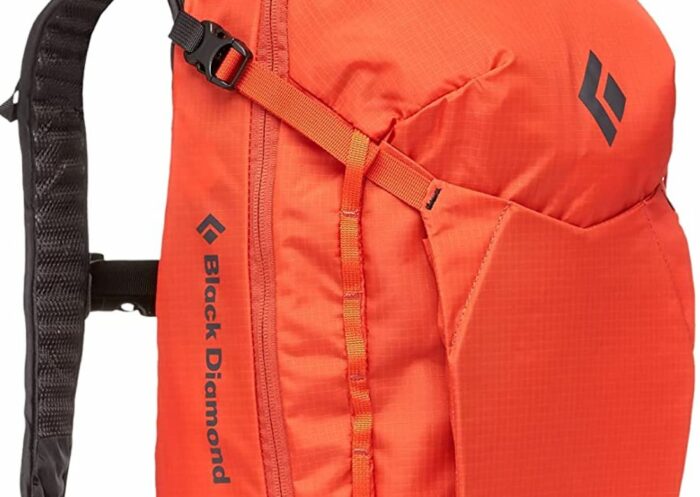 ---
Specifications
Weight:
– S/M: 1 lb 15 oz (878 g).
– M/L: 2 lb (900 g).
Volume:
– S/M: 1220 in³ (20 l).
– M/L: 1342 in³ (22 l).
Dimensions: 21 x 11 x 7.5 in (53 x 28 x 19 cm).
Torso range fit:
– S/M: 16-19 in (41-48 cm).
– M/L: 18.5-21.5 in (47-55 cm).
Best use: hiking, trekking, climbing.
---
Final thoughts & rating
In summary, this Black Diamond Nitro 22 Pack is a well-built and versatile daypack. My guess is they built if for climbers but it is more than that. The harness moves with your body and this is a unique design. The materials are durable and you have enough pockets. Fully recommended.
Below you can see how I rate this pack against my usual rating criteria so that you can easily compare it with other items of this type:
BEST PLACEs TO BUY
For more options, please check under the category Day Packs. You might want to consider also this REI Co-op Flash 22 Pack or this unique Mystery Ranch Coulee 25 Pack for Women.
Bookmark this site and come again, this will keep you informed because I add texts here regularly. Let me know if you have questions or comments, there is a comment box below. Have a nice day.