---
The Osprey Raven 10 For Women is a lightweight and very technical hydration pack which comes with a bonus 3-liter hydration reservoir and with several unique features.
Key feature and benefits
Included 3-liter Hydraulics reservoir.
External reservoir sleeve.
Unique asymmetric shoulder strap zippered sleeve for the water hose.
Great bike-specific organization features, the ToolWrap being one of them.
A magnet for the hose mouthpiece.

---
Who is it for
The Raven 10 pack is full of features introduced for mountain bikers, but it is also suitable for cyclists in urban use. I see it also as a great small hydration pack for quick and light day hiking tours; it may look small for such a purpose but its organization is great and it allows for such a use.
---
Bike-specific features
There are many of them here. To start with the LidLock clip for a helmet, which is on the top of the pack. See how you can attach a helmet to it:
Then you have the blinker light attachment webbing on the bottom front section.
The pack has what looks like a bottom compartment, but in fact, this is a zippered bottom pocket with a removable roll-out ToolWrap. This is a nice organization piece with several mesh pockets on it where you can store repair kit for your bike and various other related things. See how it looks like:
But this is not all. Inside the main compartment, you have no less than three mesh pockets on the wall which separates it from the hydration sleeve. So here you can store a pump and some spare parts and gear.
---
Hydration features
The Osprey Raven 10 Hydration Pack is what its name says, a hydration pack for women. So you have an external sleeve for this purpose, located behind the harness. This is not all; the pack comes with the 3-liter Hydraulics reservoir.
This all is together with an asymmetric zipper which runs from the external sleeve and along the right shoulder strap, you can see a part of it in the picture below. This is a sleeve for the water hose which runs through it and then it is attached to the shoulder strap by a magnetic buckle.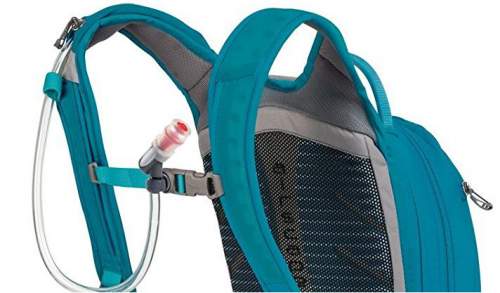 The reservoir is nicely designed, with a handle which is such that you can take it out easily. It is reinforced on one side to prevent barreling and pushing you in the back. Its wide mouth is accessed through a sliding closure on the top. You have an integrated PourShield which makes it easy to fill and empty, and its interior is anti-microbial treated to prevents mold and bacteria from building inside. See how this all works:
---
Other features
The suspension is based on a molded foam back panel, so you have some contouring but not a real metal frame. So you have a flexible BioStretch design with the back panel which is in contact with the body. This means the pack is not rigid and it moves with the body, the materials are made stretchy and flexible.
Some ventilation features are on the back panel, this is what they call AirScape system, and this implies channels covered by a nice mesh, but I would not expect too much from it.
Similar BioStretch features are on the shoulder straps and the hip belt. The padding is just enough on the shoulder straps but it is missing on the hip belt, though I do not think this is essential for such a size pack. The hip belt is there mainly to keep the pack in place.
I already mentioned the sternum strap, it is flexible and adjustable, and with the magnetic system for the bite valve.
The main compartment is small, and it becomes even smaller when the reservoir is full and those external pockets stuffed with gear. But you still have some place for extra equipment, food, and pieces of clothing.
You also have side compression straps almost completely on the bottom, one on each side. I must say I do not see the purpose of having them so low or having them at all.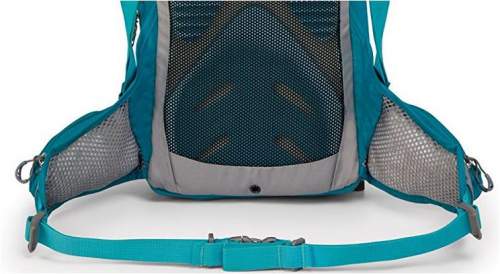 Pockets
You have dual zippered pockets on the hip belt, very nice and useful. The bottom pocket is already described above, and on the front, you have a large stretchy shove-it pocket with a buckle.
One zippered scratch-free pocket for glasses is on the top, and inside of it, you have yet another zippered pocket with a key clip. Observe that you do not have the usual side stretch mesh pockets. Pity.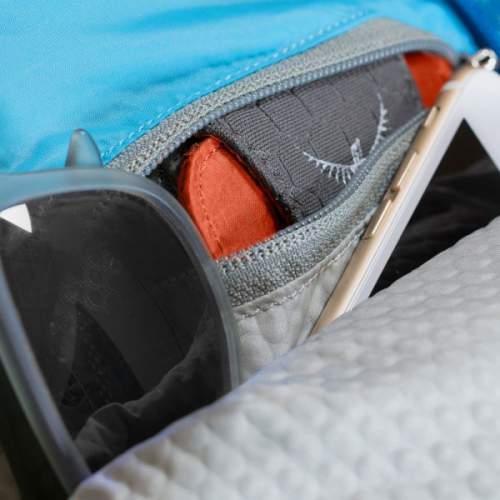 ---
Pros & Cons
Here is my summary:
 

Good

 

Less good

Bonus hydration bladder.
Unique hose sleeve on the shoulder strap.
Unique ToolWrap.
External hydration sleeve.
Bottom compartment.
Great materials.
Nice details and features.

No rain cover.
Only one size.
Not adjustable harness.
So far, this pack has received a perfect score by Amazon customers, 5.0/5. It may look a bit expensive, but remember it comes with a reservoir with the value which is more than 1/3 of its total price. See below how I rate this pack:
My rating breakdown of the Osprey Packs Women's Raven 10 Hydration Pack
Volume to weight ratio -

7.6/10

Features & bonuses -

9.2/10

Comfort -

8.8/10

Price -

9.2/10
---
Specifications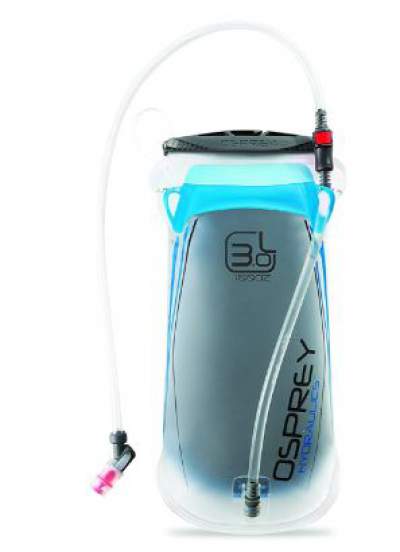 Best use: outdoor and urban cycling, day hiking.
Type: hydration pack.
External hydration sleeve.
3L Hydraulics reservoir included.
Weight: 1.34 lb (608 g).
Volume: 610 cu in (10 l).
Dimensions: 18 x 9 x 7 in (46 x 23 x 18 cm).
Torso fit: 14 – 18 in (35 – 46 cm).
Waist fit: 25 – 50 in (63 – 127 cm).
Not adjustable harness.
Panel loading type.
Warranty: limited lifetime.
Adjustable sternum strap.
No real frame, only foam frame sheet.
Material: 70D x 100D Nylon Shadow Check.
Removable RollOut ToolWrap included.
LidLock clip for a helmet.
Stretch mesh zippered waistbelt pockets.
Stretch mesh front pocket.
Zipped scratch free sunglass pocket.
Magnetic sternum buckle for bite valve.
Shoulder strap zip for the water hose.
Blinker light attachment.
Reflective patches.
Colors: 3.
---
Osprey Raven 10 vs Osprey Tempest 9
It may be interesting to compare these two packs from the same brand. Both are with women-specific design and with some similar features and purpose. The Tempest series has been updated in 2017. See how they compare:
Osprey




Raven 10

Osprey
Tempest 9

Weight (kg)
0.608

0.615

Volume (l)

10

9
Loading type

panel




panel

Lower compartment

yes

no

Side zippered pockets
no
no
Hydration compatible

yes, bladder included



yes

Rain cover
no

no

Metal frame
no

no

Harness adjustable

no

no

External sleeve

yes

yes
The prices of the two packs at the moment of writing this text are practically the same $100, and $98. But observe the included hydration bladder in the Raven 10 pack.
---
Summary
So to conclude this Osprey Raven 10 For Women review, this is a nice small technical purpose-built pack, reliable and functional, and I can fully recommend it. But if you feel it is small for you, note that there is a 14 liters version as well.
They have built similar packs for men, and they are available under the name Raptor, you can see the 10 liters version here, and in the links below.

Thank you for reading. I love to hear from you, so please use the comment box below. I wish you a pleasant day.


---