---
In this text, I present 26 best lightweight backpacks for women in all sizes. All the models given here are among the best on the market and from top brands.
What is women's specific design
Backpacks are in general unisex. But there are some models that are built specifically bearing in mind women's body. Such packs have the following features:
The harness is more narrow. This means that the space between shoulder straps is more narrow than in standard packs. If such a pack has so-called ventilation chimney on the back, then the vertical foam padding layers are more close to each other.
Very frequently such packs are with a few liters smaller volume as compared with standard packs (or packs for men).
If such packs are with a fixed torso length, then they are smaller than in standard packs.
Typically, buckles are softer than in standard packs.
There is more padding on the harness in general.
The waist belt is conical, built to fit women's body.
Sometimes, but not always, these packs have colors that are commonly accepted as more appropriate for women.
Deuter's packs of this type are with letter SL in the name, which means 'slim line'. But in their description, you will see that they claim that these packs are also suitable for shorter men.
In the case of Osprey, very frequently you have separate parallel series for women (W) and men (M). There are many examples like: Xena (W) and Xenith (M), Mira (W) and Manta (M), Sirrus (W) and Stratos (M), Tempest (W) and Talon (M), Aura (W) and Atmos (M), Ariel (W) and Aether (M), Kyte (W) and Kestrel (M), Deva (W) and Baltoro (M).
Something similar you also have with Gregory packs, like Sage (W) and Savant (M).
In the text below I group the packs in the following categories:
Below 36 liters. These are day packs, some of them mainly for outdoor use, and some multi-purpose.
In the range 36 – 55 liters. These are packs for weekend and multi-day tours.
Above 55 liters. Roughly speaking these are thru-packs and expedition packs, or simply backpacking backpacks.
This is all rather individual, and it also depends on the environment. If you are in some of the numerous hut-to-hut tours in the Alps, even if lengthy, you may not carry sleeping stuff so you can manage with a smaller size pack. But if you sleep outdoors, well, you know how it is; it is never enough space in the pack, and you always want to have a few more pockets.
My own daypack and a multi-day pack is an old Deuter Futura 38, good for both purposes. It has a lot of attachment points and pockets.
Here is a video by Deuter on how to adjust a backpack properly, have a look:
---
Best day backpacks for women
Possibly important features to bear in mind
Rain cover.
Multi-purpose use.
Water bladder included or not.
Adjustable harness.
A rain cover is essential for my tours in the Alps, but perhaps this may be different for you. In any case, it adds value, you would have to pay at least $15 if you buy it separately.
Multi-purpose use is most important for the smallest packs in the group. By this, I mean the possibility to use the pack in everyday life, for job and commuting, as well as for outdoor tours.
Some of the packs have a separate zippered compartment for a water bladder. So, if you use the pack in the city, you may use this as a nice compartment for your computer. Having rain cover in such a case also comes good.
A water bladder is included only exceptionally, nice examples are Osprey Mira 18, and Osprey Mira 26. This also adds a lot of value, such a bladder you would pay around $25.
Adjustable harness. I would say for packs in this size category, this is important mostly if you are buying the pack for a growing teenager. Such a pack can grow with the person so it can be used for several years.
---
In the table below, I present daypacks for women, all of them described in details in the site. These are all top brands, and the order is by volume, starting with the smallest 9 liters pack. Because of the limited width, I give only a few basic features, to see more please follow the links.
*Packs with the bottom compartment as well. This is a great feature with such small packs.
The table shows something you should bear in mind when you read about ultra-lightweight packs. The lack of weight is always on the account of something, like the frame in the case of Osprey Tempest 20.
For example, Deuter Futura PRO 34 SL has a spring steel frame, designed to last forever, so it is no surprise it is heavier than other models. I must say this is my favorite in the group.
Only two of the packs here have an adjustable harness. This feature is not bad to have, though for the packs in this volume range this is not so essential. More important is the suspension in general and ventilation. In this sense, packs with a tensioned mesh are the best. These are:
Gregory J28,
Osprey Mira 18 & 26 (both of them are so called AG – anti-gravity models),
Osprey Sirrus 24,
Deuter Futura PRO 34 SL.
Note also that only Deuter Futura PRO 34 SL has a pivoting hip belt (Vari Flex system), designed to follow your body motion. This pack is heavier than other models, but if you look more closely you will see that there are good and justified reasons for this, its frame is steel.
I do not give my rates here, but you can see them if you follow the links. The packs given here differ by size a lot, so the rating may depend on the purpose.
Yet, Osprey Kyte 36 looks like the most complete of all packs presented here. It may be slightly too big for a day pack, but you always have suspension straps to cinch it down in the case of less load.
---
Multi-day hiking packs for women
Here is a table with a few great models:
---
Features to consider
Osprey Kyte 46 with plenty of great features.

Rain cover. The reason as before, it adds value, good to have in any case.

Ventilation. These are heavier packs, so good ventilation is very important.
The quality of suspension. Heavier loads are here, therefore a good and comfortable suspension is critical to avoid hot spots. AG models and tensioned mesh models are the best options.
Separate water bladder sleeve. Good to have a separate compartment, for practical reasons (easy access), and also because it takes space if located in the main compartment.
Adjustable harness, due to same reasons mentioned above. This can be partly compensated by choosing your proper size in the moment of purchase. Osprey's models almost always are available in several sizes, see for example the features of Kyte 46.
What to choose? I am sure that no other brand can compete with Deuter regarding suspension, but you realize that Deuter packs are frequently heavier than others, this is due to strong steel frame like in Deuter Futura PRO 42 SL. But this same model has a pivoting hip belt (Vari Flex system) in place, which is not available in other models.
Here again, Osprey Kyte stands great with respect to other models, but the same holds for Deuter Futura Vario 45 SL. You should know that there are many more factors, so please follow the links. I do prefer Deuter's models, so Futura Vario would be my first choice.
---
Expedition packs & backpacking backpacks for women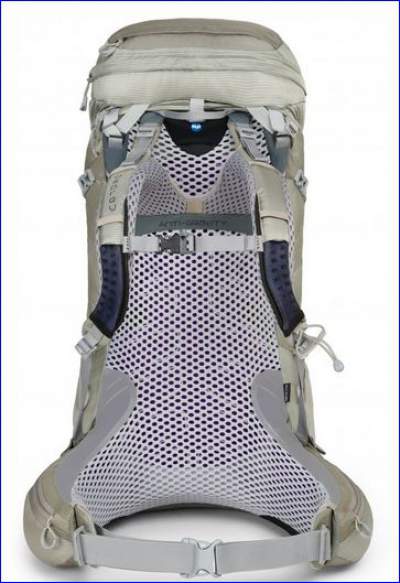 Here you have several true giants, these are tools for heavy load, for long and extended tours, all with frame except one. The key features to consider may be the following:
Comfort
This is essential, and it is related to other features like ventilation and weight. So choosing a proper size is very important.
Weight
This is self-evident, similar to comfort. Some brands go with a minimalist design, a typical example are Granite Gear packs. To reduce the weight, you can have one single main compartment, no external pockets, even the frame can be absent, etc.
But the point is, you need some of these features, so finding a proper balance between available features and weight is crucial. A pack of this size without a frame and a proper suspension is not much more than a sack on your back.
Ventilation
I guess this is self-evident if you realize how heavy the load in these packs can be. You will see Osprey Xena 85 below, with 85 liters of volume.
Harness adjustability and reliability
This is a part of the package which implies comfort and weight. But this can be compensated with different sizes available with some models. Adjustability features increase the weight but this may increase comfort as well.
You want a reliable tool for such tours, so forget cheap and untested models that are available on the market. In this respect, in my view, Deuter is without a much, but Deuter's models are not the lightest on the market.
Rain cover
Lengthy tours mean being exposed to elements for a long time. So although the weight is critical, I would not go without a rain cover. But this may be dependent on environment and geography.
Mobility
This implies pivoting hip belt and harness construction, so that the pack follows body movement in an optimal way. Some top brands have independently moving hip fins, and the same independent pivoting is available in shoulder straps of some top brands.
You will see independently moving fins in Deuter Aircontact PRO 65, and in Gregory Deva 60 you will see both features incorporated in what they call automatic angle adjust (A3-system).
---
Here is one more great video by Osprey about gender specific packs and with many useful information:
---
Here are a few models, all are with frame except the Granite Gear pack:
*For S size.
As you realize Granite Gear pack is by far the lightest of all packs in this table. But this comes due to lack of many features and this pack wouldn't be my first choice.
Deuter Futura PRO 65 SL is my number one here, but all of them are top and reliable models with plenty of great features.
---
Conclusion
All packs presented here are from renown brands, and all of them are specific women's design. These are truly top quality packs, tools designed for greatest outdoor challenges. Here, I give only a few features of the pack. But to realize true differences between them, I warmly suggest to follow the links to specific pages where they are described in detail.
I wish to stress that there are many other packs described in the site, that are in principle unisex and they may be used by women as well. On the other hand, many of these given in the present text can also be used by shorter men as well.
I hope this text has been useful to you. If this is so, please share it with others. It will be great to have some comment from you, there is a comment box below. Thank you for reading and have a nice day.
---