---
If you are in search of a convenient stove for your camp kitchen, check this list with best 2-burner camping stoves, versatile and top-notch products from the best-known brands.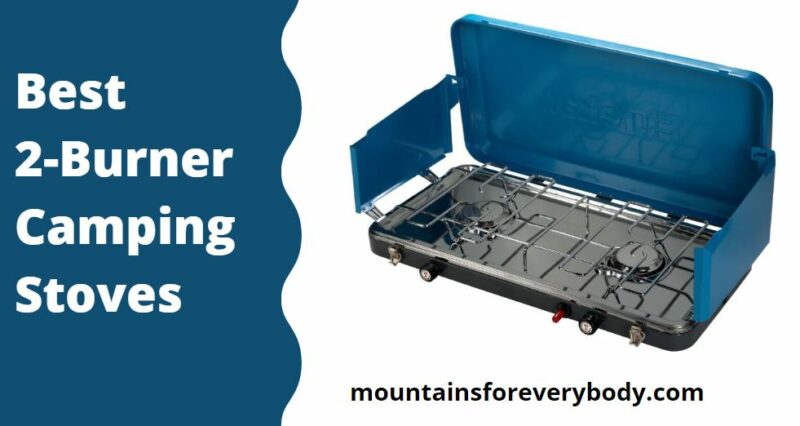 ---
What is included
You will some really interesting and multi-functional burners and the list includes representatives of the following types:
Camping stoves with 2 burners but in various sizes, without or with an automatic ignition system.
Double burner camping stoves plus a griddle.
Stoves with 2 burners where one of them is used for a grill.
Stoves with 2 burners plus a broiler.
Stoves with 2 burners and oven.
The list includes stoves from the best-known brands in this industry. You will realize that some of them have been around for many years, tried and tested by many, there are thousands of reports about them, so you know what you are buying.
---
Best 2-burner camp stoves – my list
The stoves in the list below are ordered by weight, from lighter to heavier:
Here are a few data about each of these double burner camping stoves. Please follow the links for more.
1. Coleman Fold N Go InstaStart 2-Burner Propane Stove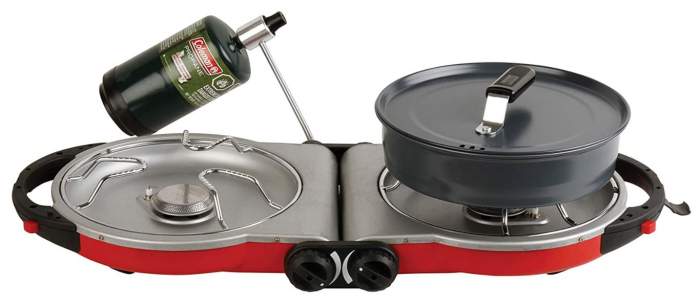 The Coleman Fold N Go InstaStart 2-Burner Propane Stove is compact and lightweight, so it weighs only 8.5 lb (3.86 kg), and it folds when packed into 13.75 x 12.25 x 5.25 inches (35 x 31 x 13 cm).
It has two burners with the distance 13 inches (33 cm) between two centers. An ignition system is integrated and separate for each of the burners, and its total power is 20000 BTU/h. A carry bag can be ordered separately.

---
2. Jetboil Genesis Basecamp Camping Cooking System
Here you have an award-winning dual-burner outdoor stove with a pot and pan, and this is why you see the words 'cooking system' in its name. It is very lightweight, this Jetboil Genesis Basecamp stove is currently one of the lightest options of this type on the market, the whole set weighs only 9.1 lb (4.1 kg). Now you realize why it is in such a position here in the list.
It is also portable and nicely packable in its included carry bag. You have simmer control, a lever igniter, and it is compatible with standard 16.4 oz bottle.

---
3. Coleman Gas Camping Stove – Classic Propane 2 Burner Stove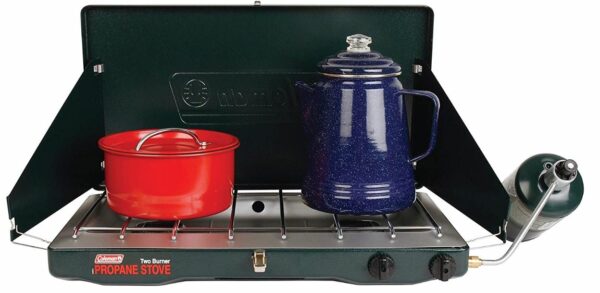 This stove is classic not only by name but also by the time it has been around. As of the moment of writing this text, it is number 1 on Amazon in the group of camping stoves, and also at the moment of writing this text it has collected more than 3000 reports by customers. There are many good reasons for this and one is its incredible price.
It is in such a position here in the list because it is lightweight with its 10 lb (4.5 kg) of weight. The picture above shows that it comes with a proper windshield on three sides, but note that there is no ignition system integrated here.

---
4. GSI Selkirk 540 Camp Stove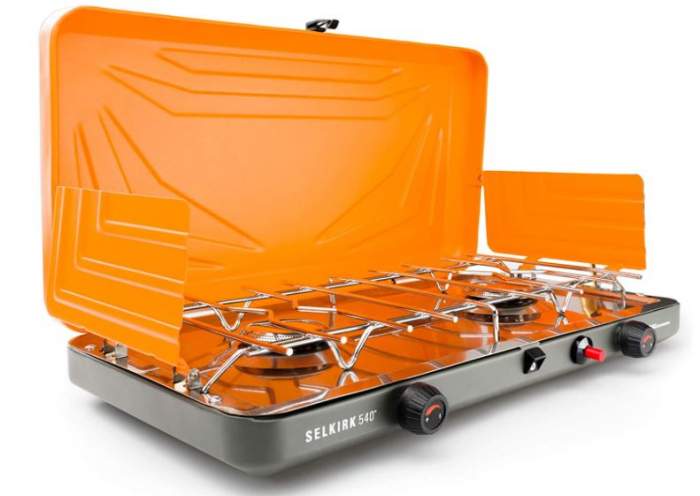 Here you have a durable powder-coated steel 2-burner construction. The total power is 20000 BTU, and the stove is with piezo ignition. The number 540 in the name is the length of the box in millimeters.
As you see from the picture, the lid acts as a windscreen, and there are also two folding pieces on the sides. The stove is very thin when folded, and its weight is moderate 10 lb (4.5 kg). You will want to know that it is very affordable.

---
5. Stansport 215-200 Two-Burner Propane Camp Stove with Infrared Broiler
This is a new stove from the Stansport brand and quite a unique one. So it comes with two 6000 BTU burners and this is why it is in the list here, but you have one extra infrared broiler with 5500 BTU.
This broiler is a high-tech addition that produces a continuous sheet of heat ideal for creating a crust on a steak or for finishing a brûlée.
The set comes with piezo ignition, and you also have a broiling tray included shown in the picture above. The design is compact for transport but you raise it when cooking. The dimensions when folded are 22 x 12.5 x 3.25 inches (56 x 32 x 8.2 cm). It weighs 10.1 lb (4.58 kg).
---
6. Coleman Triton 2 Burner Stove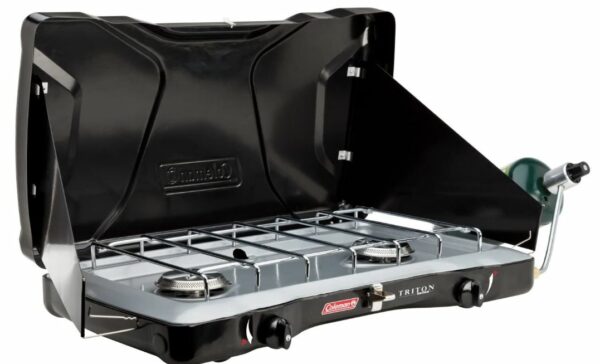 This is yet another great model from Coleman, slightly heavier with its 11 lb (5 kg) and with two burners that combined provide 22000 total BTU. The cooking area is large enough to fit one 10-inches (25.4 cm) and one 12-inches (30.5 cm) pot.
This is again a very reliable product from Coleman that has been on the market for years, a durable steel construction with nice shields and with what they call the PerfectHeat Technology that gets the temperatures just right.

---
7. Eureka Ignite Portable Two-Burner Camping Stove (Plus Stove Version)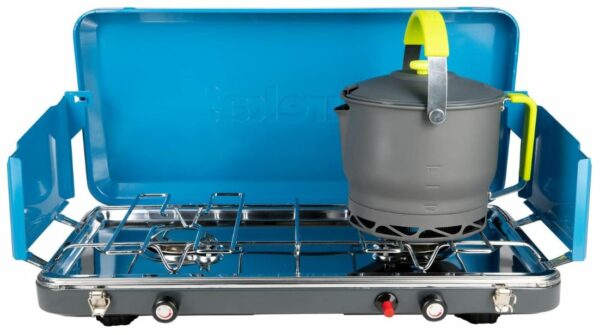 This Eureka's two-burner camping stove has been on the market for years, and they have recently launched the Plus version of it. It is on the market under the name Eureka! Ignite Plus Stove. You will see in the video below this new version presented.
Note that both stoves are on the market and on Amazon they sell them on the same place. The difference is in size, the Plus version is a bit wider and this allows for using two bigger pots at the same time.
The picture above shows it with their another great product, the Eureka Camp Cafe Camping Coffee Maker described in our another post.
So you have an ignition push-button (the red one) and a pair of 10000 BTU/h burners and the stove works on propane canisters. You have windscreens on three sides and adjustable-height feet.
The dimensions are 23 x 12.8 x 4 inches (58.4 x 32.5 x 10.2 cm) when folded and it weighs 12 lb (5.4 kg). The distance between the two burners is 12 inches (30 cm). Note that when in use it needs a bit more space because of the windscreens so the dimensions are (L x W x H) 25 x 13.5 x 14 inches (63.5 x 34.3 x 35.6 cm).
Please see a bit more about this camping stove in this short video:
---
8. Camp Chef Everest 2 Burner Stove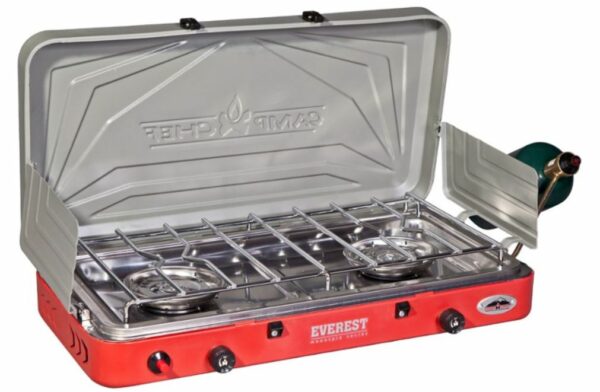 This Everest 2 Burner Stove is a close competitor to the Coleman Classic above by its popularity, it has collected thousands of reports by customers and users. So this tells you it has been around for years already, tried and tested by many.
The two burners combined provide 40000 BTU, you will hardly need more in the camp. You have a strong nickel-coated steel cooking grate, screens on three sides, cast aluminum burners, and a stainless-steel drip tray.
The stove weighs 12 lb (5.4 kg) so this is the same as the Eureka stove here in the list. The dimensions are 23.5 x 13.5 x 4.25 inches (60 x 34 x 11 cm), and the distance between the two burners is 12 inches (30 cm). You have an auto-ignition piezo-spark system integrated here.

---
9. Coleman 2 Burner Grill Stove Combo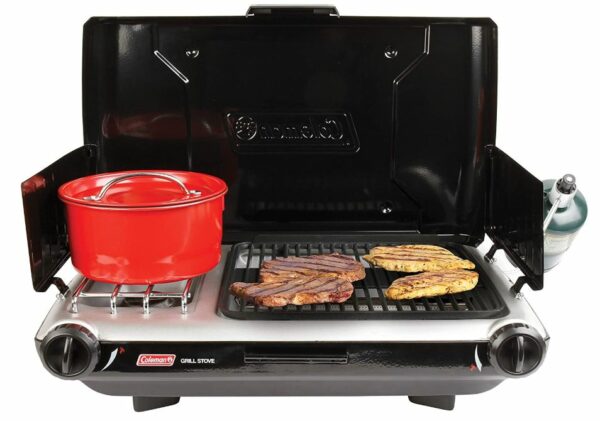 So here you have yet another enormously popular two-burner camping stove with hundreds of reports everywhere around. From the picture above you realize what so special here is – one of the burners is used for the grill which you see on the right.
You have Coleman's InstaStart push-button ignition and a durable steel-crafted body with WindBlock wind guards on three sides. It comes with their PerfectFlow Pressure Control System that keeps the heat steady on each of its two independently-adjustable burners where you have 11000-BTU on each of them.
There is space for a 10-inches (25 cm) pot plus a 130 square inches (839 cm²) grill area. The cooktop is an aluminized steel for durable rust resistance. Dimensions when packed are 23 x 13 x 4 inches (58.4 x 33 x 10.2 cm). The weight is 13 pounds (5.9 kg).
Please see how this stove works in practice:
---
10. Stansport Outfitter Series Propane Camp Stove – 2 Burners & Griddle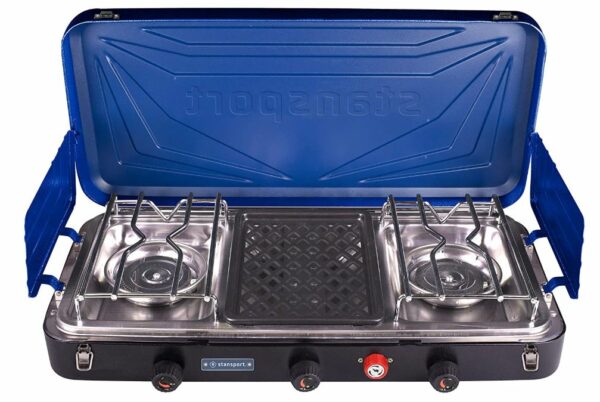 Here you again have something unique among the burners in the list. This is a 2-burner stove and each of them is with 25000 BTU cooking power. But in addition to this you also have a 5500 BTU griddle burner nested in between. So if you want pancake in the camp, this is the tool.
It comes also with piezo electronic ignition so you don't need matches to start cooking. The frame is steel and the same holds for the drip pans. The two cooking grates which you see in the picture above are extra heavy-duty. It has also a high-altitude pressure regulator.
The weight is 14.6 lb (6.6 kg) and the dimensions are 24 x 13.3 x 5.9 inches (61 x 34 x 15 cm).
Please see here how to use this great stove:
---
11. Coleman Cascade 3-in-1 Camping Stove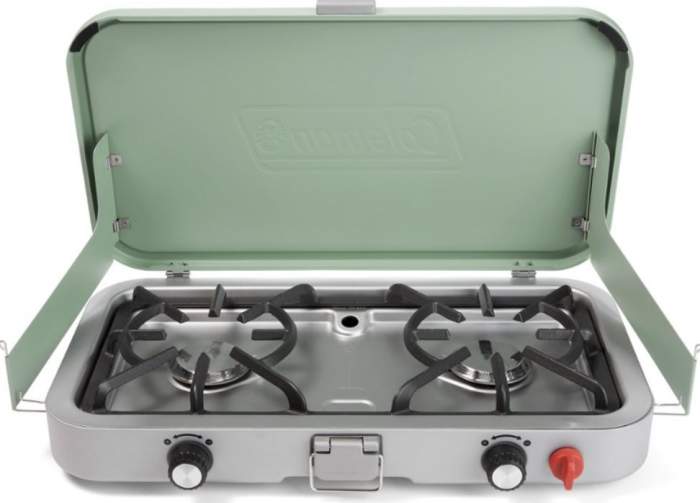 This stove comes with two burners, precise simmer control and matchless ignition. It weighs 14.8 lb (6.7 kg), and its total output is 24000 BTUs (12000 BTUs per burner).
The phrase 3-in-1 in the name implies that it comes with grill and griddle accessories included. So you can combine them in various ways with the burners. It also has windshields and a carry handle.

---
12. Camp Chef Mountaineer 2X Stove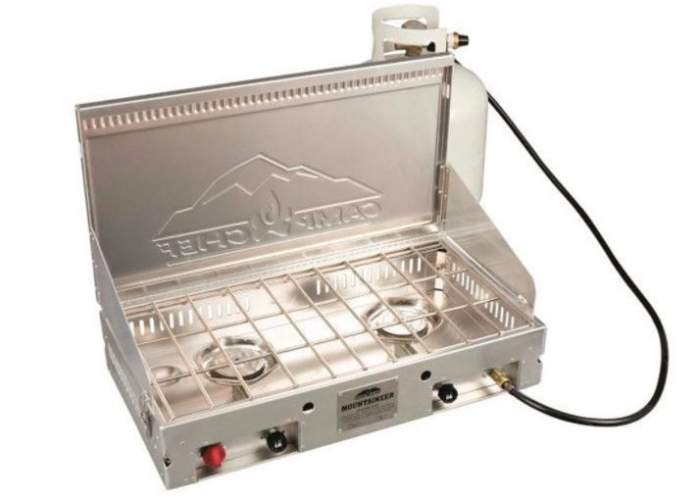 This stove is an aluminum construction with 2 propane burners. It comes with an auto-ignition system, and an impressive 40000 BTU total power.
You have an integrated windscreen, and this all weighs 16 lb (7.2 kg). If you plan to use it on a table, you will need its dimensions, so they are (L x W) 25.25 x 13.75 inches (64 x 35 cm).

---
13. Coleman Hyperflame Fyresergeant 2 Burner 3-IN-1 Propane Stove
The Coleman Hyperflame Fyresergeant 2 Burner 3-IN-1 Propane Stove comes with an integrated ignition system and two grill grates that can be combined with cooking. This is what is behind the phrase 3-in-1 in the title.
The total cooking power is 22000 BTU. The weight is 21.6 lb (9.8 kg) and this all is in a metal body that measures 27 x 18 x 8 inches (69 x 46 x 20 cm).

---
14. Camp Chef Explorer Double Burner Stove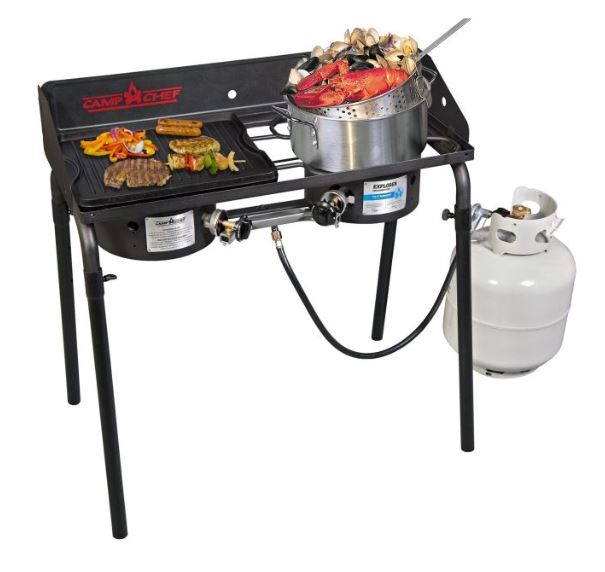 Here you have something truly powerful. This Camp Chef Explorer comes with a total of 60000 BTU/h power in its two cast aluminum burners. You have a 3 ft hose and a regulator included, detachable and adjustable legs, and a 3-sided windscreen.
This is one of Camp Chef's 14-inches (36 cm) cooking systems so you can use it with many of their accessories like the Professional Grill Box and the Italia Artisan Pizza Oven.
You have the stove cooking dimensions 32 x 14 inches (81 x 36 cm) and the height is 29 inches (74 cm). This is a strong and heavy item and the weight is 30.5 lb (13.8 kg). They give one-year warranty with this stove. Note that they have a carry bag that can be ordered separately, it is available in the links below.
Please see more in this video:
---
15. Camp Chef Outdoor Camp Oven and Stove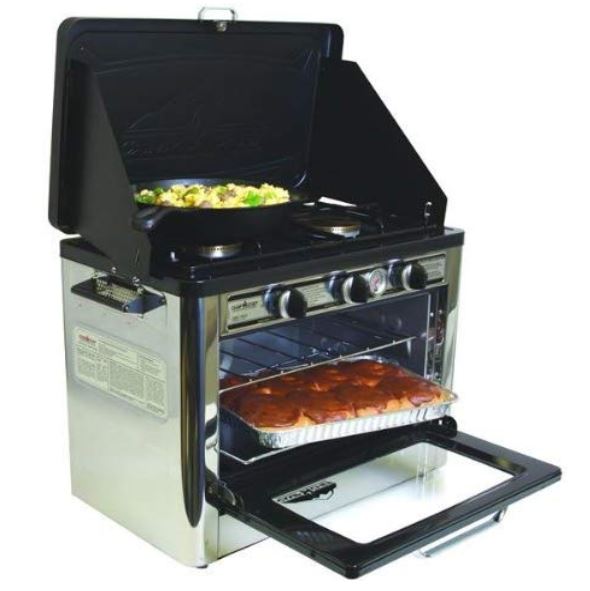 This thing is unlike anything you have seen above, but it is so great that I cannot possibly miss adding it here in the list. Formally, it belongs here because indeed this is a double-burner camping stove, but as you realize from its name, you also have a full-size oven.
Here is the summary of some data and features:
Inside oven dimensions are (L x W x H) 11 x 16 x 9 inches (28 x 40.6 x 23 cm).
Dimensions with handles are (L x W x H) 15 x 25 x 18 inches (38 x 63.5 x 45.7 cm).
Weight is 32 lb (14.5 kg).
Oven heat output is 3000 BTU/h.
Range burners output 7500 BTU/h each.
Maximum oven heat: 400° F (204 C).
Range dimensions: 17 x 9.5 inches (43.2 x 24 cm).

You will see much more in this video, please have a look:
---
16. Stansport Propane Outdoor Camp Oven and a 2 Burner Range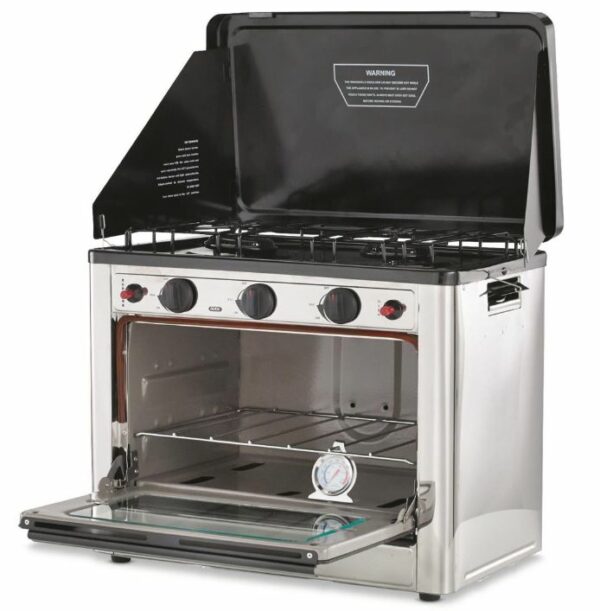 If you want something to feel at home in your outdoor kitchen, this Stansport Propane Outdoor Camp Oven and a 2 Burner Range is what you need. As you realize from the picture, you have a full-size oven.
It is here in the list because of its two burners that are equipped with piezo ignition. Although it looks bulky, it is portable and you have 2 carry handles. The weight is 36 lb (16.3 kg).

---
Final thoughts & how to choose
So you have seen all these double burner camping stoves and the question is how to choose. I think this is all about two main aspects:
The dimensions.
Functionality.
Regarding the dimension, you have seen that there are big differences even when the stoves have just two burners and nothing else. This is related to the cooking area size and also to burning power.
So if this is about a larger group or a family, you might want to consider something stronger that allows for preparing a larger amount of food and in a short time.
As for functionality, all of them have at least two burners for cooking, or one of the burners is used for some specific purpose. But some have more functions (burners). You have seen a great example with an oven included. This is an incredibly functional item but this also means a bulky one, and this brings us back to the issue of dimensions. So, see what you need and which functions are essential to you, check the space in your car trunk, and then choose.
Thank you for reading. Note that we add new texts on a regular basis, so bookmark this site and check occasionally. This list will also be updated and we shall be adding some new stoves when we find something worth adding to the list. Note also that we have a separate list with 3-burner stoves, and check also this UST TekFire Charge Fuel-Free Lighter you will need it in the camp.
There is a subscription form below for our weekly newsletter, so subscribe and stay informed. Have a nice day.