---
The Camp Chef Mountaineer 2X Stove is an aluminum construction with 2 propane burners, an auto-ignition system, and an impressive 40000 BTU total power.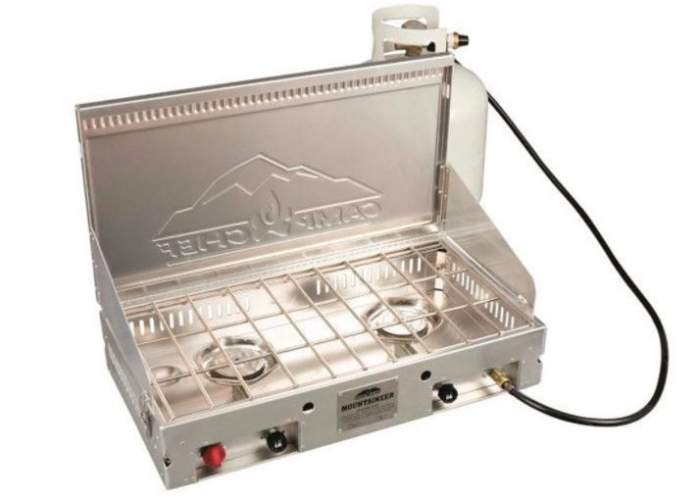 ---
Key features & benefits
Propane fuel stove.
2 Burners.
20000 + 20000 BTU
Auto ignition.
Windscreen.
Aluminum body.
---
What is in the name
Here you have a 2-burner camping stove with an elegant aluminum rust-resistant body and lid, so it all closes into a thin box shown in the picture below. The dimensions of the box are 25.25 x 13.75 x 5.25 inches (64 x 35 x 13.2 cm). The lid latches are on the sides.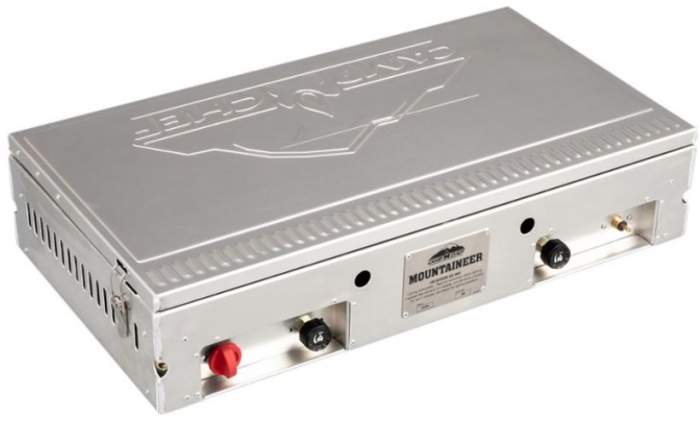 So the dimensions are similar to their famous Camp Chef Everest 2 Burner Stove, but this stove is a bit thicker and its cooking space is a bit larger.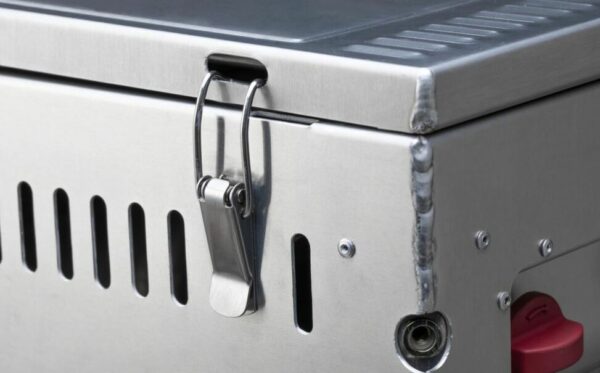 When you open the lid, you will have two windshields on the sides, so the cooking area is protected from winds from three sides. The picture below give you some idea about the cooking space here.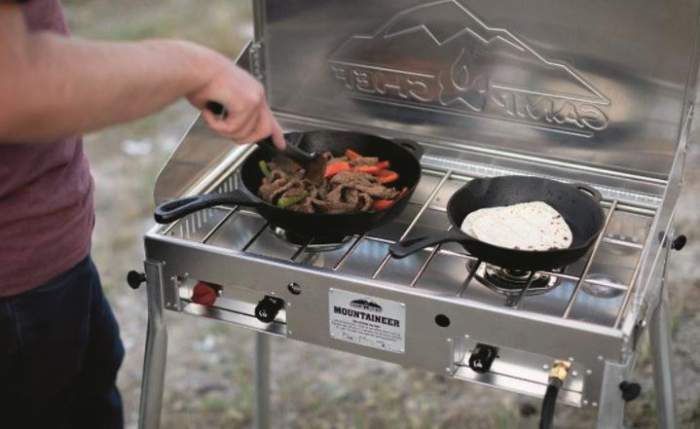 Power and performance
The stove works on the usual propane fuel, and it comes with a 5 ft hose and regulator. You have 2 cast aluminum burners with their control knobs on the front, see the picture below. The stove is equipped with an auto-ignition system.

The power is 20000 + 2000 BTU, so this is twice the power of their mentioned Camp Chef Everest 2 Burner Stove, quite impressive. You can compare this also with the Coleman Hyperflame Fyresergeant 2 Burner 3-IN-1 Propane Stove where the total power is only 22000 BTU.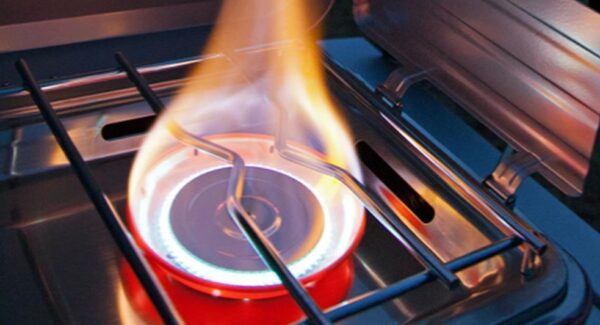 I use this archaic BTU power unit because all manufacturers use it, so this is the only way to make a comparison with other stoves and to get some idea of what you really have. 
Please see a bit more in this video:
---
Who is it for
Regarding the cooking power and the cooking area, you have two burners with an impressive power so you can cook two meals simultaneously. The cooking area 24 x 12.5 inches (61 x 32 cm), and you can comfortably use large pots or pans as the photo above shows.
The center to center distance between the two burners is 11&5/8 inches, and there is 7 inches of space in between them. The outer edge to outer edge distance of burners is 16&5/8 inches.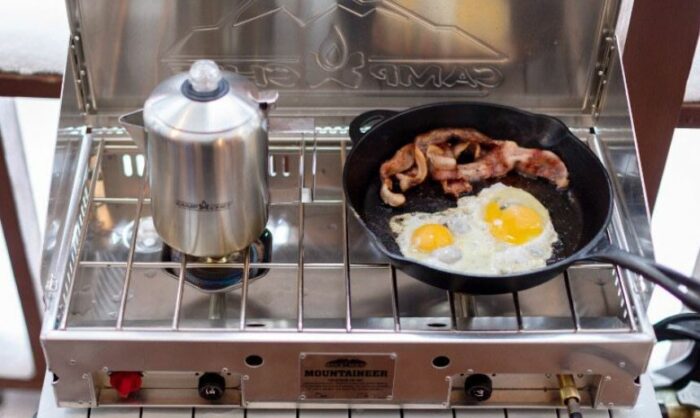 So the stove is great for groups or families, hard to say for how many people, this depends on how you organize your cooking procedure and on the size of your pots. They write it is not compatible with RV hookups, and not designed to run indoors or with natural gas.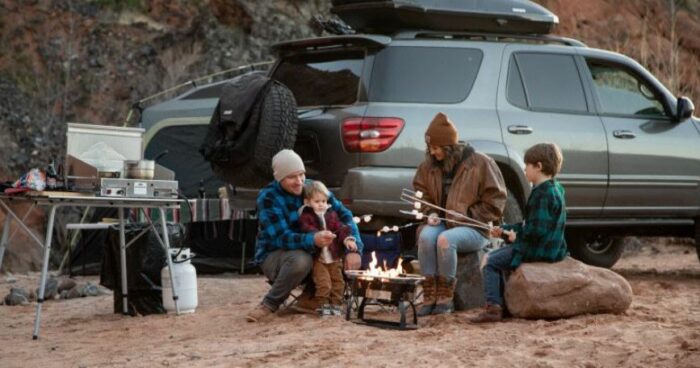 Regarding the packed size and weight, you have an elegant box that does not take lots of space in the car. Regarding the weight of 16 lb (7.2 kg), this is quite typical but a bit on the heavy side. In any case, this is an outdoor stove for places with a car access, suitable for camping, tailgating, picnics, and similar activities.
Regarding the price, it is steep, but this is a quality product from an outstanding brand. On the other hand, there are several sellers of this stove and the links are given below, so check from your side and compare, there are differences.
---
Specifications
Weight: 16 lb (7.2 kg).
Dimensions (L x W): 25.25 x 13.75 in (64 x 35 cm).
Burners: 2.
Power: 20000 + 20000 BTU. 
Height (closed/open): 5.25/18.5 in (134.2/47 cm).
Packed size: 25.25 x 13.75 x 5.25 in (64 x 35 x 13.2 cm).
Warranty: manufacturer's 1-year warranty.
---
Final thoughts & rating
In summary, this Camp Chef Mountaineer 2X Stove is an elegant suitcase-style latching design and its burning power is impressive. You have a large cooking area and it is protected with windshields. Matchless ignition makes it easy to use.
It is great for overlanding, car camping, fishing, hunting, and for any similar outdoor activity. Because of these all features, I have included it in my list of best 2-burner camping stoves.
Below you can see how I rate this stove against my usual rating criteria so that you can easily compare it with other items of this type:
BEST PLACEs TO BUY
For more options, please check under the category Camp Stuff. If you need somethings even more compact, check this Coleman Fold N Go InstaStart 2-Burner Propane Stove.
Bookmark this site and come again, this will keep you informed because I add texts here regularly. Let me know if you have questions or comments, there is a comment box below. Have a nice day.