---
The Coleman Hyperflame Fyresergeant 2 Burner 3-IN-1 Propane Stove comes with an integrated ignition system and two grill grates that can be combined with cooking.
---
Key features & benefits
2 Burners.
22000 BTU cooking power.
2 Grill grates included.
3-in-1 Design.
Instastart push-button ignition.
---
What is in the name
I would start with the phrase 3-in-1 which is in the official name of this stove. This implies the following:
1. You have 2 burners shown in the top picture above. Each of them is with 11000 BTU cooking power, and you can use them together or separately.
2. But there are also 2 Swaptop compatible grill grates included. You can use them both together as in the picture below. These grates each incorporate a DripTrap water pan that catches grease for easy cleaning in the dishwasher.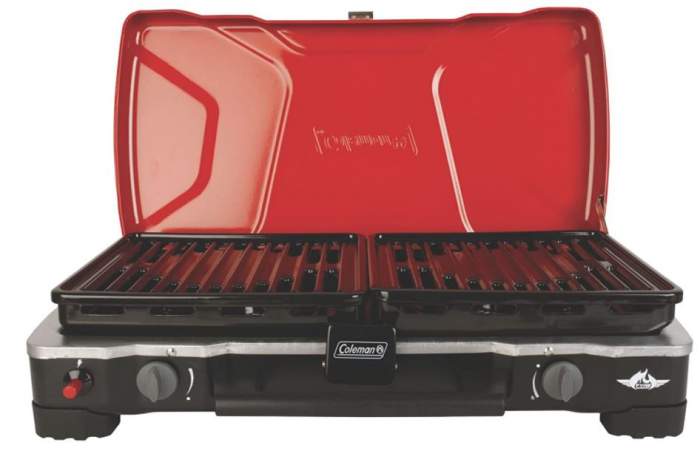 3. You can also use one burner for cooking and one grill grate as shown in the picture below. Obviously, you can use them on any side, left or right. So this explains the 3 possible setups mentioned in the name.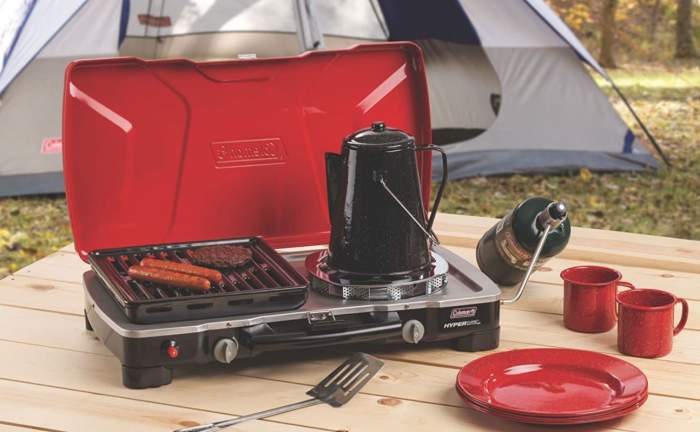 Other features include what they describe as revolutionary HyperFlame technology mentioned in the name. The meaning is that it provides an even heat distribution across the pan, see the picture below. It also provides a better wind resistance to cut boiling time in half when compared to its competitors, at least according to their statements.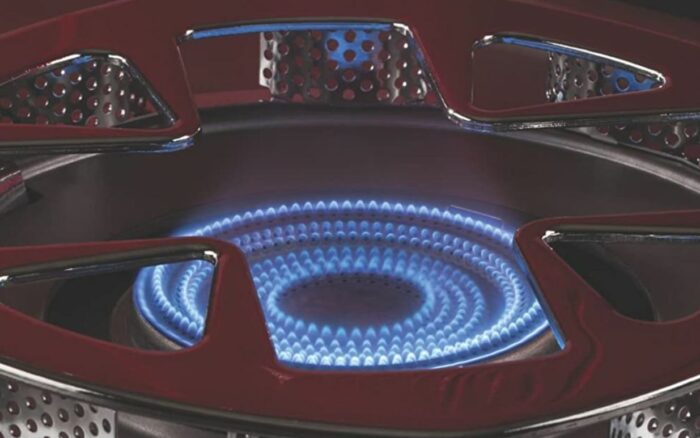 Note also that here you do not have classic wind shields on the sides. Instead, they have designed what they call the Wind Block system that provides 360° of wind protection. Its principle of work is described in the picture:
The list of features continues, so you have their usual Instastart push-button ignition, and separate buttons to adjust the heat for the two burners.
They have integrated also what they describe as the PerfectFlow pressure control technology. This produces a steady fuel stream and consistent burner performance in all kinds of weather and elevations.
You have all this in a steel box with a latching lid and a built-in handle. The feet are non-skid type. Finally, you have a 3-year limited warranty for peace of mind.
---
Who is this Coleman Hyperflame Fyresergeant 2 Burner 3-IN-1 Stove for
Regarding the cooking power and versatility due to interchangeable boiling and grilling features, this is a stove good enough for smaller groups of up to 4 people. So it is perfect for couples, for parents with one or two kids, and for a group of friends.
Regarding the packed size and weight (you will see the numbers below), this is a camping item for places with a car access. But it is small enough to be transported on a bicycle as well to your favorite picnic place.
Regarding the price, I think this is really fair for what you get for the money. You might want to compare it with this expensive Jetboil Genesis Basecamp Camping Cooking System to realize this. 

---
Specifications
Weight: 21.6 lb (9.8 kg).
Dimensions: 27 x 18 x 8 in (69 x 46 x 20 cm).
Total BTU power: 22000.
Warranty: 3-year limited warranty.
---
Final thoughts, rating, pros & cons
So this Coleman Hyperflame Fyresergeant 2 Burner 3-IN-1 Propane Stove comes with some really great features and it is not surprising that it is rated high by users. It is a bit heavy and bulky, but this is a camping item and these parameters are of secondary importance. I have included it in my list of best 2-burner camping stoves.
Please see how I rate this stove against my standard rating criteria so you can compare it with some other similar products in the site:
For more items suitable for the camp please check under the category Camp Stuff. Check this Gas ONE Propane or Butane Stove GS-3400P that allows for dual fuel use.
Let me know if you have questions, there is a comment box below. Subscribe for my weekly newsletter and stay informed, the subscription form is below. Thank you for reading and have a nice day.