---
The Gas ONE Propane or Butane Stove GS-3400P allows for dual fuel use, it comes with Piezo electric ignition, an automatic safety shut-off system, and a great price tag.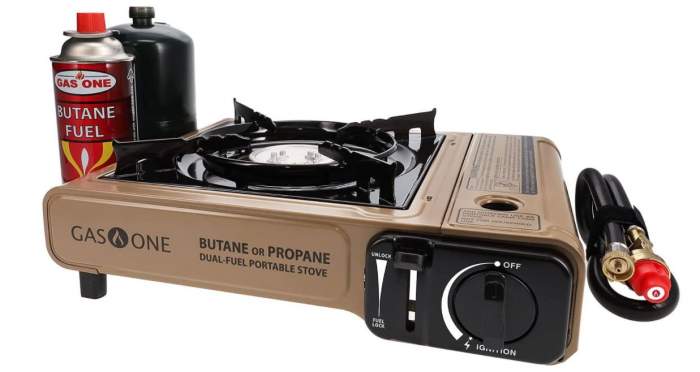 ---
Key features & benefits
Single burner.
Very light.
Dual fuel use.
Integrated Piezo electric ignition.
Automatic safety shut-off system.
Carrying case included.
Incredible price.
---
Overview
What is included
You get the following in the package:
The stove.
Propane adapter.
Carrying case.
Instruction manual.
So here you have a camping stove with a single burner but with options regarding the fuel. This means you can use:
8 oz Butane Canister.
16.4 oz Propane Tank.
I find this the main selling point of this stove, it is great to have versatility in choosing the fuel. Propane tends to be less expensive as you have probably experienced. In any case, this is why you have a regulator suited for both propane and butane.
The stove comes ready to use but the fuel must be bought separately. The butane canister is with the red cap shown in the picture above. So just remove it and put it in the holder that you see in the picture below. After that push the lock lever down and it will be fixed in place.
For a propane bottle you have the propane regulator included, so pass it as shown in the picture below and attach it to the brass fitting on the other side. Then attach the propane tank and just press the ignition button and you will have the flame for cooking.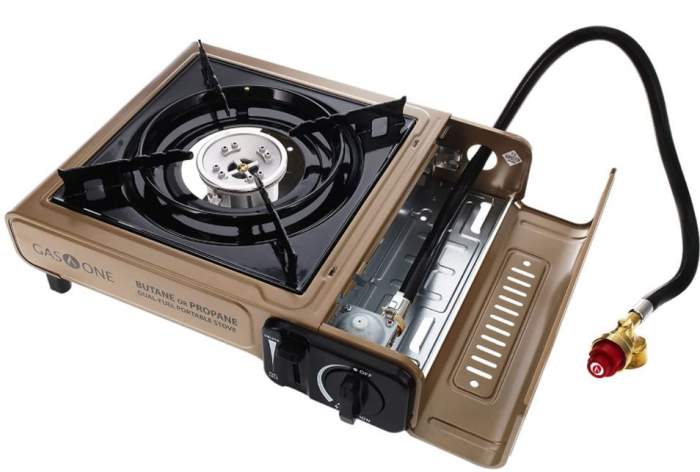 The stove has the mentioned Piezo ignition integrated, the zoomed view of the ignition button is shown below. This ignition eliminates the use of a lighter/matches in order to ignite the flame. You can see also the fuel lock on the left.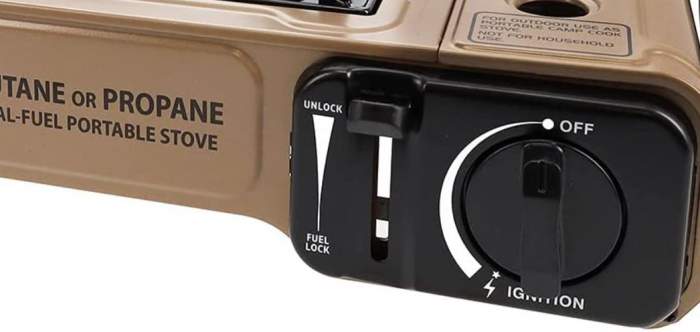 I have seen a number of people complaining about the propane regulator. From what I know and what the manufacturer suggests, it is important to unscrew the bottle from the regulator if it is not in use. In other words, the regulator should not be under gas pressure from the bottle. This should be a safe way to avoid regulator failure.
The stove is quite compact, the dimensions are shown below. Note that it is only 11 cm thick so it will not take much space in the car. The top size will give you a clear idea of how big a pan or pot you can use here.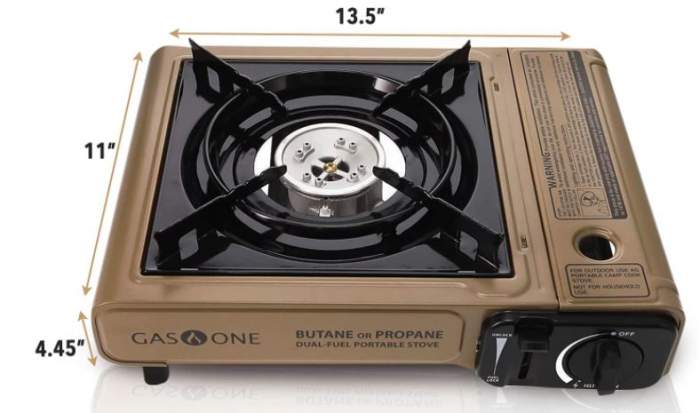 Other features
You also have the following:
Air vents.
Non-slip rubber legs.
Windguard. This may depend on the seller. On Amazon, I did not see this statement, but the screen is accordion-type and you put it around the stove to stop winds.
Heat-resistant knob.
Built-in cartridge ejection system. This implies a system that ejects the butane fuel canister if irregular gas flow/pressure (5-7 kg/cm² or greater) is detected.
Auto safety shut-off device. This means an installed system that shuts off the gas flow if irregular flow/pressure (5-7 kg/cm² or greater) is detected.
Dual-layered flame.
Carry case. This is a hard plastic case with a handle on the top, very elegant. Note that you have to turn the pan holder upside down before packing the stove into the case.
---
Who is it for
Regarding the power, you have officially 8000 BTU so this is good enough for such a stove. There are stronger options around of course, you can see some in my list of best 2-burner camping stoves. I see it best suited for solo use or for couples.
Regarding the weight, it can be described as ultralight with its 3.1 lb (1.4 kg). The dimensions (L x W x H) 13.5 x 11.2 x 4.4 inches (34 x 28 x 11 cm) are such that you can transport it even on a bicycle.
Regarding the price, I would say it is extraordinary for such a quality product and from such a well-known brand.

---
Specifications
Weight: 3.1 lb (1.4 kg).
Dimensions (L x W x H): 13.5 x 11.2 x 4.4 in (34 x 28 x 11 cm).
Power: 8000 BTU.
Fuel: butane and propane.
---
Final thoughts, rating, pros & cons
So this Gas ONE Propane or Butane Stove GS-3400P Dual Fuel comes with some really useful features. It is light, compact, and very versatile, and its price definitely adds to its enormous popularity. As of the moment of writing this text, this is Amazon's number one bestseller in this product group, with well over 5000 reports by customers. This changes all the time, so follow the links below and check from your side. In any case, all is known about this stove and you know what you are buying. Fully recommended.
Please see how I rate this stove:
For more options please check in the category Camp Stuff, you will find plenty of useful items for your outdoor adventures. In particular check this Iwatani Butane Stove 35FW built in a similar style.
Subscribe to my weekly newsletter and stay informed, there is a subscription form below. Thank you for reading and have a nice day.