---
The Iwatani Butane Stove 35FW is a lightweight and compact reliable single-burner that has been around for many years, with several unique and useful features and a solid carry case included.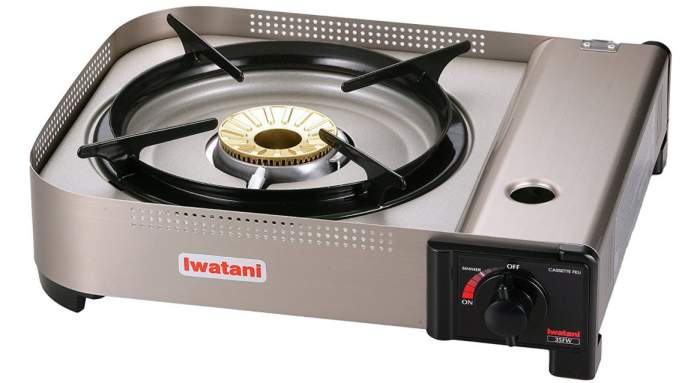 ---
Key features & benefits
Double windbreaker.
Magnetic locking system.
Lightweight.
Carry case.
---
What this Iwatani 35FW Portable Butane Stove Burner is about
What is Iwatani
I would start with the brand, so this is a Japanese company established in 1930 by Naoji Iwatani (1903-2005) in Minato-ku, Osaka, Japan. So yes you are reading correctly, the founder lived 102 years. Nowadays, Iwatani Group consists of over 250 companies around the world and employs more than 11000 people worldwide.
The Stove
Now back to the stove, so this is a single-burner butane stove that has been around for at least 15 years already. It is incredibly popular, with all the good reasons, and highly rated by users.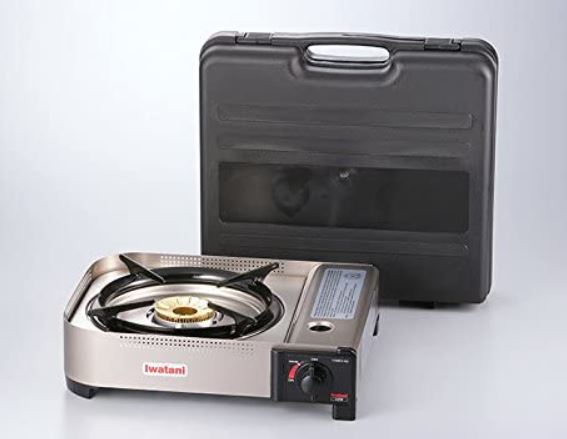 The picture below shows its essential elements, this may be useful when I present its features in the text that follows. Note that it comes with a matchless auto-ignition system and the electrode is shown in the picture.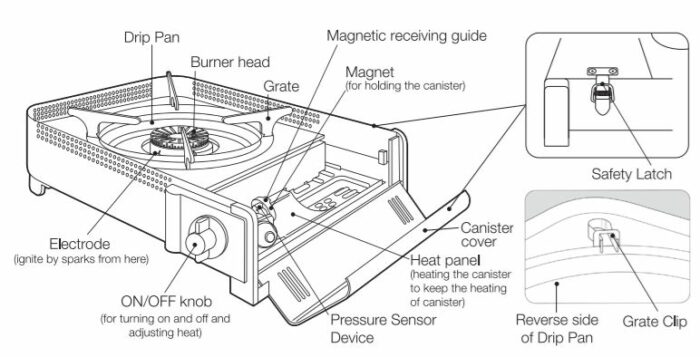 Double windbreaker
So from the pictures above you realize that the stove is without wind shields. Such single-burner stoves rarely have them. The picture below shows how it looks from the top, so here you have some unique details that must be mentioned.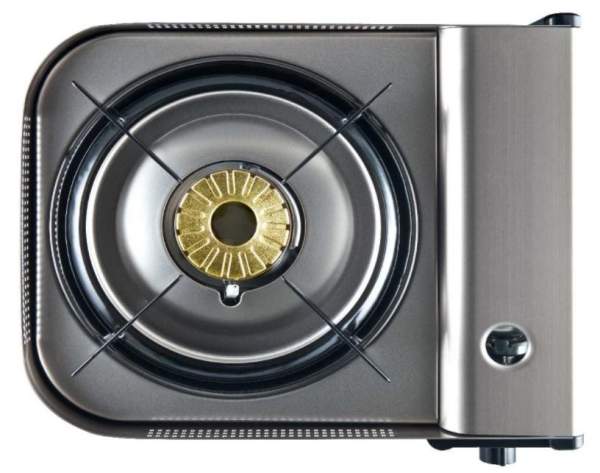 There is a solid brass burner in the center, and around it you can see the inner windbreaker that is the same piece with the grate. On the perimeter you have yet another windbreaker with holes in certain areas.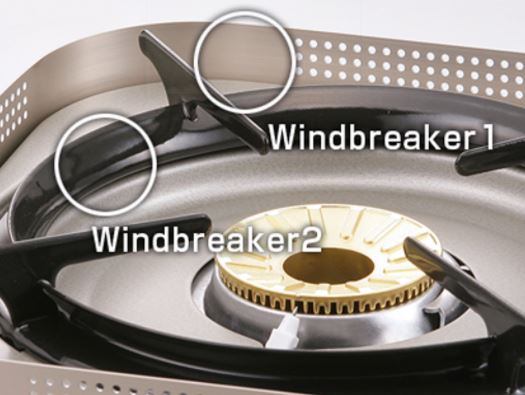 Now, does this really work? They did testing, and the result is shown in the picture below. They measured how many times one fuel bottle can boil a certain amount of water under constant wind conditions.
As you see, the efficiency is improved by a factor 2, and see also how much faster boiling happens with the windbreakers. So these windbreakers definitely do their job.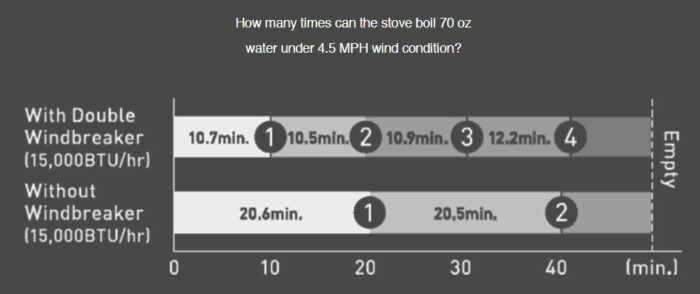 Magnetic locking system
This is yet another unique feature. You have a system that replaces locking levers. All you have to do is to simply push the fuel can onto the magnet and it locks in safely. It is virtually impossible to load the can incorrectly. 

Constant pressure system
They claim that this Iwatani System maintains constant pressure as fuel is being consumed, see the picture. This means you have the maximum and consistent output for the life of entire fuel canister. With this, the stove also utilizes the entire can of butane leaving no residual fuel.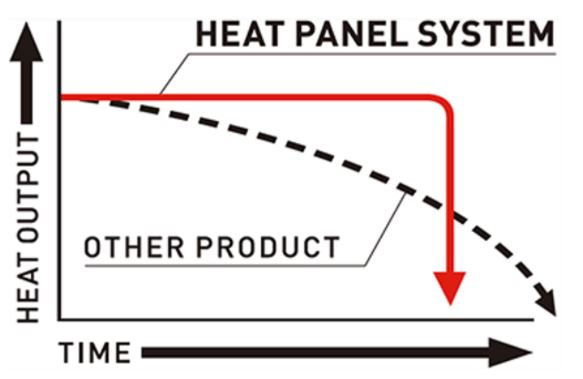 They have achieved this by adding a simple piece (heat panel, the picture below) that extends from the brass burner under the butane bottle. The flame heats the metal and this keeps the bottle warm enough to allow the constant fuel flow. It is incredible that such a simple addition gives such a nice result.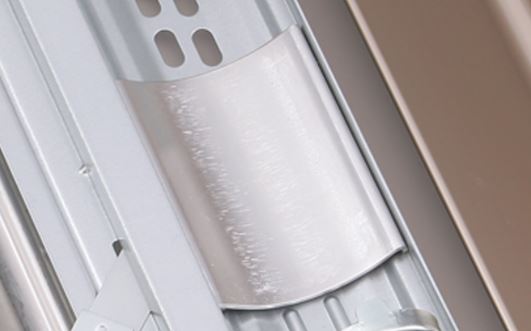 Safety features
There are several of them and they include:
Pressure Sensing Device. This includes an advanced regulator that shuts off the flow of butane if the pressure in the canister rises to unsafe levels. It activates at 60 psi.
Canister Setting Safety Distance. This means that the canister cannot be attached if the stove is not in the off position. With this you avoid unintentional gas escaping through the burner without ignition.
Pressurized Receiving Guide. There are two sized 0-rings built into the receiving guide of the regulator. So you have double protection feature that helps give the canister and regulator an airtight seal.
Inverted Drip Pan Prevention Device. This protects the use of the stove by not allowing the drip pan to set level when the drip pan is inverted.
---
Who is this 

Iwatani 35FW Butane Stove 

for
Regarding the power, this stove with its 15 BTU is far stronger that the Gas ONE Propane or Butane Stove GS-3400P with its 8000 BTU. But this is still a single burner so probably not the best option for a larger group.
Regarding the size, it measures (L x W x H) 13.3 x 11.9 x 3.7 inches (33.7 x 30 x 9.3 cm), so it is very similar to the mentioned Gas ONE stove. The grate is above the windbreakers so you can use pots of any size. You get some idea from the picture below. But in their manual they write you should not use pots that extend over the fuel canister cover.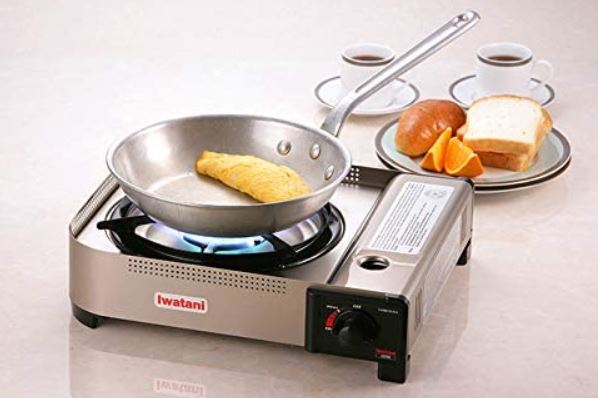 Regarding the weight, with its 4.2 lb (1.9 kg) this is a lightweight burner, but it is heavier that the Gas ONE Propane or Butane Stove GS-3400P that weighs 3.1 lb (1.4 kg). 
Regarding the price, this is not the most affordable option, the mentioned Gas One Stove is 3 times less expensive. But this is a stove with unique features.

---
Specifications
Type: single burner butane stove.
Weight: 4.2 lb (1.9 kg).
Dimensions (L x W x H): 13.3 x 11.9 x 3.7 in (33.7 x 30 x 9.3 cm).
Output: 15000 BTU/h.
Burning time: 55 minutes at maximum power.
---
Final thoughts & rating
In summary, this Iwatani Butane Stove 35FW is truly amazing with several unique and extremely useful features. When you see all this, you realize why it has been around for so many years and remained so highly rated and popular. As of the moment of writing this text, its rating on Amazon is 4.8/5, based on more than 1330 reports.
There are more affordable options on the marker, but such a feature-rich and reliable stove is rare to find. It is worth the money. Fully recommended. 
Below you can see how I rate this stove against my usual rating criteria so that you can easily compare it with other items of this type:
BEST PLACEs TO BUY
For more options, please check under the category Camp Stuff. See and compare in particular this great Jetboil HalfGen Base Camp Cooking System.
Bookmark this site and come again, this will keep you informed because I add texts here regularly. Let me know if you have questions or comments, there is a comment box below. Have a nice day.