---
The Jetboil HalfGen Base Camp Cooking System includes a single-burner stove, a fry pan, an integrated simmer control and an igniter, all in a great carry bag.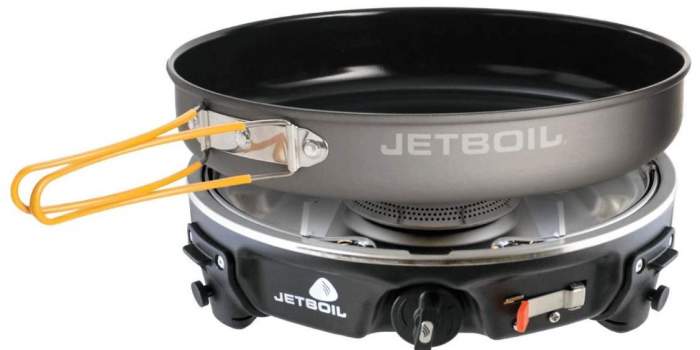 ---
Key features & benefits
A pan included.
Incredible simmer control.
Modular design.
Lever igniter.
Great carry bag.
10000 BTU output.
Removable windscreen.
---
What is in the name
System – what does this mean?
The word System in the name may imply different things dependent on the seller. But from what I have seen, this implies the fact that you have i) a single-burner stove, ii) a 9-inches diameter pan included, and iii) a removable windscreen.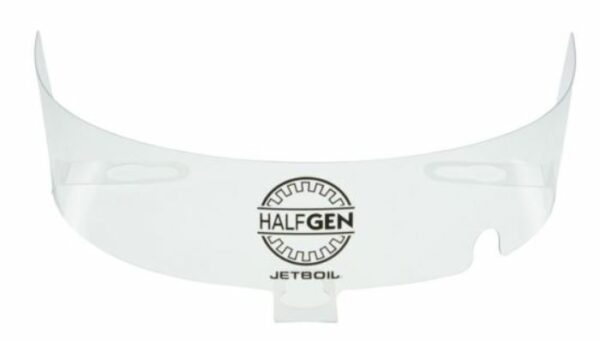 Some sellers show the stove with pictures that include also their Flux Pot, but this is only to demonstrate that when closed for transportation, the stove can fit into the pot. The pot itself is not included.
This all packs together with the stove and you have nicely designed compression straps that keep the together. The strap has a handle as you see in the picture: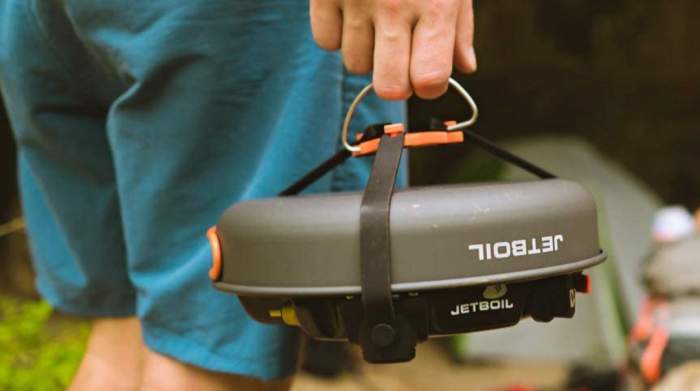 For storage and for transportation you have also a really nicely design carry bag included, see below how it looks. There is a pocket in the lid of the bag where the fuel regulator is stored, and the windscreen folds simply around the stove.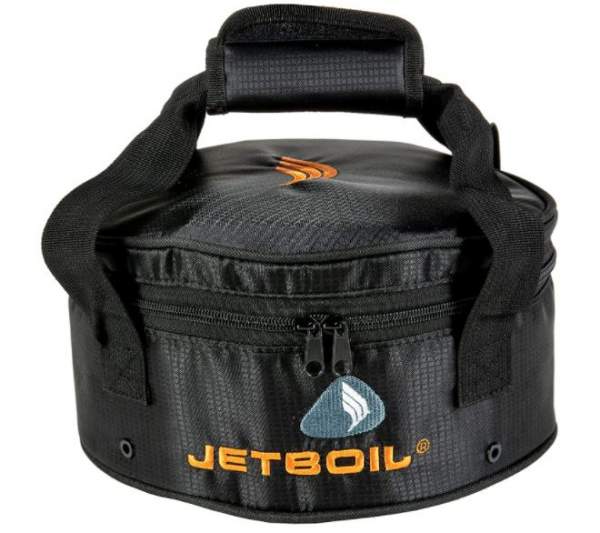 Great simmering feature
This is what sets the stove apart from most of its competitors. You have a fine tuning valve, it allows for 4 full turns, and this is essential for simmering.
So if you need a stove for your sauces and delicate camp meals, you will hardly find something more appropriate. They claim this is their proprietary design constructed for consistent performance to 20 degrees F (-6 degrees C).
Modular design
So this is a single-burner stove, but it is designed to be connected to other burners. This is the meaning of the term modular. They claim it is the first stove of this type on the market. Indeed, I do not remember seeing anything similar.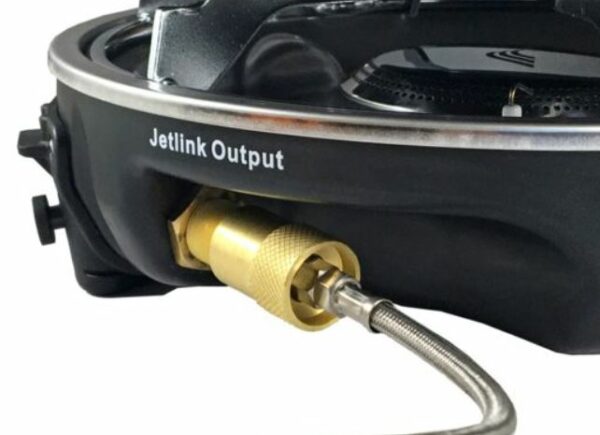 There is a jet link port for this purpose (the picture above) and you can attach it to another stove of the same type. This is demonstrated in the picture: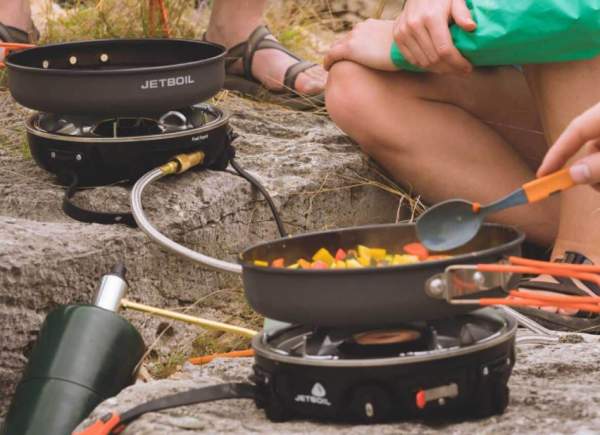 It can be connected also to their Jetboil Genesis stove shown below, and to some other stoves of this brand. You will want to know that it can be attached to some Eureka stoves. This is not by chance, both Eureka and Jetboil belong to Johnson Outdoors company. So they all can work on a single fuel source.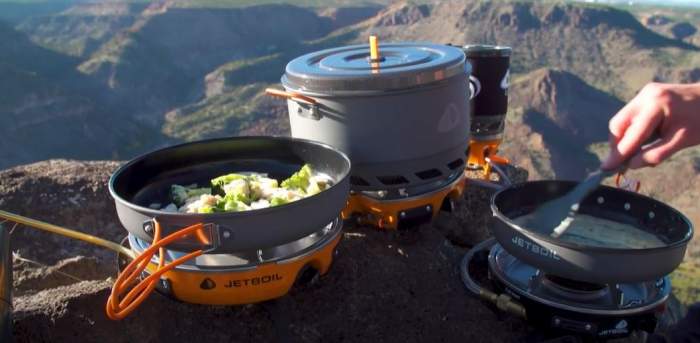 How this Jetboil HalfGen Basecamp Camping Cooking System is built
The mentioned pan is ceramic-coated so this is an eco-friendly nonstick design. You can use it pancakes, eggs, etc. The stove is a steel structure with a removable grate, so you can clean everything easily. It is compatible with their famous 5-liter FluxPot.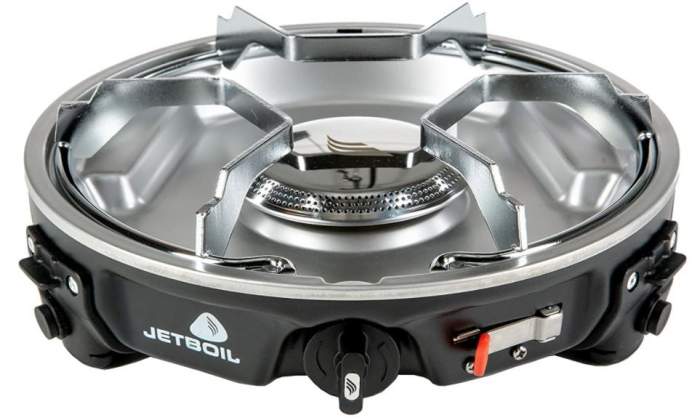 Below you have some basic details shown. Observe the position of the bottle, this is how it should stay, in an half-upright position.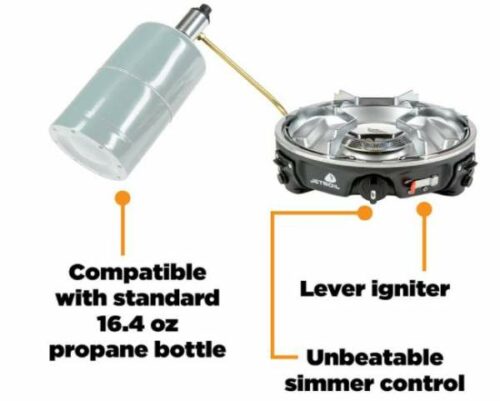 You remember the compression strap mentioned above? The top element with the handle has a bottle opener. Very convenient, isn't it? I dislike the fact that it can be detached completely, this is how you can lose it.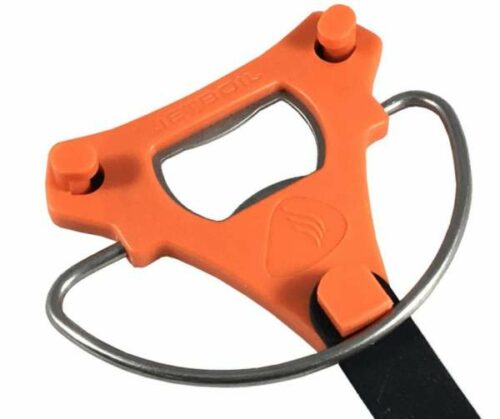 Here you can see how to set this system up:
Please see more in this short video:
---
Who is it for
Regarding the size & power, the stove has no solid windscreens around, so in principle there is no limit for the pot size. The manufacturer describes it as an item for 1-4 people. This is realistic. But you have seen already about its modular design, so it can be expanded and used in large groups.
You have 10000 BTU output so this is good enough. They claim it will boil 1 liter of water in 3 m 15 sec. But this is only if you use their fuel-efficient Flux Pot. Note that the bottom may become hot when you cook, so it is best not to put the stove on a plastic table or anything similar.
The actual dimensions when packed are shown below. So it is indeed very compact.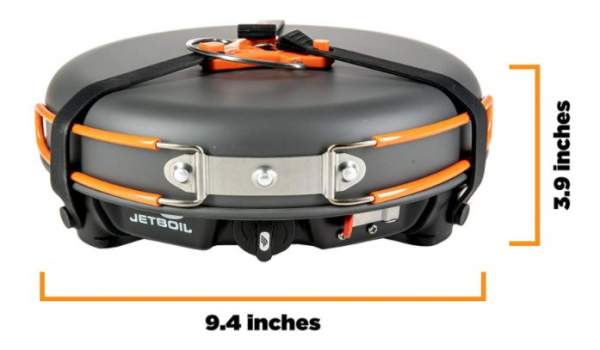 Regarding the weight, it can be described as very light. it weighs only 3.5 lb (1.6 kg). Nevertheless, this is not something I would carry on the trail. You have seen the word Basecamp in the name. It is best for camping, cycling tours, kayaking, etc.
Regarding the price, it is a bit steep. But you get a pan with the stove, and this is a high quality product from a best known brand.

---
Specifications
Type: propane single-burner stove.
Weight (without regulator and windscreen): 3.5 lb (1.6 kg).
Dimensions when packed: 9.4 x 3.9 in (24 x 10 cm).
Output: 10000 BTU/h.
Total water boiled: 48 liters per 1 lb propane bottle.
Warranty: one-year limited warranty.
---
Final thoughts & rating
In summary, this Jetboil HalfGen Base Camp Cooking System is an excellent product with their proprietary regulator technology for unbeatable simmer control. It offers incremental heat adjustments from light simmer to full boil.
The stove comes with a great pan included, and with a nicely designed carry bag. It is compact, lightweight, and reliable. Fully recommended.
Below you can see how I rate it against my usual rating criteria so that you can easily compare it with other items of this type:
BEST PLACEs TO BUY
For more options, please check under the category Camp Stuff. See also this Iwatani Butane Stove 35FW that has been around for years.
Bookmark this site and come again, this will keep you informed because I add texts here regularly. Let me know if you have questions or comments, there is a comment box below. Have a nice day.