---
Jetboil Genesis Basecamp Camping Cooking System includes an award-winning dual-burner outdoor stove with a pot and pan, it is lightweight, portable, and nicely packable in its included carry bag.
---
Key features & benefits
Complete cooking system.
Simmer control.
Nicely packable.
Portable.
Carry bag included.
Lever igniter.
Awarded design.
Compatible with standard 16.4 oz bottle.
---
What makes it a cooking system
This is a set that has been on the market for a number of years already. It offers you all the basic elements for cooking in the camp. It comes in a really compact and nicely designed carry bag with a pair of padded handles on the top, see the picture below. There is a zipper at around half its height so you can unzip it all around the bag.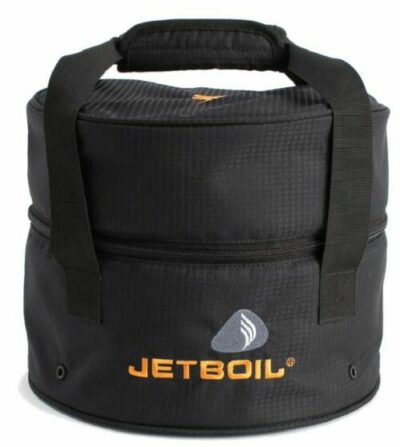 The word 'system' in the name implies the following essential elements:
A 2-burner stove. When folded, you have a grab handle on the top to pull it out of the carry bag. Each of the two stainless steel burners is 3.25 inches (8.2 cm) in diameter.
A 5-liter FluxPot aluminum pot with two handles on the sides, and a lid. The lid has a strainer on the side, this is convenient when you cook pasta in the camp. The pot is with the flux ring on the bottom, and this means that the outer zone extends around its central area protecting it from the wind. This increases boiling efficiency as it partly prevents the heat from escaping in the case of a side wind.
A 10-inch FryPan. This is a ceramic-coated nonstick pan with a folding handle visible in the picture below.
The carry bag mentioned above.
There is also a flexible translucent plastic windscreen shown below, to shorten the boil time even more in the case of winds.

When you take the set out of the bag this is how you expand it all: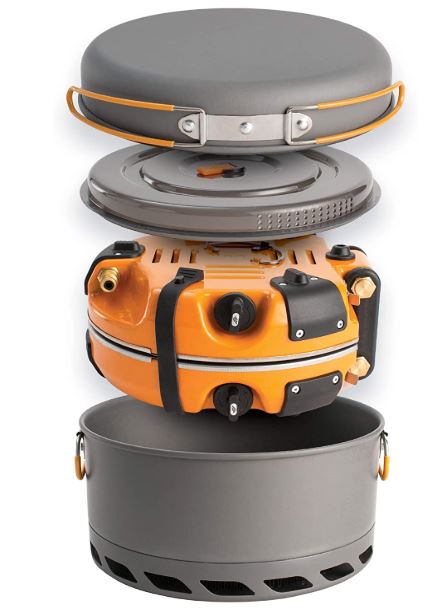 When you see how nicely built this Jetboil Genesis Basecamp Camping Cooking System is, it is not surprising that this is an awarded design, and the list of awards is long. The picture below shows some of them:

The stove itself has two rubber latches that keep it closed. So when you want to use the stove, simply remove the latches and open the two halves of the stove. There is also a propane bottle attachment line that you add easily. It serves both burners, have seen people asking about this.
Each of the two stoves has its own valve system, and each has its own lever igniter included. You also have the Jetlink hose attachment element on the side. Drip pans are aluminum, smooth and easy to clean. When it is time to clean, you can easily remove the pan holster and have full access to both drip pans. There is really nothing one could object here.

Please see a bit more in this short video:
---
Who is it for
Regarding the packed size, you will hardly find something of this type that packs so nicely. So no matter how you are going to transport it, this is for people who are savvy with their space. Though I must say that there are some 2-burner stoves that are much thinner when packed, and this may be more convenient when you have a limited space in the car.
What makes this stove very different is the distance between the two burners, so you do not have issues with the sizes of your pots and pans. This is not always so with those that are not folding type like this Genesis stove.
Regarding the weight, you will find 2-burner stoves that are in the same weight range, you can see some in my separate list. But in any case, this Jetboil Genesis Basecamp stove is currently one of the lightest options of this type on the market, the whole set weighs only 9.1 lb (4.1 kg). To realize this, just to know that this is more than twice lighter than what you have for example in Coleman Hyperflame Fyresergeant 2 Burner 3-IN-1 Propane Stove.
Regarding cooking power, the total value is 10000 BTU/h per burner. This is very good indeed, but the truth is there are more powerful options, see some in this list. So all in all, the burning power is nothing exceptional here.
The windscreen improves the cooking time, but many other 2-burner stoves also have them, and they are even better (higher) than this windscreen which is quite low.
The mentioned pot's bottom design is a nice addition that adds to the boiling efficiency. So although you can use any pot that you have, it may not perform as good as the pot which is included here.
They describe this set as suitable for groups of up to 3-5 people, and this sounds realistic to me.
Regarding the price, this is not where this cooking system shines. It is very expensive, and if you are on a budget better follow the link given above and check some other options.
---
Specifications
Weight: 9.1 lb (4.1 kg).
Burners: 2.
Power: 2 x 10000 BTU/h.
Boil time: 3 min 15 sec per 1 liter in 5L Flux Pot.
Water boiled: up to 48 liters per 1 lb propane bottle.
Packed size (H x D): 10.75 x 8.5 in (27 x 22 cm).
Fuel: propane.
Warranty: one-year limited.
---
Final thoughts, rating, pros & cons
In summary of this Jetboil Genesis Basecamp Camping Cooking System review, I wish to stress that there are good reasons why this set has been so appreciated by users, and why it has collected so many awards.
This is a great option if you have limited space in your vehicle. Although so small when packed, when you open it you have a large cooking area and two stoves that simmer nicely. This is easy-to-use and easy-to-clean set, ideal for camping or just when you are out on a picnic with your family. The price is steep but if you can afford it, I can fully recommend it. I have included it in my list of best 2-burner stoves.
See how I rate this outdoor cooking system:
Please check under the category Camp Stuff for more gear that you might need in the camp. If you need a stove with 3 burners, please see this list, and check also this UST TekFire Charge Fuel-Free Lighter you will need it in the camp. But for the trail, you might want to see this Jetboil Stash Ultralight Camping and Backpacking Stove Cooking System from the same brand.
Note that we add new texts on a regular basis, so bookmark this site and check occasionally. There is a subscription form below for our weekly newsletter, so subscribe and stay informed. Have a nice day.