---
The Jetboil Stash Ultralight Camping and Backpacking Stove Cooking System is an all-in-one set with a 0.8 liters pot, a titanium burner, and a few more elements. Keep reading.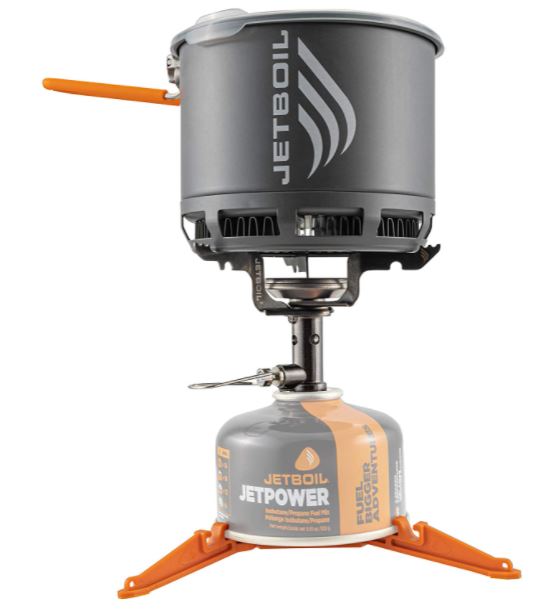 ---
Key features & benefits
All-in-one backpacking cooking set.
Ultralight.
Very compact.
---
What this is about
The Jetboil brand has many cooking sets on the market, but this Jetboil Stash is the lightest so far. In fact, the whole set weighs only 7.1 ounces  (200 g), and this is simply incredible when you see all its components. Note that this is the weight without the included stabilizer that weighs 0.9 ounces (27 g).
But let's see what exactly you have included here. So the picture below shows its all components (note that the canister is not included):
0.8 Liters FluxRing cook pot.
Stabilizer.
Titanium burner.
Snap-on lid with spout.
Drawstring-closure storage bag.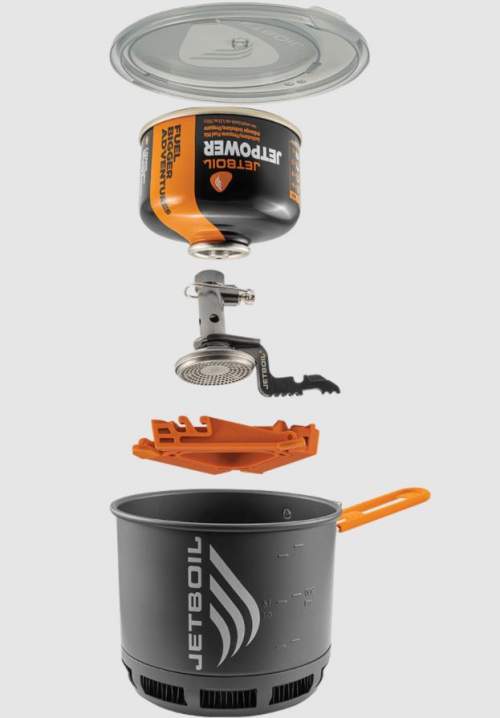 All these elements fit into the pot so you can easily store it in the pack, see how this looks and the dimensions: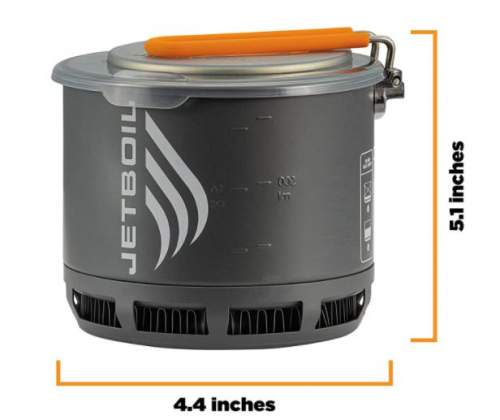 The burner
This is a titanium construction with a 4500 BTU/h output, or 1.32 kW if you are more familiar with this system of units. In practical terms, it boils 0.5 liters of water in 2.5 minutes. Note that the burner has no igniter. The picture below shows how it looks: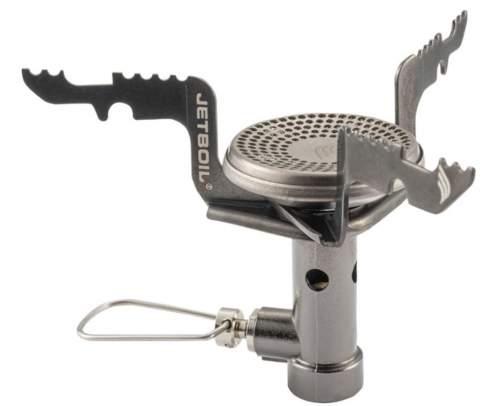 You can see the simmer control that allows you to easily adjust the flame. For transportation you fold its three support arms and the bail as shown below: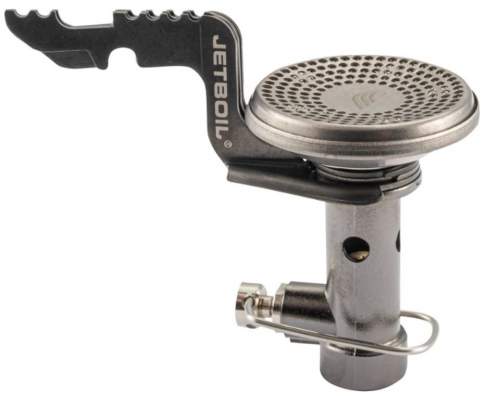 The mentioned stabilizer is useful to be sure that the set is stable, its covers a much larger area than the canister itself, see how it looks: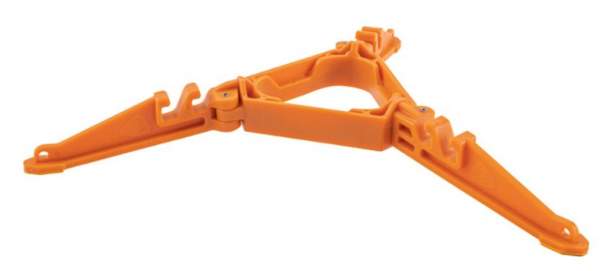 The pot & the lid
The mentioned cooking power would not be possible without this excellent Jetboil's signature FluxRing technology shown in the picture below. This is the bottom of the cooking pot.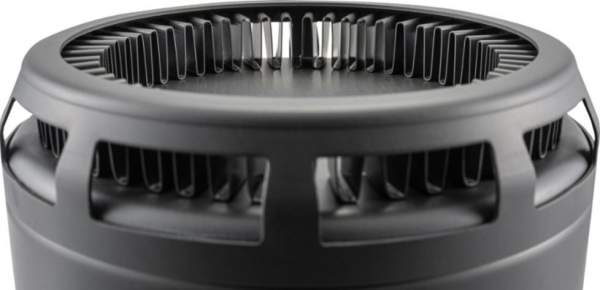 With such a design, the pot connects nicely to the burner and you have efficient heating without wasted fuel. The picture below shows the view inside of the pot with the burner and the stabilizer stored for transportation. You have plenty of space to store also the canister.
You cannot see it, but there are measurement lines inside, this is useful to have when you boil water for dehydrated meals.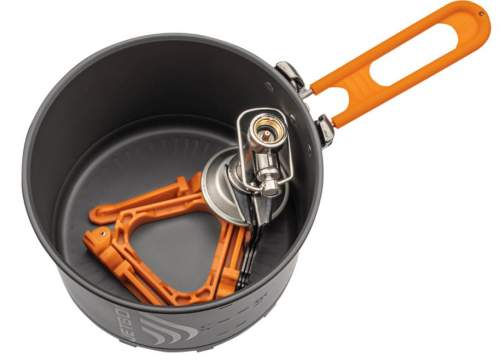 Below you can see how the see-through lid is designed, and its spout on one side. It increases cooking efficiency. Note that it has a molded design where the canister fits nicely when the set is closed for transportation: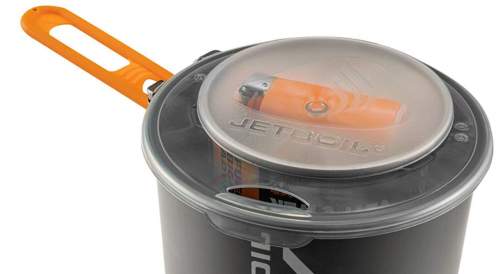 The handle is available as well, it is with a silicone grip. It folds for transportation, you have already seen this in one of the pictures above. Please see a bit more in this short video:
---
Who is this Jetboil Stash Cooking System for
Regarding the weight & packed size, you have seen both of these parameters and you realize that you have a versatile set designed for a backpack. So this is suitable for hikers, mountaineers, backpackers, and practically for any outdoor activity.
Regarding cooking power and capacity, this is a set for solo use or a maximum of two people. You can use it to prepare coffee and also for dehydrated meals. If you need something stronger but for camping only, check their Jetboil Genesis Basecamp Camping Cooking System. 
Regarding the price, it may look steep, but this is a top-quality cooking set from one of the best-known brands in this particular niche.

---
Specifications
Weight: 7.1 oz  (200 g).
Stabilizer weight: 0.9 oz (27 g).
Packed size (H x D): 5.1 x 4.4 in (13 x 11.2 cm).
Power: 4500 BTU/h (1.32 kW).
Pot volume: 0.8 Liter.
Boil time: 2 min 30 s for 0.5 liters.
Fuel consumption: 12 liters of boiled water per 100 g Jetpower can.
---
Final thoughts, rating, pros & cons
So this Jetboil Stash Ultralight Camping and Backpacking Stove Cooking System is what its name says, a versatile set that is compact and light enough to be used even by backpackers. You have seen all its great features and you realize that this is a product from a globally known brand. Fully recommended. 
Please see how I rate this set against my usual rating criteria: 
If you still need more options, please check under the category Camp Stuff. You will see quite a number of tools for outdoor cooking. Check also this Gas ONE Propane or Butane Stove GS-3400P that allows for dual fuel use.
Let me know if you have questions or comments, there is a comment box below. Thank you for reading and have a nice day.