---
Here you have a list of exceptionally compact and portable 3-burner propane camp stoves suitable for families and groups, with some great features and very affordable. Keep reading.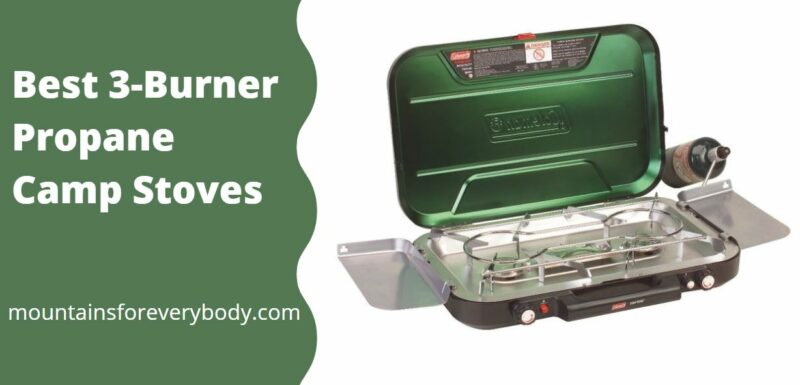 All the 3-burner camping stoves included here have at least two standard burners for cooking, plus one extra burner that may serve the same purpose or it adds some extra feature. So you will see examples of stoves with a broiler or with a griddle.
Our focus here is on ultra-compact stoves and all of them are with such a design. They will not take much space in the car trunk, all of them pack very thin. They are also light and portable. These are all stoves from well-established brands that have been around for decades, so you know what you are buying.
---
3-Burner camping stoves
The stoves in the list below are ordered by the total cooking power, from lower to higher:
Here are a few data about each of these 3-burner camping stoves. Please follow the links for more.
1. Stansport 215-200 Two-Burner Propane Camp Stove with Infrared Broiler
Here you have a new stove from Stansport, and you will realize this is quite a unique one. You have two top burners with 6000 BTU each, but it also comes with one extra infrared broiler with 5500 BTU. This makes three in total and this is why it is here in the list.
The broiler is a high-tech addition, it is designed to produce a continuous sheet of heat for creating a crust on a steak or for finishing a brûlée.
The stove comes with a piezo ignition system, and you also have a broiling tray included shown in the picture above. The stove is compact for transport. The dimensions when folded are 22 x 12.5 x 3.25 inches (56 x 32 x 8.2 cm). It weighs only 10.1 lb (4.58 kg).
---
2. Coleman Even-Temp Propane Stove 3-Burner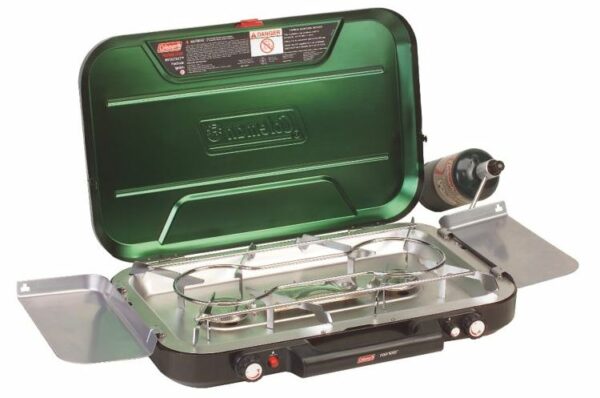 The combined cooking power here is 28000 BTU, and you have 11500 in each of the two side burners, plus 5000 in the central burner. All three of them are independently adjustable and they create a consistent heat across the entire area, hence the words Even-Temp in the name of this tool.
The dimensions are 26 x 18.5 x 6 inches (66 x 47 x 15 cm), and this allows for using two 12-inches pans or three 8-inches pans. You have what they call the Instastart push-button ignition and dial for all three of them. The stove comes with their PerfectFlow pressure control technology that keeps the heat steady regardless of the altitude. The picture shows the WindBlock panels that help shield the flame from wind, and you can adjust them if you use a larger pan.
The stove is with a durable chrome-plated grate that is removable for easy cleaning, and an aluminized steel cooktop for durable rust-resistance. The burners are stainless steel. They offer a 3-year limited warranty with this stove.
Please see more in this video:
---
3. Camp Chef Ranger III Table Top Stove

This is an example of a stove with three identical cast-aluminum burners. Each of them is with the same 17000 BTU power, so the total power is impressive 51000 BTU. This is a matchless ignition system that this brand uses in many of their stoves.
The range dimensions are 29 x 15.5 inches (74 x 39 cm), and the cooking area is 449.5 square inches. The grate dimensions are 8 x 8 inches (20 x 20 cm) each. The stove weighs 25 lb (11.3 kg), this is a rugged and durable cast iron cook-top and legs. They provide a 1-year warranty with this stove.
Please see more in this long and detailed video:
---
4. Stansport Outfitter Series Propane Camp Stove – 2 Burners & Griddle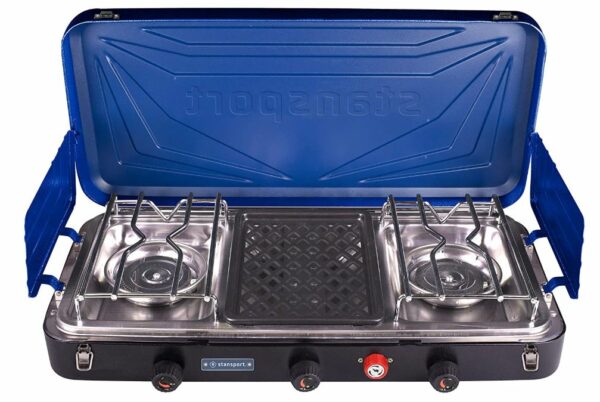 Here you have an interesting combination and something really powerful for such a relatively small item that weighs only 14.6 lb (6.6 kg) and measures 24 x 13.3 x 5.9 inches (61 x 34 x 15 cm). This is also a unique design with 2 burners on the sides that give 25000 BTU cooking power each. In addition to this, you also have a 5500 BTU griddle burner nested in between.
It comes also with piezo electronic ignition. The frame is steel and the same holds for the drip pans. The two cooking grates which you see in the picture above are extra heavy-duty. It has also a high-altitude pressure regulator.
Please see here how to use this great stove:
---
5. Stansport Outfitter Series Propane Camp Stove with 3 Burners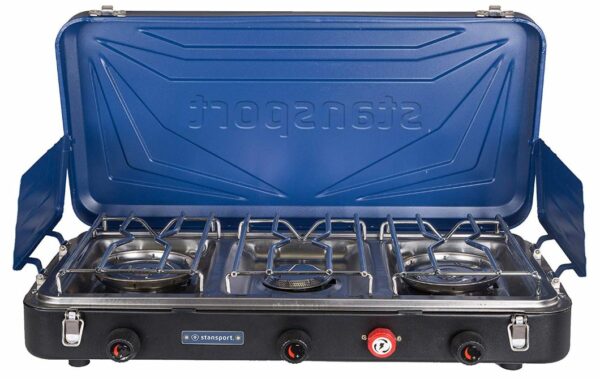 In this case you have 3 burners side by side, but there is a difference in their power. The two on the sides are oversized stainless steel burners with 25000 BTU each. The burner in the middle is with a 10000 BTU suitable for boiling pasta. So this is a very powerful stove with a great performance suitable to feed groups and families.
You have included piezo electronic ignition, and the stove body is a strong steel, with an extra heavy-duty cooking grate. It comes with a high-altitude pressure regulator for stable cooking in any condition. Overall dimensions are 24.2 x 15 x 3.5 inches and the stove weighs 7.77 pounds (3.52 kg).
In this short video you can see more about their Outfitter series which includes several stoves:
---
How to choose
All these 3-Burner Propane Camp Stoves are ultra-compact and portable and the differences in sizes are not substantial. So what remains to check are:
Functionality.
Cooking power.
Obviously, all of them have three burners but there are differences in their purpose, features, and cooking power. As you have seen, all of them have two standard burners on the sides and the third adds some extra functionality.
The list is organized with respect to the total cooking power, and the differences among the stoves may be substantial, by a factor 3 or so. It is important to bear this in mind if you plan to use it for a larger group.
Note that this list will be updated whenever we find a 3-burner stove worth adding to the list. This is why you might want to bookmark this text and check occasionally. Check also under the category Camp Stuff here in the site, there are many useful items presented in detail, you will need them in the camp. We have a separate list with 2-burner stoves.
Thank you for reading. There is a subscription form below for our weekly newsletter, so subscribe and stay informed. Have a nice day.