The Camp Chef Ranger III Table Top Stove is a robust 3-burner stove with rugged cast-iron cook top and legs, and an impressive 51000 BTU total output.
---
Key features & benefits
3 Burners.
51000 BTU total power.
Matchless ignition.
Rugged cast-iron cook top and legs.
Wind Baffle Technology.
Propane fuel.
---
What this Camp Chef Ranger III Table Top Stove is about
This stove has been on the market for at least 5 years already, possibly even longer. So this is a very sturdy camping stove, the black metal in the pictures (on the top and legs) is a rugged cast-iron.
There are no wind shields here, but there is what they call the Wind Baffle Technology with the flame partially protected with that cast iron frame around and also with its cast-aluminum rings around the burners. But I must say that I would rather have a proper wind shield here.

Each of its 3 cast-aluminum burners is with a grate that measures 8 x 8 inches (20 x 20 cm), and each has its own control button and a matchless ignition in place. You have 17000 BTUs of heat in every burner, so the total output is impressive 51000 BTUs.
The stove comes nearly ready to use, only the knobs should be attached, and you have a regulator and a 5 feet hose included, they are shown in the picture. You have to buy fuel separately of course.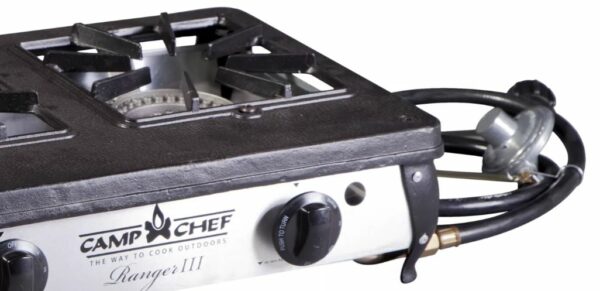 For more details about this stove, you might want to have a look at the manual, have a look here.
---
Who is this Camp Chef Ranger III Stove for
Regarding the power, I already mentioned this above. So each of the burners is 17000 BTU, this is more than in most of the stoves on the market, but it is below 20000 BTU which you have in their Camp Chef Everest 2 Burner Camping Stove. However, the total output of the stove presented here is beyond comparison.
With such three burners that are relatively close to each other, you can use only two wide pots or pans, so in this sense 3 burners are usually not an advantage as compared to a 2-burner stove.
But indeed, you can use 3 narrow pots simultaneously, you have seen in the text above the size of each of the grates, and there is also some space between them. One more advantage is that you can use a long griddle and make several pancakes simultaneously, or cook any large piece like a fish for example.
I have seen people asking about indoor use, so they are explicit about this, this product is safety tested and approved to outdoor use only.
Regarding the weight and size, they describe it as lightweight, but it weighs 25 lb (11.3 kg). There is a good reason for this, the stove is incredibly strong, there are no many 3-burner stoves of this type on the market.
The stove is long but it is thin, its overall dimensions are 29 x 15.5 x 6 in (74 x 39 x 15 cm), so it will not take much space in the car trunk.
Regarding the price, it is quite reasonable for such an excellent product. There are many sellers, so it makes sense to compare prices, you have links below.
---
Specifications
Type: propane 3-burner stove.
Weight: 25 lb (11.3 kg).
Dimensions: 29 x 15.5 x 6 in (74 x 39 x 15 cm).
Cooking area: 449.5 in² (0.29 m²).
Total output: 51000 BTUs/h.
Warranty: 1 year.
---
Final thoughts & rating
In summary, this Camp Chef Ranger III Table Top Stove is incredibly strong with its cast-iron top and legs, and its output is impressive and beyond comparison. It has been on the market for a long time already, tried and tested by many users, and it is very highly rated.
The price is fair for such a great product. Fully recommended. I have included this stove in my list of best 3-burner propane camp stoves.
Below you can see how I rate it against my usual rating criteria so that you can easily compare it with other items of this type:
BEST PLACEs TO BUY
For more options, please check under the category Camp Stuff.
Bookmark this site and come again, this will keep you informed because I add texts here regularly. Let me know if you have questions or comments, there is a comment box below. Have a nice day.