---
The Coleman Fold N Go InstaStart 2-Burner Propane Stove is a compact and lightweight cooking tool with integrated ignition system, easy to use, and affordable.

---
Key features & benefits
2 Burners.
Integrated igniter.
Nicely packable.
Lightweight & portable.
---
What is in the name
The official name used in the title is descriptive enough to realize what this is about. You have a folding system that reminds me of the Jetboil Genesis Basecamp Stove. It folds for transportation and the pictures below show how it looks. The folded size is around 13.75 x 12.25 x 5.25 inches (35 x 31 x 13 cm). It folds thin as you realize from the picture below.
Burners
The stove has two independently adjustable burners with 10000 BTU cooking power each. This is twice the value of the mentioned Jetboil Genesis burner. The control knobs are visible in the picture above right.
The distance between the two burners is 13 inches (33 cm). The picture below shows how it looks with a pot on it. It is large enough for two 10-inches (25 cm) pans at the same time.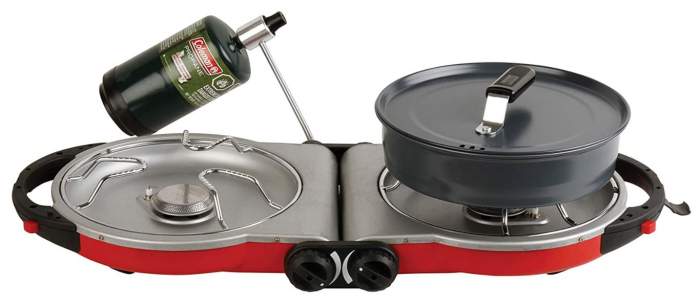 The stove is equipped with pressure-control technology that is supposed to deliver consistent heat in outdoor conditions. You have a matchless InstaStart ignition, see the picture below.
Each of the burners can be used and controlled separately, the red igniter buttons are visible in the picture above and one is also shown below. The stove can run over an hour with both burners on high, and with 16.4-ounce propane cylinders.
Materials & performance
The body of this stove is steel and the cooktop visible in the picture above is an aluminized steel, they claim it is durably rust-resistant. 
They write about PerfectFlow technology for consistent performance even in extreme conditions and also about PerfectHeat design for more efficient cooking with less fuel.
Now, although they seem to love the word Perfect, note that this stove has no windscreen, so cooking in open space may not be so efficient. The efficiency could be improved considerably by using pots with an integrated flux ring similar to what you have in Jetboil pots. Or you can order a windscreen separately.
Simmering: If there is no wind, there is no doubt this will work perfectly, but it may be very different in windy conditions. 
When you finish cooking, note that the chrome-plated grates are removable. So you simply turn one of them up side down and this is how you can close the stove for transportation. This may be tricky if it is hot. When you use it next time, simply turn it over and squeeze a bit to fit in place.
---
Who is this Coleman Fold N Go Propane Stove for
Regarding portability & ease of use, this is a camping item, so it is the packed size that matters most. You have already seen the numbers, so this stove will not take much space in the car trunk. The two handles are with a lock to keep the stove closed in transportation.
The weight is of secondary importance, but this is a lightweight stove that weighs only 8.5 lb (3.86 kg). Note that this is less than half of their another stove, the Coleman Hyperflame Fyresergeant 2 Burner 3-IN-1 Propane Stove. 
As for the fuel adaptor, you will never had problems with it because of its design with exposed thread. You have already seen the integrated ignition system, so this is an easy to use burner. 
Regarding best use & cooking power, the stove is perfect for picnicking, hunting, tailgating, and anywhere outdoor. The cooking power is quite good, but this holds only if you cook without wind. You can use up to two pots at the same time, so I see it good enough for up to 3-4 people.
Regarding the price, this is an affordable stove, great value for the money.

---
Accessory carry bag
They have a carry bag under the name Coleman Fold N Go Grill Case that can be ordered separately.
The bag is really nicely designed, with side pockets for two 16.4 oz. propane cylinders, and with a separate smaller inner compartment for spoons etc. You have a dual zipper on the top and carry straps.
---
Specifications
Weight: 8.5 lb (3.86 kg).
Burners: 2.
Total power: 20000 BTU/h.
Unfolded size: 27 x 12 x 4.5 in (69 x 30 x 11 cm).
Distance between burners: 13 in (33 cm).
Packed size: 13.75 x 12.25 x 5.25 in (35 x 31 x 13 cm).
Warranty: on Coleman site they write about 3-year limited warranty.
---
Final thoughts, rating, pros & cons
So this Coleman Fold N Go InstaStart 2-Burner Propane Stove is really nicely designed, equipped with its automatic ignition and separate easy to use controls of its two burners. It is compact, lightweight, and affordable. It is highly rated on Amazon, and it is the Amazon's Choice product. I have included it in my list of best 2 burner camping stoves.
Please see how I rate this stove, the same criteria are used for all of them here in the site, so you can easily compare.
For more options please check under the category Camp Stuff. If you would rather have a thinner box with two burners, check this GSI Selkirk 540 Camp Stove.
Let me know if you have questions or comments, there is a comment box below. Bookmark this site and visit it again, this will keep you informed because I add texts here regularly. Thank you for reading.