---
The GSI Selkirk 540 Camp Stove is a durable powder-coated steel 2-burner construction with the total power of 20000 BTU, with piezo ignition, and built-in windscreens.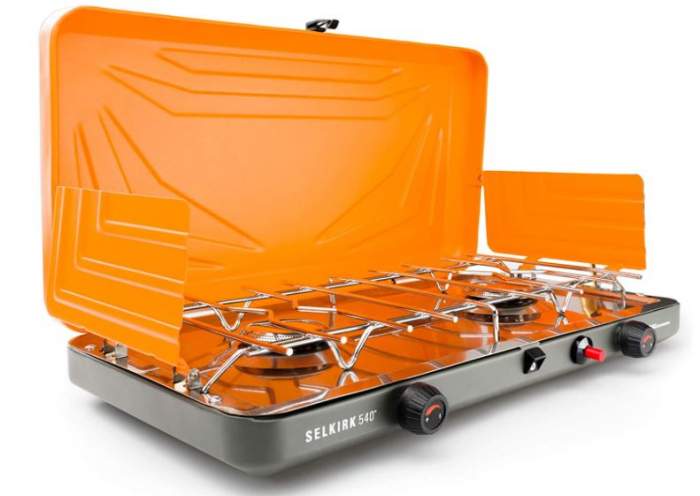 ---
Key features & benefits
2 Burners.
20000 BTU total output.
Thin when closed.
Very good price.
---
What is in the name
This GSI Selkirk 540 Camp Stove is the larger of the two, the other has 460 in the name and this is the length in millimeters.
So this is a slim design, the stove comes in a power coated steel steel exterior box that is only 3.8 inches (10 cm) thick. The picture below shows its front.

When you open the lid, you have a nickel-chrome cooking surfaces with a removable pot support built from a 4 mm diameter steel, and stainless-steel burner surrounds that makes cleanup easy.
The design is quite standard for a two burner-stove, the lid acts as the main wind screen, and you also have two wraparound wind screens that help keep the elements at bay. If you use larger pots, those windscreens fold out of the way.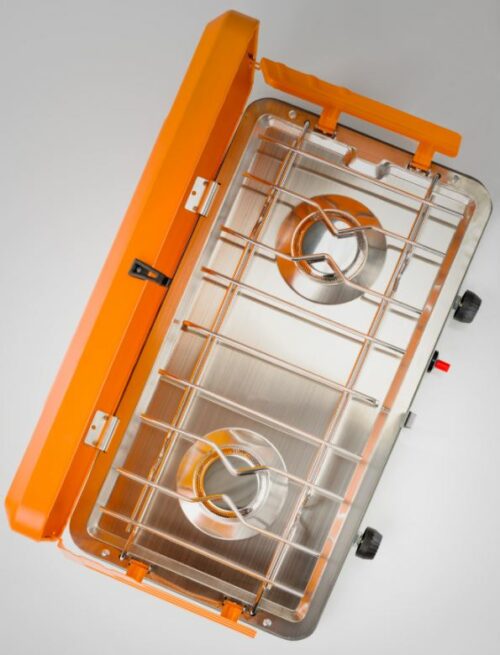 The stove comes with a regulator, 2 flame adjusters visible in pictures, and a Piezo igniter. The box also has a built-in carry handle.
You might want to see a bit more in this video, please have a look:
---
Who is it for
Regarding the size & power, you have a box that measures 21.4 x 12.9 x 3.8 inches (54 x 33 x 10 cm). This is very close to the size of the Camp Chef Everest 2 Burner Camping Stove that measures 23.5 x 13.5 x 4.25 inches (60 x 34 x 11 cm) and it is built in the same style.
However, the 20000 BTU output is only half the one that you have in the Camp Chef Everest 2 Burner Camping Stove. You can compare it also to the Coleman Hyperflame Fyresergeant 2 Burner 3-IN-1 Propane Stove with its 22000 BTU. But this is still strong enough for groups and for families of up to 4 people or so.
It can be used with two 8″ or 10″ pots or two Bugaboo 10″ Square Frypans side by side. The picture below shows how it looks with pots and all windscreens in place.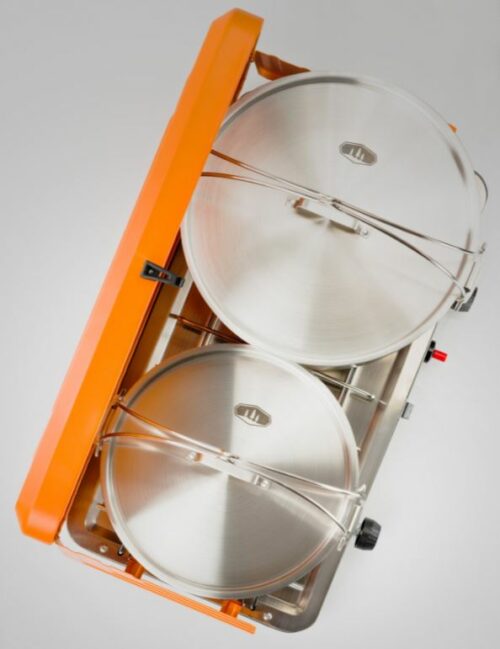 The data at REI show that the average boil time for one liter of water is 4 minutes. I mentioned its sleek design, so the good side of this is that the burners are close to the pot and the stove boils fast. The downside is that it cooks pretty hot and this may sometimes be a problem for meals that need low heat.
Regarding the weight, it is moderate with its 10 lb (4.5 kg) of weight. It is best to compare with some of its competitors to realize this. So for example, the mentioned Camp Chef Everest 2 Burner Camping Stove weighs 12 lb (5.44 kg), and the Coleman Triton 2 Burner Stove weighs 11 lb (5 kg).
Regarding the price, it is fair for what you have. If you go to REI and check among 2-burner camping stoves, you will realize that this GSI stove is with a quite moderate price tag.

---
Specifications
Weight: 10 lb (4.5 kg).
Dimensions: 21.4 x 12.9 x 3.8 in (54 x 33 x 10 cm).
Output: 2 x 10000 BTU.
Matchless Piezo ignition.
Steel body.
---
What is GSI
GSI is a family owned company founded by siblings Don, Ian, and Kathy Scott in 1985. The company is headquartered in Spokane, Washington.
They started selling blue enamel tableware, and they have grown the business to include technical, innovative, and fun outdoor cookware and gear for eating and drinking.
---
Final thoughts & rating
In summary, this The GSI Outdoors Selkirk 540 Camp Stove is a great camping stove for smaller groups, compact and durable. The boiling time is very good and it comes with wind screens that work well. You have an integrated Piezo igniter with a simple push-button.
This is a reliable and fairly prices stove, a great value for the money. I have included it in my list of best 2 burner camping stoves.
Below you can see how I rate this stove against my usual rating criteria so that you can easily compare it with other items of this type:
BEST PLACEs TO BUY
For more options, please check under the category Camp Stuff. You might want to see also this Camp Chef Mountaineer 2X Stove with its huge 40000 BTU power.
Bookmark this site and come again, this will keep you informed because I add texts here regularly. Let me know if you have questions or comments, there is a comment box below. Have a nice day.