---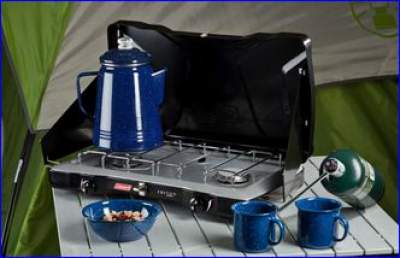 Coleman Triton 2 Burner Stove described in this text includes two very similar models, without and with an integrated ignition button.
The latter is also known under the name Coleman Triton InstaStart 2 Burner Stove where the word InstaStart describes this additional ignition feature. Both models are ideal for camping, hunting, tailgating and other outdoor activities.
---
General description
With the total heat power of 22000 BTU, Triton 2 Burner Stove is in the mid-range. It is a bit stronger than Coleman Classic 2 Burner Stove, which is described elsewhere in the site. The working surface is such to allow for a simultaneous cooking with a 10 in. (25.4 cm) pan and a 12 in. (30.48 cm) pan.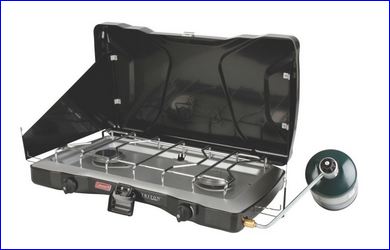 The stove is equipped with so-called PerfectFlow™ Pressure Control System, and with PerfectHeat™ Technology. The former provides a steady heat on each of the burners, and the latter allows you to adjust it to the level you wish. So simmering with this stove is very much possible and easy.
Easy to use & to maintain

Essentially you have a slim and portable metal box that can be closed and secured for transport, see the picture.
The packed size of the stove is 21 x 13.5  x 4.25 in (53.3 x 34.3 x 10.8 cm). Inside the box, you have an adapter for the gas bottle.
Setting up the stove is very easy, just put it on a flat surface, open up the lid, position the windshields, attach the bottle, and you are ready for cooking. On the front side, you have two independent and easily-adjustable control buttons, which provide cooking range from simmer to boil.
The tray is stainless steel, and the nickel-chrome grate is removable, all easy to clean and to maintain. To carry the stove when packed, you have a built-in handle.

Here is a very useful short video (2:10) about Coleman InstaStart 2 burner stove, please have a look:
---
Technical specifications & summary of features
Perfect for camping, hunting, tailgating and other outdoor activities.
22000 total BTUs of cooking power (11000 per burner).
Weigh: 11 lb (5 kg).
Integrated ignition push-button (only for InstaStart version).
Adjustable wind block panels.
PerfectFlow technology for consistent performance.
PerfectHeat technology for more efficient cooking with less fuel.
Fits 12-inches and 10-inches pans at the same time.
2 independently adjustable burners.
Durable, chrome-plated removable grate.
Aluminized steel cooktop for durable rust-resistance.
Large rugged latch for secure storage and transport.
Up to 1 hour with both burners on high on one 16.4-oz propane cylinder.
3-year limited warranty.
---
Pros & cons, users' experience
It is hard to find any true objection to the Coleman Triton 2 burner stove, regardless if you think about its design or performance. If the ignition mechanism is an issue for you, then you have the option to go for the InstaStart model. The difference in price is not substantial, see below.
The fact to bear in mind is that in view of its power, this is not a heavy-duty stove designed for large groups, but several people it is just perfect. So here is my summary of cons and pros:
 Cons
 Pros

Not much really to put here; relatively low power, not for big groups.

Great price.
Very reliable & durable.
Easy to set up and to use.
Good wind protection.
Compact and elegant design.
Very good simmering possibilities.
Triton Series 2 burner stove is a very popular tool, and you can find many customers' reviews about it at various sites.
---
Conclusion
To conclude this Coleman Triton 2 Burner Stove review by stressing again that I am really confident in recommending this tool for camping and for any other outdoor use, as long as it is used for relatively small groups. It has an optimal design and features if used that way. For the Coleman Triton InstaStart 2 burner stove (integrated ignition button), please check this link.
If the price is an issue, I warmly recommend Coleman Classic 2 Burner stove. But if you want to go really green, have a look into this GoSun sport solar cooker.
Thank you for reading. I hope the text has been useful to you, and if this is so please share it with others.
Check at REI
It will be great to hear from you if you have some experience with any of the two versions described in the text, there is a comment box below. I wish you a pleasant day.