---
With Eureka! Camp Café Camping Coffee Maker you take your home coffee making comforts to the camp place. This is a large capacity system suitable for groups and large families.
---
Key features & benefits
A system with several elements.
All nest in each other.
Quality materials.
Suitable for large groups and for families.
Flux Ring technology for faster boiling.
Portable.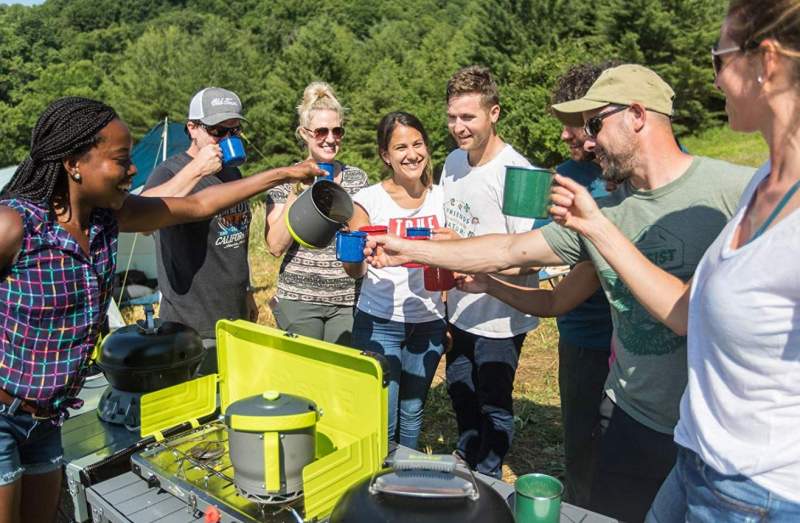 ---
Where to buy
This Eureka! Camp Café coffee system is available on Amazon. Note this is an Amazon Prime item and you can have it shipped for free.
---
What this is about
This is a complete coffee making system, and this is how they describe it at Eureka's site. All the elements are shown in the picture below: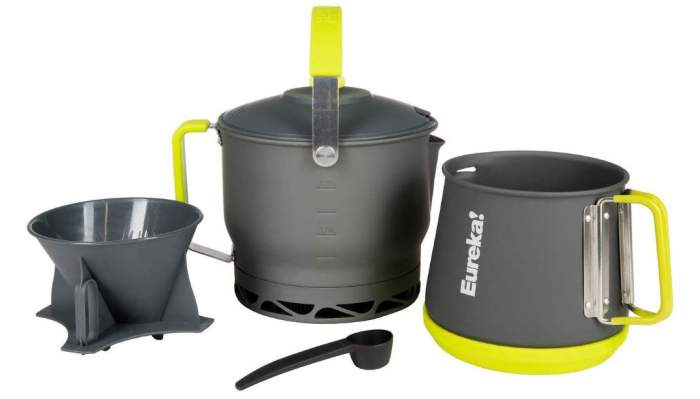 So these are the elements in the system shown in the picture above:
2.5L Boiling kettle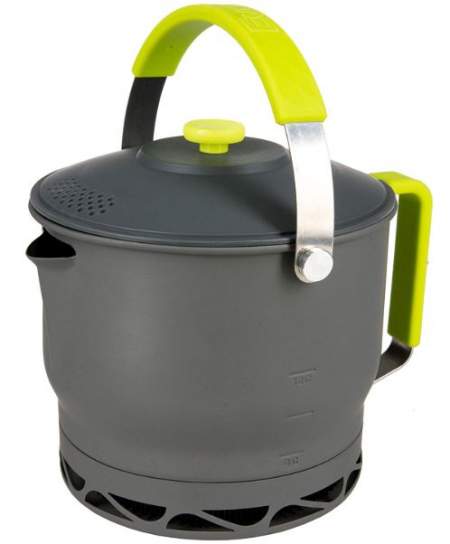 Here you have a patented Flux Ring technology, you can see it on the bottom, see also the picture below. It is introduced to increase efficiency. They claim it boils water twice as fast as a standard kettle. In practical terms, 60 oz boils in 6 minutes with standard 10K BTU burner. The material is a hard-anodized aluminum.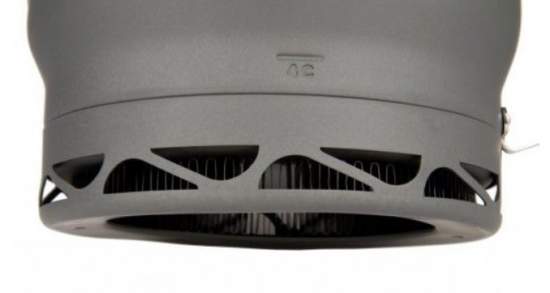 The kettle comes with a food-grade polypropylene lid and silicone-coated handles, those are the yellow parts which you see in the picture above. You can use the kettle also for other purposes, to boil oatmeal, dehydrated meals, and much more.
The filter holder
The pour-over filter holder is shown in the picture below, it is compatible with standard #4 filters (sold separately). This is also a BPA-free polypropylene, the same material as the lid mentioned above.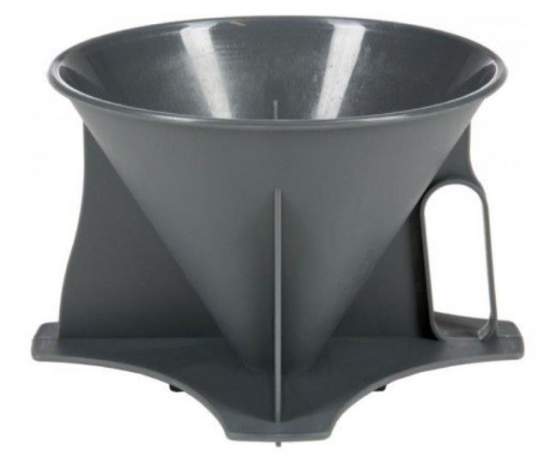 Serving carafe
The coffee carafe can contain 12 cups of coffee; the capacity is 60 oz (1.8L). It is with a siliconized bottom so you can put it on a table and it will protect the surface from the hot content inside the carafe. The same material is on the handle.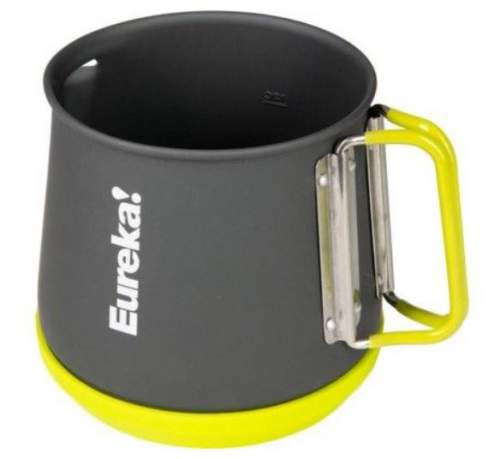 The scoop
The scoop shown below is the same PP material as the filter holder.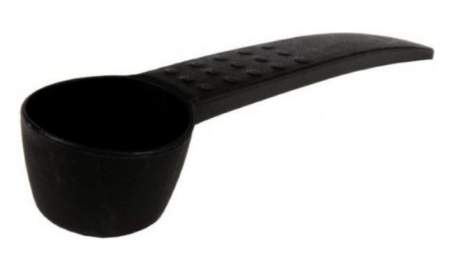 Note that all the 5 elements pack together with the boiling kettle for easy transportation and storage. The picture below shows the order, observe that the filter holder is upside-down: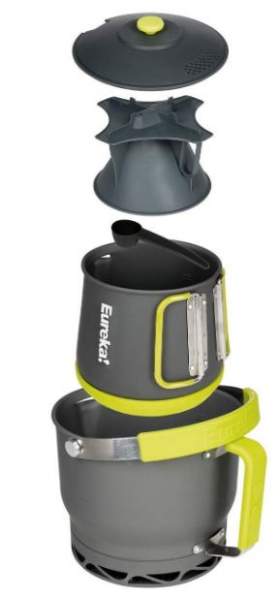 ---
Who is it for
Capacity-wise, as a coffee system, clearly this is a system for larger groups and for families. But the kettle can be used for your camping kitchen in general. Note that you have an integrated lid strainer to easily drain foods like pasta and rice, see the picture.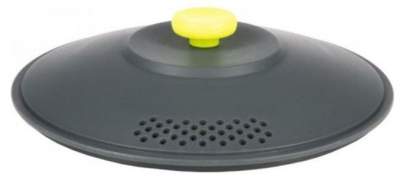 Weight-wise, with its 5 lb 5 oz of weight (2.4 kg), it may look heavy. But bear in mind this is a complete system, and it is also for groups so the weight can be shared and it can be carried on the trail. It is definitely worth the effort. Otherwise, this is a great camping system and you can use it regardless of the transportation you use.
Size-wise, the dimensions are 8 x 8 x 8 inches (20 x 20 x 20 cm). This is basically the size of the kettle alone because everything nests inside of it. So, it may look a bit bulky, to realize this you can compare with some collapsible kettles on the market like this Sea To Summit X Kettle. But again, there are several elements here and they all fit in the kettle.
Please see more in this video:
---
Good and less good features
Here is my short summary:

Quality craftsmanship.
Versatile system.
User-friendly features.

The price & rating
The daily updated price is shown in the link. So the price is steep but if this is for a group or family, then it is worth the investment. The materials are good and it will last long.
Please see how I rate this Eureka! Camp Café coffee system:
My rating of the Eureka! Camp Café Camping Coffee Maker:
Weight -

7.8/10

Packability -

7.8/10

Craftsmanship -

9.5/10

Ease of use -

9.5/10

Price -

7/10
---
Final thoughts
In summary of this Eureka! Camp Café Camping Coffee Maker Review, to stress that what you have here is a great product from a reliable brand. Eureka is best known for its camping tents, but this coffee system is a nice addition when you are outdoor.
The silicone elements on handless make it easy to use with hot stuff, and they have added it also on the bottom of the carafe to protect your camping table. It is a bit expensive but if you can afford it, it is worth the investment. Fully recommended.

If you need something for individual use, check the famous Bialetti coffee maker. I use to carry it in the backpack so see here how I was using it on the slopes of Prisojnik and Razor in the Slovenian Alps.
Note that this is not a sponsored text, and I am not paid by the brand. I love to hear from you, so please use the comment box below. Have a nice day.

---