---
If you need a handy and collapsible pot for outdoor use and travel, this Sea To Summit X Kettle review is for you. This pot is very lightweight, 186 grams only, and yet it provides 1.3 liters of volume, and it collapses to 35 mm thin disk. You can carry it literally in any pack.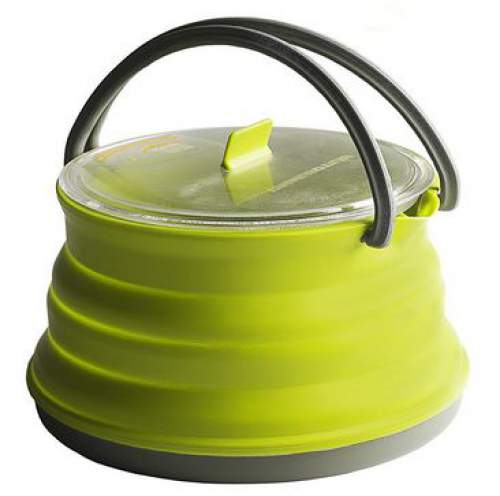 Key benefits
Collapsible, takes little space in the pack.
Lightweight.
Versatile.
Durable.
Part of a larger collapsible collection.
Sea to Summit X Kettle Pot – description 
Many products from this great collapsible series have been on the market for many years already, and you can realize this if you search a bit. For example, you will see a field testing report about the collapsible X-Bowl from the same series, which dates back to 2010. The same is with their collapsible X-Cup, I have seen some videos describing it, from 2011.
But it appears that a broader audience has become aware of these items only recently, perhaps only after the 2015 Backpacker Magazine Award received by the X-Pot from this series.
So what is the X-Pot Kettle really? This is an excellent addition to your cook kit, the pot that collapses to a disk which is 35 mm only, and a tool with at least 1-liter water boiling capacity. In fact, the maximum is 1.3 liters but the recommended volume is just under a litter.
You realize that this makes it a perfect combination to use with freeze-dried food which is becoming more and more popular nowadays. This kettle is all you need for such warm meals, and you will see this shown in one of the videos below. But it can also be used as a cooking pot for ordinary food. Its top opening is indeed wide enough for stirring when cooking.

What makes this X Kettle particularly handy is the fact that it nests several other pieces from the same series, so you can store them in the Kettle when it is collapsed itself, and with the lid above they all are safely stored for transport. So the only space taken in the luggage for all the set is the space which the Kettle itself occupies, and this is a just a thin flat disk 15 x 3.5 cm when it is collapsed, just see the pictures. How better can this be?
The bottom of this pot is aluminum, it absorbs maximum heat from the stove and it protects the upper body which is a heat-resistant food-grade silicone rubber. The Kettle is around 9 cm high, so I would say just perfect. Its height is in between the two pots described in my another text.
There are markings on the body so you can always know the amount of water which you put in the pot. These marks are from outside, which is perhaps not so great, but most likely this is better so, otherwise, they would vanish in time after many washing with the scouring side of the washing sponge (note, this should be avoided in general, more below).
There are two glass-reinforced Nylon 66 handles shown in the pictures. They support the upper rim and improve control when pouring. They also fold down nicely when the pot is packed, as you see from one of the pictures above. The lid is BPA-free translucent plastic.
This is an accordion-style design, you expand it just by pulling it up. Two collapsible X-Mugs will easily nest inside, while the X-Pot Kettle itself fits inside the X-Pot 2.8  (you will see it in the video below) to create an exceptionally compact cook system with 4 elements packed to a minimum space.
Here is the promotion video of the X Kettle Pot, by the Sea to Summit company:
I wish to stress that the Kettle can be ordered separately as a single unit but also as a part of:
The X-Set 32 which includes the Kettle, collapsible X-Pot, and non-collapsible Pan.
See these Sets in the images below, and please follow the links to see more about them:
---
Specifications 
Dimensions (D x H): 6 x 3.5 in (15.2 x 8.9 cm).
Volume: 1.3 L.
Weight: 6.5 oz (186 g).
Collapsible.
Color: lime.
Sides of kettle should not be exposed to direct flame.
BPA-free, food grade, heat resistant silicone rubber.
Hard anodized 6063-T6 aluminum base.
Durable translucent lid.
Two glass-reinforced Nylon 66 handles.
Warranty
Sea to Summit warrants product against material and manufacturing defects for the life of the product.
Warranty is valid for the original purchaser.
This excludes wear and tear and minor blemishes resulted from normal use and handling, or improper use and abuse.
The warranty does not cover heat and flame damage due to exposing silicone walls to direct flame, or heating the X-Pot without liquid inside.
Cleaning and care
Before using it for the first time, wash with hot water and mild detergent. This kettle should not be washed in dishwasher safe. This is due to possible effects on the aluminum bottom. The anodization can be damaged by the caustic chemicals in the dishwasher cleanser.
To avoid micro-scratches, it is best not to use the scouring side of a dishwashing sponge when you wash the silicone. Allow the pot to cool before cleaning, do not attempt to cool it rapidly. It is suggested to always dry components completely before storing.
More about the general use
The Kettle is intended for use with camping stoves only, so do not use with microwave ovens, conventional ovens, or open campfires. Stove systems which utilize pots with heat exchangers should not be used with the X-Pot unless a pot support or pot adaptor is used. From below on the bottom, you will notice a ring line which indicates how wide the flame should be. But in general, keep it low so that it does not go to the sides.
From below on the bottom, you will notice a ring line which indicates how wide the flame should be. But in general, keep it low so that it does not go to the sides.

Fully expand the pot when cooking to avoid direct exposure of flame to silicone sides. Note also this tool is not designed for frying or sautéing, this may damage the silicone. At all times while cooking, the surface of the aluminum bottom should be covered by water up to the level of the silicone.
This is a collapsible tool so do not apply top pressure to walls while cooking. Do not allow the flames from your stove to extend beyond the base of the pot. Note also that very high heat output stove may create an excess flame that wastes fuel and damages the silicone as it may become brittle and disintegrate.
Please see this video by a person using it on the trail:
---
Summary
To conclude this Sea To Summit X Kettle review, what you have here is a really impressive tool. I see this Kettle as a nice tool for motorcycle travelers, backpackers, hikers, and general travelers. This is my favorite in the whole series which currently includes 8 items in total. Just like any other item from the series, it packs so nicely and does not take much space, and it combines perfectly with several other items, so you can store several of them inside the Kettle, and then the Kettle itself fits into the larger X Pot.
In my view, the X Kettle is more versatile and handier than any other item in the collection. You can use it to boil water, but you can use it as a standard pot as well to cook your meals. I like the two rigid handles, this is far easier to use than the two silicone wings that you have in the X-Pots. Pouring the water from the Kettle with one hand is easy, you cannot do this with the X-Pots. You might want to see my review about the two X-Pots presently available on the market.
This all series is a truly unique and extraordinary, hence the award it received in 2015. But the pots are built from non-standard materials, therefore it is necessary to follow the instructions carefully. See how I rate it:
Sea to Summit X-Pot/Kettle
Thank you for reading. I hope this text has been useful, so let me know what you think about this great tool, there is a comment box below. I wish you a pleasant day.