---
This Sea to Summit X Cup review is about a completely collapsible tool ideal for backpackers, hikers, campers, and travelers. The cup is with 8.3 ounces (235 g) water capacity and its own weight is only 1.6 ounces (45 g).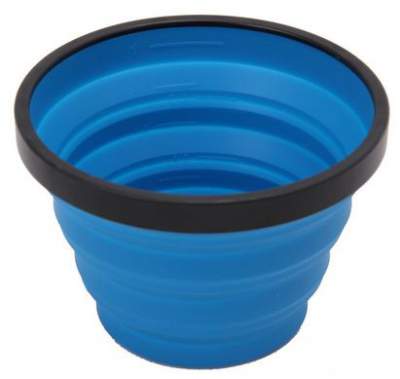 ---
Sea To Summit X Cup – what this is about
If you have ever been in a situation to cook outdoor then you know how much space various dishes take in your backpack. So here you have a whole collection of collapsible items, see below, and this X Cup is one of its smallest elements.
This cup is BPA-free, with food-grade silicone sidewalls but those are stabilized by a very rigid nylon ring around the upper rim of the cup. When expanded, its size is 3.75 x 2.75 inches (9.5 x 7 cm), and in the collapsed state, it is only  0.5 inches (1.27 cm) high. So obviously it is very packable on its own, and you can also store it and transport inside some other pieces of the Sea to Summit X-Series, like the X Pot or X-Kettle.

Even if you crush it by mistake when it is in the expanded shape, it will bounce back and re-form into its regular shape. This is a silicone material so it is very easy to clean, and you can certainly wash it in a dishwasher as well.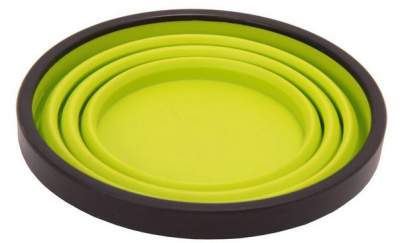 The cup is calibrated from inside so you can use it as a measuring cup. You will see in the video that the person suggests using one of them separately (for example in a different color) for your dog if it is with you on your hiking tour.
This Cup and some other items from the set have been on the market for many years already. But it appears it has become enormously popular very recently, and some pieces of this collection have received awards.
Specifications
Weight: 1.6 oz (45 g).
Size: 3.75 in base x 2.75 in height (9.5 x 7 cm); note, the base here implies the top of the cup.
Packed size:  3.75 in diameter x 0.5  height (9.5 x 1.27 cm).
Capacity: 8.3 oz (235 g).
Food grade flexible silicone.
Unbreakable & collapsible.
Calibrated as a measuring cup with markings inside.
Warranty: limited lifetime.
Dishwasher & microwave safe.
Colors: 5

All colors of the X-Cup.
---
In conclusion of this Sea to Summit X Cup review to stress again, this Cup is a part of a larger award-winning collection with many pieces in the same collapsible style, and many of them fit into each other so that they take a minimum space in your backpack. See how I rate it:
Please see my review of the two X-Pots from the same collapsible series, and yet another text about the X-Kettle.
Thank you for reading. Please use the comment box below in the case of comments or questions. Have a nice day.