---
This Sea to Summit X Pot review is about the award-winning collapsible pot, an excellent lightweight tool for backpackers, hikers, travelers, and campers, with 1.4 and 2.8 liters volume.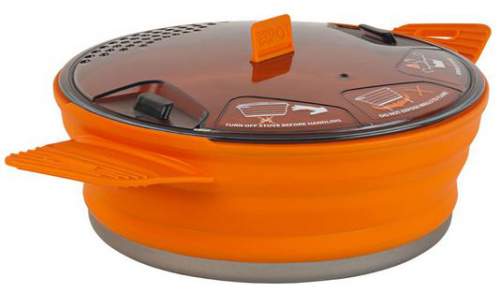 ---
Key benefits
Collapsible, takes little space in the pack.
Lightweight.
Versatile.
Part of a larger collapsible collection.
---
Sea to Summit X Pot 1.4 liters – description
Cooking pots usually take a lot of space in your pack. What I normally do with such standard pots is to fill them with other stuff, so I save some space in that way. I do the same with my helmet. Nevertheless, standard metal pots are indeed annoying, bulky, and noisy.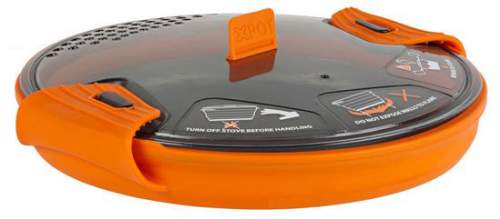 This is completely different from the X-Pot. What you have here is a fully collapsible cookpot, quite unique, and ideal for backpackers, hikers, and campers. It compresses to a disk 8 x 1 inch (20.3 x 2.54 cm), shown in the picture above.

What you see as orange in the pictures is a food-grade silicone, heat resistant but it should not be exposed to the flame. So the pot can only be used with canister or alcohol stoves with a relatively small flame. Do not plan to use it on an open fire. The silicone is flexible, you can smash it and it will restore its shape again.

The bottom is aluminum, and on the top, you have an embedded rigid stainless steel ring, so no worry that it might collapse with your hot meal. The lid, built from a BPA-free material, is translucent and with a strainer and a vent, so you can remove the water from the food through the lid.
As you see, the lid is with two locks on the opposite sides, here you attach the two silicone handless when the pot is transported in the backpack. So, although the collapsed pot is so shallow, you can still put things inside, like the X-Cup, X-Mug, X-Kettle, and X-Plate from the same collection, and with the lid on and locked in place, you can have the stuff safely in the collapsed pot.
Inside, on the wall, you have markings so you will always know how much water you have put in the pot.
Here is a promotion video from the Sea to Summit brand, please have a look:
This all series is a truly unique and extraordinary, hence the award it received in 2015. But the pots are built from non-standard materials, therefore it is necessary to follow the instructions carefully.
Please see below much more about precautions and how to use these pots, otherwise, you will join the group of those who are unhappy with them. If you read objections available on the Internet, you will realize that in most cases it is about not following instructions.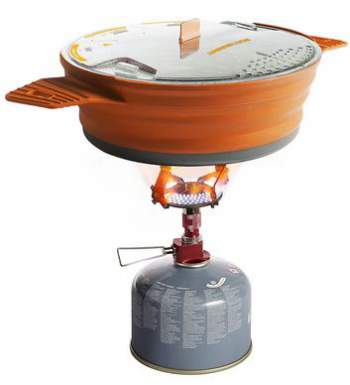 Specifications & summary of features 
Weight: 9 oz (255 g).
Use: backpacking, hiking, camping, travel.
Size (D x H): 7.5 x 2.5 in (19 x 6.4 cm).
Packed size (D x H): 8 x 1 in (20.3 x 2.5 cm).
Capacity: 1.4 liters.
Collapsible.
Materials:
– Hard anodized 6063-T6 aluminum bottom.
– Silicone wall, BPA free, food-grade, heat resistant.
– Durable translucent lid.
Warranty: limited lifetime.
Silicone handles are designed to secure the lid to the pot only during transport.
Sides of the pot should not be exposed to direct flame.
---
Sea to Summit X Pot 2.8 liter
Obviously, this is a larger version but with all the same basic features as the pot above. You will notice it is almost twice the height of the pot above, so I do not have the same objection here. All other pros & cons are the same. It is slightly heavier but it provides two times more volume.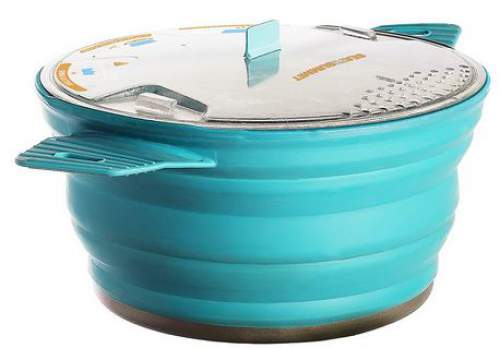 Specifications
Size (D x H): 8.4 x 4.7 in (21.3 x 12 cm).
Capacity: 2.8 L.
Weight:  10.3 oz (285 g).
Color: grey, pacific blue.
Here is a video about the X Pot 2.8 liters:
---
A few more details you might need to know
Heat exposure
These pots are designed to be used on backpacking stoves or camping stoves, and the flame should be much smaller than the base of the pot. It is important that the silicone rubber is not directly exposed to the flame. So do not use it on a campfire with the flame you cannot control.
The transparent lid is not suitable for use in an oven. Also, the pots are not designed to be used on domestic cooking stoves because they may have a higher heat output (up to 12.500 BTU) as compared to a backpacking stove which is around 6000 BTU.

What can be cooked
These are cookpots but not designed for frying or sautéing because it may damage the silicone. You should use Sea to Summit X-Pan for this. It is essential that at cooking, the internal surface of the aluminum base is completely covered by water up to the level of the silicone.
Melting the snow in the X Pot
A dry snow can have less than 10% of water and the rest is air. So crystals touching the base of the pot can melt very quickly and evaporate, leaving the base of the pot with nothing to cool it. So ideally you should have some water in the base of the pot before you begin. If you do not have water, start with a small volume of snow and heat it gently until you have some water. Add more snow after that.
Materials used in the X Pot construction
The wall silicone is food grade, no chemicals to leach into food or water. The base is hard-anodized aluminum. This anodization prevents contact with the aluminum itself, making it perfectly safe.
The lid is a special BPA-free plastic. Why plastic? The idea is to be able to see what is happening inside the X-Pot during the cooking. You don't have to keep lifting the lid to check on the contents. This saves heat and fuel. In addition, the plastic does not conduct heat as well as aluminum; so you can hold the handles with your thumbs and use the lid as a strainer.
Washing – is the X-Pot dishwasher safe
This is about the anodized aluminum base. The anodization can be damaged by the caustic chemicals in the dishwasher cleanser. So X-Pots should not be washed in a dishwasher.
To avoid micro-scratches, it is best not to use the scouring side of a dishwashing sponge when you wash the silicone. But if something has adhered to the silicone, just leave it in water to soak and after that use a good backcountry soap to remove the residue.
Other questions
Handles: They should not be attached to the lid during cooking, this could cause damage to the lid. Such attachment is only in transport, to secure the lid to a collapsed pot. For example, you can nest X-Bowls and Mugs, and even the 1.3L X-Pot/Kettle inside and secure them with the lid.
Using metal utensils when cooking: The hard anodization of the aluminum base is scratch-resistant so you can use metal utensils. But nylon utensils are recommended over metal.
---
Summary & rating
To conclude this Sea to Summit X Pot review, what you have here is an exceptional concept and design. But bear in mind, those are not your usual titanium pots. These X-Pots may look fragile, but if you use them with care, they will serve you well in your adventures. See below how I rate this pot:
There are many possible combinations for various elements from the collections of 8 presently available on the market. So you can order sets of 3, 4 or more, but they are also available as individual tools as you see above.
Please see more about the X-Cup and X-Kettle from the same collection, described in my other texts. Thank you for reading. Please use the comment box below in the case of questions and comments.  Have a nice day.