---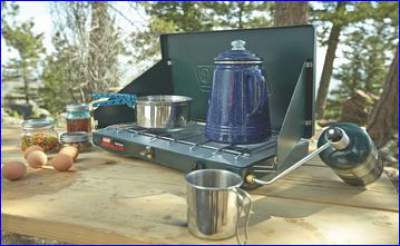 Coleman Classic 2 Burner Stove is a great choice for your outdoor kitchen for various activities, like camping, hunting, and fishing.
You will find it also under the name Coleman PerfectFlow 2 Burner Stove, which describes the fact that the technology used here provides a consistent performance in any, even extreme conditions.
---
Description
Coleman company started more than a century ago and they have a lot of experience with this type of burners. They have produced many of this kind. So to be sure about the model presented here, please see the inscription in the picture below.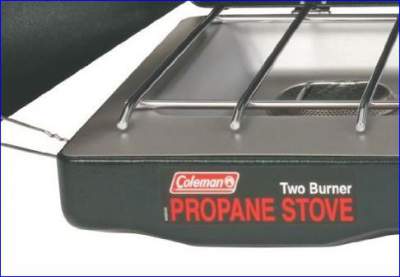 This burner is very simplistic and clean in design, simple and easy to use, no additional tools are needed to start cooking with it. As you realize this burner is a relatively heavy camping tool, so this is not something for backpackers. There are other stoves for such a purpose described within this site.
The 2 burner stove comes integrated in a nice metal box, see the picture. When you open it up, you will see two burners under the grill. You set wind deflectors (at least one because it keeps the lid up), attach the bottle through the connector piece, and you are ready to cook.
On the front right side you have 2 knobs, see the picture above, to regulate the gas for each of the burners separately and independently. There is no piezo ignitor, so you start the flame manually.
The size of the burner is such that it can fit two pans of 12 and 10 inches at the same time. The wind deflectors can move outward to adjust for various pan sizes.
The cleaning is easy. The chrome-plated grate is removable for cleaning, and the top surface is a stainless steel.

Why using Propane
If you are going outdoor and expect rather cold weather conditions, propane-butane mixture burners may work but only up to some point. Butane alone will not work properly if it is very cold, roughly speaking below -1°C. For such temperatures, it will not turn gaseous.
To be sure you have a proper tool, you will use propane alone. Propane gas in the bottle will still develop enough pressure to keep the burner working. This is because propane can turn gaseous for very low temperatures, as low as –41 °C. So if this is about winter camping you know which gas to use.
Coleman Classic 2 burner stove: technical specifications
The windbreakers properly positioned for cooking.

20000 total BTUs of cooking power.

Size when closed: 13.7 x 21.9 x 4.1 in (34.8 x 55.6 x 10.4 cm).
Weight: 10 lb (4.5 kg).
Fits a 12 in (30.5 cm) and 10 in (25.4 cm) pan at the same time.
2 independently adjustable burners.
Durable, chrome-plated grate is removable.
Aluminized steel cooktop for durable rust-resistance.
Warranty: 3 years limited warranty.
Wind block panels help shield burners from the wind and adjust for various pan sizes
PerfectFlow technology for consistent performance in extreme conditions.
PerfectHeat technology for more efficient cooking with less fuel.
One 16.4 oz (464 g) propane cylinder lasts up to 1 hour with both burners on high.
Pros & cons, users' experience
Regarding the boiling time, Coleman PerfectFlow stove is a medium to low range stow. There are much faster stoves on the market, but you will pay far more. For example, Camp Chef Pro 90 has 90000 BTU cooking power, but this is a heavy-duty tool for groups, and you will pay $240 for it, which is 6 times more. Question is, do you really need it?
Back to Coleman stove, simmering is also not the strongest feature of this stove.
 Cons
 Pros

Great price.
Easy to set up and to use.
Good wind protection.
Compact and elegant design.
To see more details about it, please follow the Amazon link below. As always, there are some customers that were not so happy with this tool.
Conclusion
To conclude this text, the Coleman Classic 2 Burner Stove is a good value for the money. I would not say it is the best tool for larger groups or for very intensive use. But for occasional camping and short outdoor activities of one or two people, this stove is definitely good enough and there is no need to spend money on much more expensive models.
Thank you for reading. If you find this text useful please share it with others. If you have something to say about this stove, please do so, there is a comment box below.
Check at REI
I wish you a nice day and pleasant camping wherever you are.