---
Want something to feel at home in your outdoor kitchen? This Stansport Propane Outdoor Camp Oven and a 2 Burner Range is an item you need.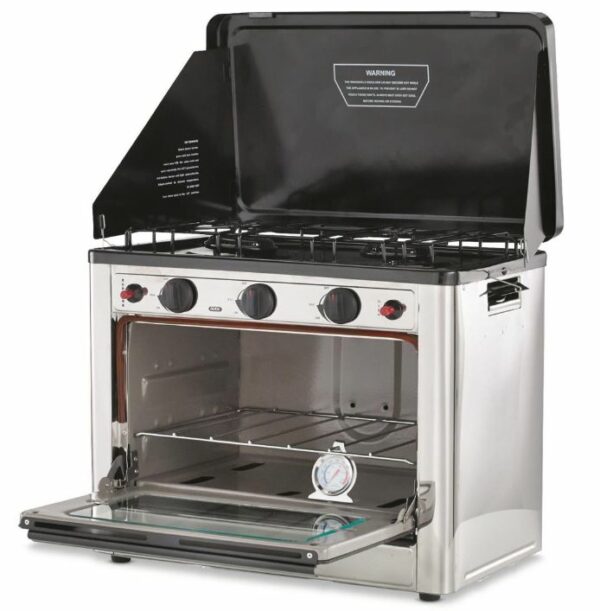 ---
Key features & benefits
2 Burners.
Full-size oven.
Portable.
2 Carry handles.
Piezo ignition.
---
So what this Stansport Outdoor Camp Oven and Range is about
They describe it as 'easy to transport', but the truth is it is boxy and quite heavy. However, this is a system with an oven so the size and shape are natural. You will see a similar size in its close competitor the Camp Chef Deluxe Outdoor Camping Oven with a 2-Burner Stove.
But this set is a bit heavier, it weighs 36 lb (16.3 kg), so this is for two people. It comes with handles on the sides and moving it around in the camp should not be a problem. The dimensions are such that it will fit on many outdoor grilling tables, but you can use it on any camping table with a metal tabletop. This is fine for the situation when you use the oven, but note that this item is tall and when placed on a standard table the range burners may be too high. So you might keep it also on the ground or on a much lower camping table.
So this is a true outdoor cooking system and a durable stainless-steel construction with two top burners and a full-size oven. The top is with a lid that converts in a very useful windscreen shown below, with two extra screens on the sides.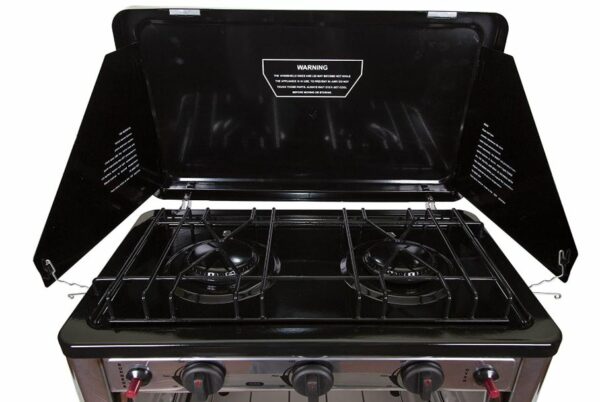 The top includes two mentioned burners and a grate with baked enamel finish. The buttons and switches are easy to use, the picture below shows how this all looks, separate ignition buttons and separate knobs for the two burners and the oven:

The oven shown below is with a double crystal door and the rubber around the door fits really well. Note that you can use a pan of 13 x 9 inches (33 x 23 cm) in the oven.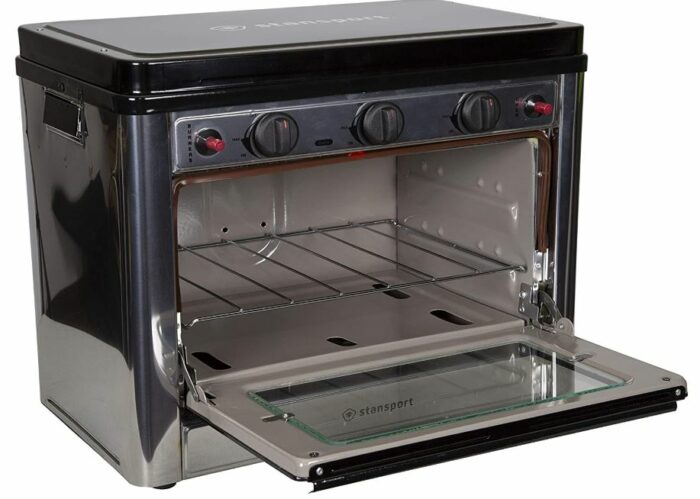 As you see, there is a shelf inside, and you will want to know that the oven burner is on the bottom of it.
Burning power
Each of the two top burners is with 4000 BTU and the oven has 3500 BTU. As always, it is good to compare. So the earlier mentioned Camp Chef item is with a considerably higher 9000 BTU for the burners, but with a slightly lower 3000 BTU for the oven. Note that the numbers on Amazon are different, but those used here are from the manufacturer directly.
This burning power is quite normal and you can see this in the list of 2-burner camping stoves. But there are indeed much stronger tools on the market as you will realize from the list.
But see also the version at Sportsman's Guide (link below), assuming this was not a mistake at their side they apparently have a model with two 8000 BTU burners each. However, the manufacturer's model number is the same so after all, this might be a mistake at their side.
Both the range top and the oven feature separate Piezo matchless ignition switches.
The fuel
This system operates on 20 lb bulk-style propane tanks or 16.4 oz disposable propane cylinders. It comes with a hose shown below for connection to a 20 lb bulk propane tank.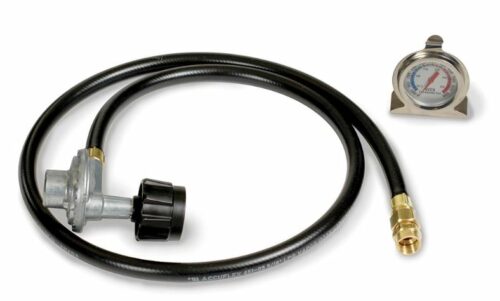 The declared oven temperature is 425 degrees F (218 C), and here again this is from the manufacturer and the numbers on Amazon are different.

Note that this set is designed for outdoor use only, I have seen people asking about this. From what I have seen, this set is manufactured in Mexico. Please see a bit more in this short video:
---
Specifications
Weight: 36 lb (16.3 kg).
Dimensions: 21 x 17.5 x 14.5 inches (53 x 44 x 37 cm).
Oven dimensions: 11 x 16 x 9 in (28 x 41 x 23 cm).
Oven temperature: up to 425 F (218 C).
Top burners: 4000 BTU each. But see the version at Sportsman's Guide, link below.
Oven: 3500 BTU.
---
Final thoughts, rating, pros & cons
So this Stansport Propane Outdoor Camp Oven and a 2 Burner Range is a very functional outdoor kitchen item with a large range and an oven to match. The price is fair for what you have here. I have included this product in my list of best outdoor ovens and also in my list of best 2-burner stoves.
Stansport is a brand that has been around for a long time already, more precisely since 1949, so you know what you are buying.
Please see how I rate this product, the same criteria are used for its competitors so you can easily compare:
If you need more items for your outdoor kitchen please check under the category Camp Stuff here in the site. Bookmark this site and visit occasionally, we add texts here regularly. Thank you for reading and have a nice day.