---
If you are thinking of improving your camp kitchen equipment and bringing it to the next level, check this list with best camping outdoor ovens constructed in a variety of styles.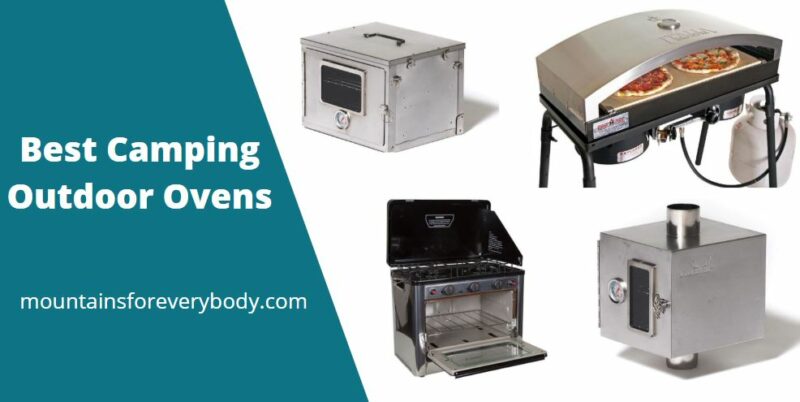 What is in the list
The camping ovens presented here can be classified in two major groups:
Ovens that have their own integrated burner. This can be one or more propane burners, or some burner operating on solid fuel like wood and pellets.
Ovens that use the heat from some external source. Here you will see some really simple yet effective designs.
Regarding the packed size and weight, some of the ovens are really bulky and heavy, but you will see also examples of folding ovens that are very light and portable.
Regarding functionality, you have ovens that can be described as general-purpose types, and the other group designed especially for pizzas.
---
My list of best camping ovens
The oven in the list below are ordered alphabetically because they cannot be easily compared and making a rank list wouldn't make much sense:
Here are a few data about each of these camping outdoor ovens. Please follow the links for more.
1. Camp Chef Italia Artisan Pizza Oven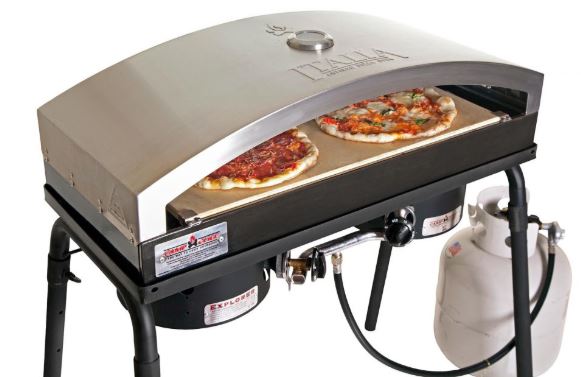 The picture above reveals what this is about, and you have seen already in the name that this is for pizzas. So the oven has its own burner and the energy source is the bottle that you see on the side.
This oven has been on the market for years already, tried and tested by many. Note that on the manufacturer's site they call it Artisan Pizza Oven 60, so just to know this is the same model.
This is an award-winning design with a domed oven top and rear vents. It is with a double-layered ceiling to mimic the heating patterns of a true wood-fired brick oven. The bottom is a cordierite pizza stone that gives the pizza a great crust.
The baking area is 26 x 12.5 inches (66 x 32 cm) and the total dimensions are 32 x 14 x 9 inches (81 x 36 x 23 cm). The oven weighs 41 lb (18.6 kg).
Here you can see a bit more:
---
2. Camp Chef Deluxe Outdoor Camp Oven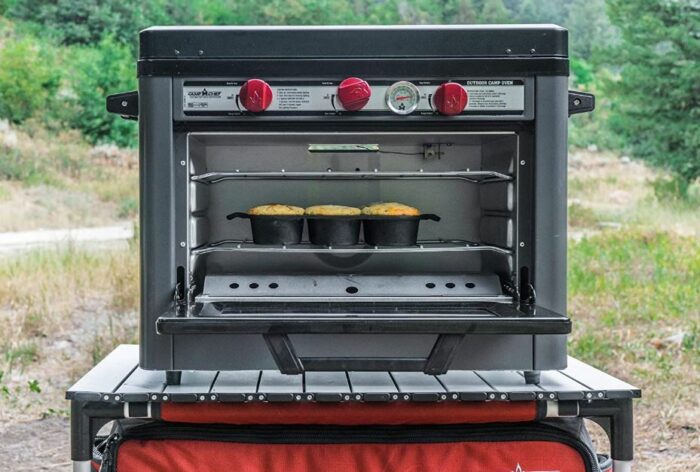 Here you have a complete cooking center, large and functional, hence the word Deluxe in the name. This boxy structure has two burners on the top for cooking, and you also have a burner in the oven below. It is presented in detail in my separate text so here just a few basic data.
The oven weighs 32 lb (14.5 kg) and the inner dimensions of the oven are (L x W x H) 11 x 16 x 9 inches (28 x 40.6 x 23 cm). So you realize this is a full-size oven, and it can provide the temperature in the range 250 – 400° F (121 – 204 C).
---
3. Coleman Camp Oven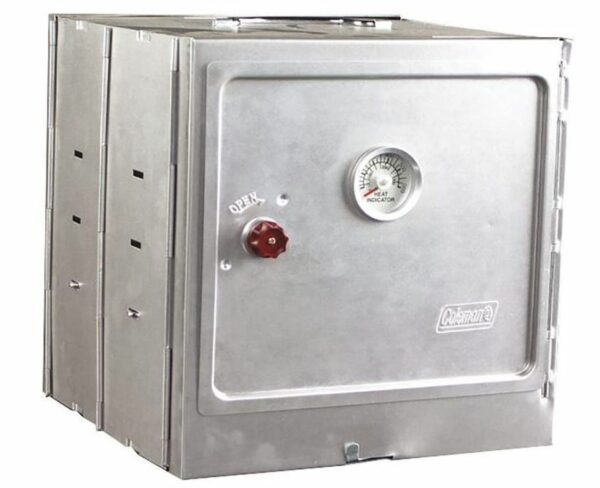 This oven is without its own heat source, so you will need some external. This can be any of the gas burners from this brand or a wood-burning stove. Coleman is well-known for its numerous propane and liquid fuel stoves, see this Coleman Triton as an example.
Note also that this is a folding oven, so its packed size is only 13.5 x 12.9 x 3.3 inches (34.3 x 32.7 x 8.3 cm). Inside you have a rack that can be adjusted to three heights, and the picture above shows its integrated thermometer. The body is a smooth aluminized steel that is easy to clean and it resists corrosion and scratches.
If you follow the links below, you will realize that this oven is incredibly affordable.
See it in action:
Here is a full review:
---
4. Ooni 3 Outdoor Pizza Oven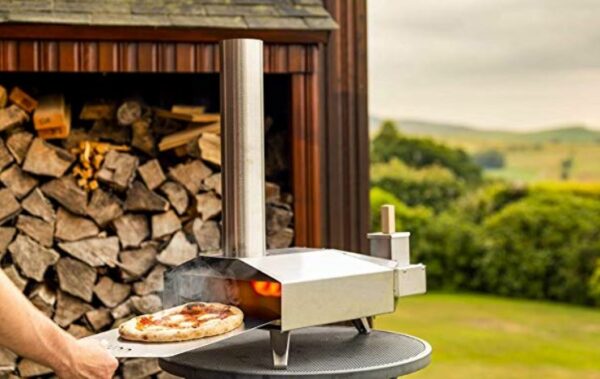 So here you have an oven specifically designed for pizzas and the heat source is a wood pellet burner which is on the back of the oven. This is a brushed stainless steel construction with a ceramic fiber insulation.
Here are some numbers you might want to see. The dimensions without its chimney are 25.2 x 14.1 x 8.6 inches (64 x 36 x 22 cm), and the unboxed weight is 24.2 lb (10.9 kg).
Inside you have an area of 13.2 x 13.2 inches (33.7 x 33.7 cm) with a 10 mm cordierite stone baking board. Note that this brand was earlier under the name Uuni, they changed it to Ooni in 2018.
Please see here how to use this pizza oven:
---
5. Stansport Propane Outdoor Camp Oven and 2 Burner Range
This is yet another example of an oven that has its own heat source. So the inner burner is with 3500 BTU power, but you also have two range burners rated 4000 BTU each.
This is a stainless-steel construction with baked enamel grates on the top and with a dual-glazed crystal oven door. All the burners are equipped with separate Piezo matchless ignition switches.
This stove/range is designed to work with 20 lb bulk-style propane tanks or 16.4 oz disposable propane cylinders. It can heat the oven up to 425 degrees F (218 C). The overall size is 21 x 17.5 x 14.5 inches (53 x 44 x 37 cm). The weight when assembled is 36 lb (16.3 kg).
Read my Review
In this short video you can see more about their Outfitter series which includes several stoves:
---
6. Winnerwell Fastfold Oven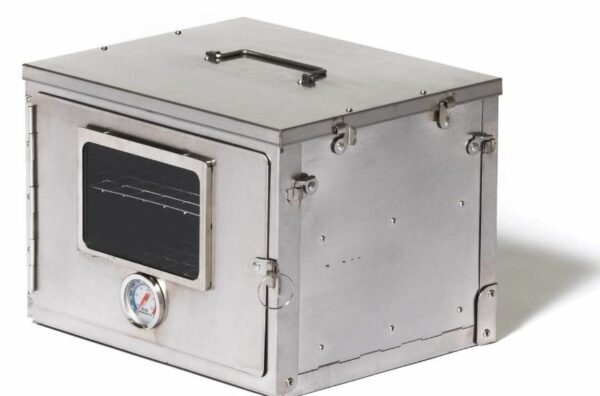 When you see the packed dimensions of this oven you realize the meaning of the word Fastfold in its name. So this is one of the folding stoves that packs down to (L x W x H) 27 x 33 x 7.5 cm (10.6 x 13 x 3 inches).
But when assembled and ready to use like in the picture above, its dimensions are (L x W x H) 27 x 33 x 25 cm (10.6 x 13 x 9.8 inches). Now see its weight which is only 2.9 kg (6.3 lb) and you realize that you have a backpack portable camping oven. This is a 304 stainless steel item equipped with a glass viewing window and an integrated thermometer.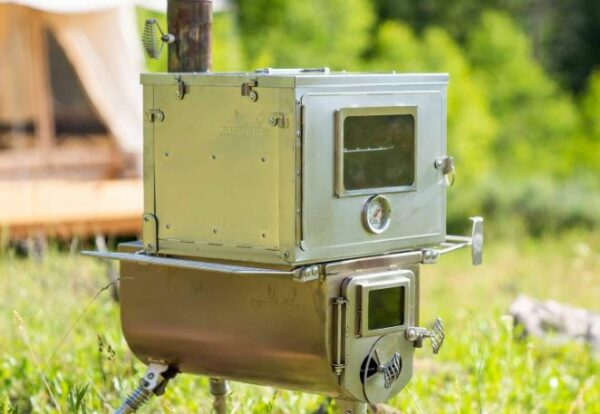 This is one of those that need an external heat source. So you can use it with a wood-burning stove as the picture above shows. There are many such stoves from the same brand and you can see them here.
---
7. Winnerwell Pipe Oven 2.5 Inch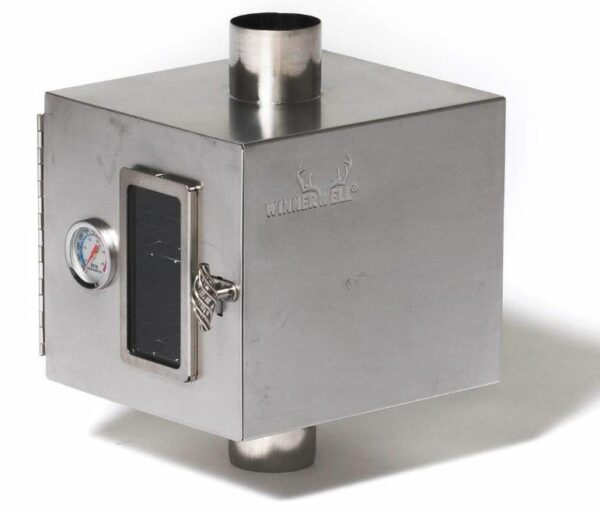 Here is again something ingenious from the Winnerwell brand. This stove attaches to the pipe so the heat from a wood-burning stove below goes around the inner box and heats it. This model here is for a 2.5 inches (6.3 cm) pipe but as far as I know, they build them in several sizes.
The body is a 304 stainless steel and the inner chamber is completely sealed. As you realize, it has a glass viewing window and an integrated thermometer that will help you dial in the oven for baking. The inner baking chamber measures 6 x 6 inches (15 x 15 cm) and it has two internal shelves. The oven weighs 11 lb (5 kg).
Please see how it is used:
---
How to choose
• Obviously, the first step is to decide about the type, with or without a burner. There are big differences in size and weight that are related to this issue, and with this also comes the question of functionality.
If you already have a good cooking station that works on liquid or solid fuel, then you might want to think about some of those simple folding ovens that use some external heat. They will do the job.
But if you are in the process of improving your camping equipment and you know you will use an oven a lot, then consider those with integrated burners for cooking and baking.
• The other way of looking at the issue of choice is the oven's purpose. You have seen some that are designed specifically for pizzas. But perhaps something of a general purpose would be more useful.
This list will be updated when we find some oven worth adding here, so you might want to bookmark this text and check occasionally. For more items needed in the camp, check also under the category Camp Stuff here in the site.
Thank you for reading. There is a subscription form below for our weekly newsletter, so subscribe and stay informed. Have a nice day.