---
Here I give 15 best outdoor headlamps from the top brands for hiking, backpacking, running, camping, etc., in the weight range 26 – 510 grams (0.92 – 18 oz).

---
Why this text
I use headlamps almost daily. In my everyday life this includes cycling, and more importantly jogging which I always do late in the evening so I use my lamp because this is always running through some woods and along paths without the city lights.
When I go to the mountains, a headlamp is always in one pocket in my backpack, there is no exception here. This holds even in the case of short tours which are supposed to be during the daylight only. This is due to some bad experience in the past. I was caught in the dark just because I was experimenting with some uncharted routes on an unknown terrain. So I was irresponsible, and also did not have a lamp. I managed in the end, but this was a lesson for me.
So headlamps are important for me, have many texts about them here in the site, and this is a short summary where you have some guidelines which may help you in choosing one, and I give the list of great headlamps with some basic features described. Please follow the links to my detailed reviews.
---
Essential features of outdoor headlamps – what to look for
Here below are a few thing to bear in mind. Most of the time this is about the weight, luminosity, and price. All other features (and there are so many indeed) are the matter of priorities, and yours may not be the same as my own.
Weight
The weight is not only about grams. It may imply differences in technology, the type of batteries, the purpose of the headlamp. Some of them have belt battery, some have an extra strap over the top of the head, etc. All these features have some purpose and they affect the weight.
You will realize that the weight range of the headlamps in the list is 26 – 510 grams (0.92 – 18 oz), so almost 20 times the weight difference.
Waterproof rating
This is described by the IP number (ingress parameter) so for example, you can have IPX7. The number 7 means that the lamp is safe under the water up to 1 meter and up to 30 minutes time. This is a great value, and there is only one higher level. The number 4 would mean it is only water resistant. If you are not familiar with this, more is available here.
Is this really important? Well, for me yes, I go to the Alps and you can have rain and snow anytime. You can see this here in the mid-August from one of my last summer tours. But even without rain, sometimes you can walk through clouds, and I mean literally, and condensation can be huge, so the lamp may fail. I know this from my own bad experience from climbing El Teide. This was my 5th climb, and I was above the clouds but later while descending in the dark I was in the clouds and the lamp did not work, read more about this in my text here.
Dustproof rating
This is the X in the IP number mentioned above. So you can have IP67. Here the number 6 is the dust protection and this is a very high value. This can be important for some, for me it is of no significance at all. I am mentioning it only if you are puzzled with the X above.
Types of lighting
In general, you can have:
Classic (or standard) lighting – this means the luminosity is the highest with fully charged batteries, and it decreases in time. This is the most typical case.
Constant lighting. This is a far more advanced technology where the luminosity remains constant practically till the batteries become flat. You have this in some expensive headlamps below in the list.
Reactive lighting. Here you have something really sophisticated – the lamp is with an intelligent design so the brightness adjusts and changes depending on the situation. You do not need the same amount of light if you watch a map and if you are running fast. There are great Petzl headlamps below with such a technology.
How many lights
You can have several, normally white is enough, but some headlamps have red and blue as well.
Battery power indicator
This may be very important, to avoid unpleasant surprises. Not all lamps have this feature. If not, then have a spare set of batteries in the pocket.
There are much more like:
glow in the dark feature,
strobe function,
lock function (nothing worse than a flat battery because the lamp was activated accidentally in your pack),
price,
can the lamp use some rechargeable batteries like the Core together with standard batteries,
max burn time,
max distance, etc.
Here is a short video by Petzl about batteries, please have a look:
---
Best outdoor headlamps ordered by weight
---
1. Petzl e+Lite Headlamp
This tiny headlamp has been on the market for 8 years already, so everything is known about it and there can be no unpleasant surprises. It has remained very popular in all these years. The picture shows its latest version.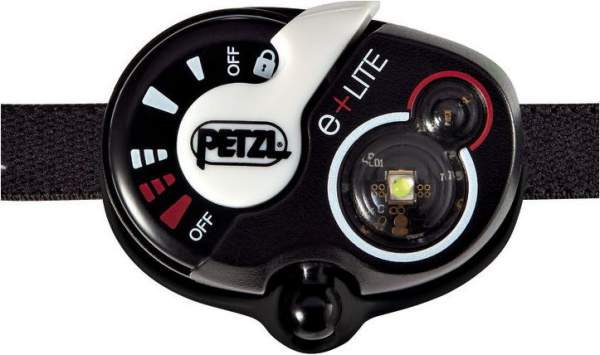 The best thing about this headlamp is what you already see in the picture above: everything is self-evident. There is nothing to be confused, no need to go through various options to get the one which you want. All is already there, just move the switch to the position you want.
It is not without reason on this position, this is an ultra-light and compact headlamp, only 26 grams (0.92 oz) of weight.
Yet another detail which I like is that it comes with a carry case, so you store it and keep protected in the pocket or in the pack. It is so lightweight that it is perfect as a backup headlamp.
You have white and red lights, continuous as well as strobe lighting, manual lock function, two power-off positions for the selector shown in the picture above, and an emergency whistle, can you believe this.
Note that you also have a swivel stand so you can position it at some place and direct the light in any direction you want.
This headlamp operates on 2 coin-size lithium CR2032 batteries, in case you did not know, there exist also rechargeable batteries of this type, just to point this out as an economical and ecological factor.
Specifications
Light output: 50 lumens.
Weight: 26 g (0.92 oz).
Beam pattern: wide.
Batteries: 2 lithium CR2032 batteries (included).
Watertightness: IPX7 (waterproof to -1 meter for 30 minutes).
Size: 1.5 x 0.5 x 1 inches (3.8 x 1.3 x 2.5 cm).

---
2. Black Diamond Cosmo Headlamp
I have been using this headlamp since the last summer when it was in my backpack in the Alps, and I am using it also at home. So my experience is only the best with it. It has been on the market for several years already, and this what you see in the picture is its latest modified version. So bear this in mind because several versions of this lamp are on the market and the difference in lumens is huge.

So this version is 200 lumens, and its burn time is 180 and 30 hours (for low and high modes, respectively). The reason for buying this headlamp was its maximum waterproof rating, so yes you have IPX8 rating here. If you follow the link below you will see this lamp working in the jar full of water.
The lamp works on three AAA batteries, so this is a classic lighting technology, no reactive features or constant lighting. The maximum power is in the beginning and it decreases exponentially.
Specifications
Lumens: 200.
Weight with batteries: 84 g (2.9 oz).
Max distances:
– High: 70 m.
– Low: 10 m.
Max burn time:
– High: 30 H.
– Low: 180 H.
IP rating: IPX8

---
3. Petzl Tikkina Headlamp
The Tikkina is a new model that appeared in 2017. With the luminosity of 150 lumens, it may be a good option in the camp or for fishing. This is a really affordable tool, with the price of only $20 or so.

It belongs to Petzl Classic series and this is standard lighting technology which as usual means that the power is the strongest at the beginning of the operation. Its maximum burn time is really impressive 220 hours.
One of its great features is that this is a hybrid type compatible with the CORE rechargeable battery and it works also on three AAA/LR03 batteries, which are included in the package.
It is water resistant and it does not have some features which you might want to have. So do not expect strobe mode, red light, power lock, or battery power indicator.
Specifications
Lumens: 150.
Weight: 85 g (3 oz).
Water-resistant: IP X4.
Hybrid lamp.
Max burn time: 220 hours.
Max distance: 55 m.

---
4. Petzl Tikka Headlamp 
The picture below shows the latest version of this popular headlamp and the easiest way to realize this is to check its luminous flux which is 200 lumens now.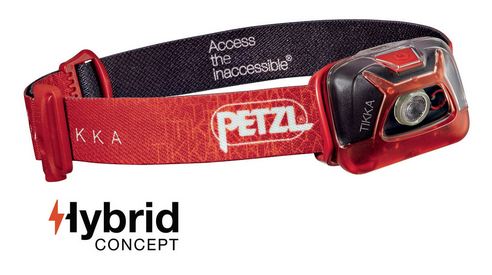 So this is a very lightweight and reliable headlamp, a very good value for the money. Although very affordable, see below, it comes with some fancy features. It has the Glow-in-the-dark locator and an emergency whistle is also included. It is compatible with Petzl Noctilight Lantern. It is designed for working in extreme conditions.
This headlamp operates on three AAA/LR03 batteries which are included, and also on the CORE rechargeable battery. This is the reason for the word 'hybrid' which you have associated with this headlamp. I think this is a very important feature here. In fact, many Petzl's headlamps are with such a design. It is also compatible with rechargeable Ni-MH.

Specifications
Light output: 200 lumens.
Weight: 86 g (3 oz).
Beam pattern: wide.
Watertightness: IP X4 (weather resistant).
Max autonomy 5 lm: 240 h.
Standard 100 lm: 60 h.
5. Black Diamond Spot Headlamp
Just like the other BD lamps here, this Spot headlamp has been modified recently so the version shown in the picture is with 200 lumens flux.
It looks very similar to the Cosmo headlamp but there are some differences in the functionality. Here again, you have the highest IPX8 waterproof rating so the lamp can be submerged up to 3 meter in water, for 30 minutes.
The lamp has an integrated three-level power meter which you can see in the picture above. It indicates how much power in batteries is left. You also have a lockout feature to avoid having it on while stored in the pocket or in the backpack. There are 5 different colors to chose.
Specifications
Weight with batteries: 90 g (3.2 oz).
Size: 2.25 x 1.5 x 1.25 in (5.7 x 3.8 x 3.2 cm).
Maximum lumens: 200.
Maximum burn time:
– TriplePower LED: 200 hours.
– SinglePower LEDs: 80 hours.
Max light distances:
– TriplePower LED: 80 m.
– SinglePower LEDs: 10 m.

---
6. Black Diamond Sprinter Headlamp 
The picture below shows some important features of this headlamp, and those include the top head strap and the split system with the battery on the back. Such a design and its disperse light make it a great choice for trail runners and climbers.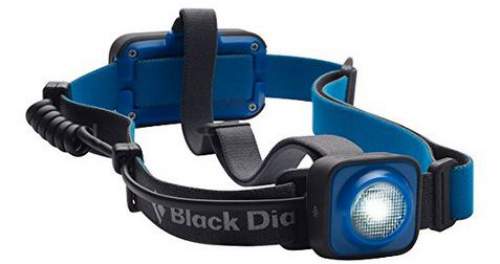 As usual for this brand, this is the latest of several variants they built in the past. This may be confusing, but they have been improving it all the time.
One of its interesting features is the red taillight strobe with on/off programmability for visibility in urban areas. You have three different settings in the taillight; two blinking with different frequencies, and one constant red light. So if you are a street runner and a bike rider in urban zones, now you know what to choose.
Such a design with a rear battery housing is a nicely balanced design with an evenly distributed weight which saves you from having a heavy lamp bouncing up and down on the front. So this feature is introduced here in particular for trail runners.
The Black Diamond Sprinter headlamp can withstand rain and sleet from any angle but its rating is IPX4, which makes it weather-resistant so it is not a waterproof tool.
Specifications
Lumens: 200.
Weight with batteries: 105 g (3.7 oz).
Max distances:
– High: 50 m.
– Low: 2 m.
Max burn time:
– Low: 42 hours.
– Average: 24 hours.
– High: 4 hours.

---
7. Black Diamond Storm Headlamp
This is again a very popular headlamp that has been reshaped and modified in the past and the picture shows its latest version. This is now an incredibly powerful tool and completely waterproof and dustproof.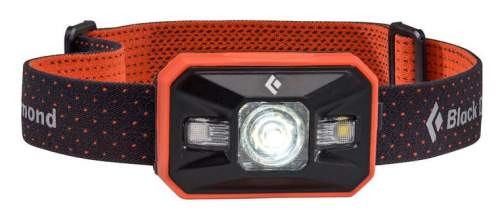 You have 350 lumens here and it has two beam settings, the spot for distance, and proximity for the close range activities. It also features the Brightness Memory, which implies that you can turn the light on and off at a chosen brightness and you return to the setting you were last using.
Yet another feature is the PowerTap Technology which allows for instant transitioning between full and dimmed power through two separate buttons on the side. The locking function allows you to prevent the light from accidentally turning on when stored.
The headlamp works on four AAA Alkaline batteries, and they are included. Note that you have the battery power indicator with three levels.
Specifications
Lumens: 350.
Weight with batteries: 110 g (3.9 oz).
Max distances:
– High: 80 m.
– Low: 11 m.
Max burn time:
– High: 22 hours.
– Low: 160 hours.
IPX rating: IP67.

---
8. Petzl Tikka R Plus Headlamp
This is a sophisticated tool with reactive technology and this explains the letter R in the name. You have a sensor which plays the role in its reactive operation by picking up the amount of light in the surroundings and using this information to adjust the main light. But you also have constant lighting here as well.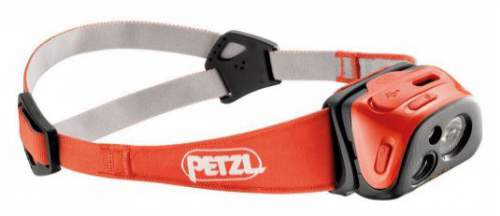 The lamp has a port for micro USB. It is possible to buy an adapter for triple-A batteries as well. It has a white light lamp and the red light which you will use in situations when you want to avoid disturbing people around you. There is also a sensor which plays role in its reactive behavior. It is equipped with a battery charge indicator.

Specifications
Light power 170 lumens.
Weight: 115 g (4 oz).
Energy: 1800 mAh Lithium-Ion rechargeable battery (included)
Watertightness: IP X4 (water resistant).
9. Petzl TIKKA RXP Headlamp
This is yet another headlamp from Petzl with a reactive intelligent design, so the lamp adjusts instantly to the environment and provides the right amount of light.  You need nothing to do manually. For example, if you look into the distance, the lamp powers up and you are able to see farther. It is best suited for mountain climbing, trekking, and backpacking.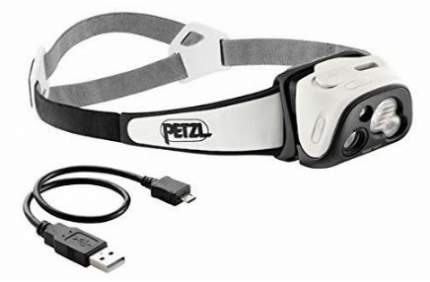 The headlamp comes with a Lithium-Ion rechargeable battery and you can recharge it through a USB, but you can also use it with standard 3 AAA batteries. The burn time and brightness depend on the mode, reactive or constant lighting.
Specifications
Price: $200.
The highest output: 215 lumens.
Weight: 115 g (4 oz).
Watertightness: IP X4 (water resistant).

---
10. Petzl NAO Reactive Lighting Headlamp
The first time I saw this headlamp was in my fourth climb to Teide (3718 m) on the Tenerife island. There were six people in the group so on the way back we were in the dark and we used headlamps. One person in the group had it and I was impressed with it. In the reactive mode, it was more powerful than any headlamp I had seen until then, totally incredible. I must say, physically, it looks more attractive than any headlamp on the market.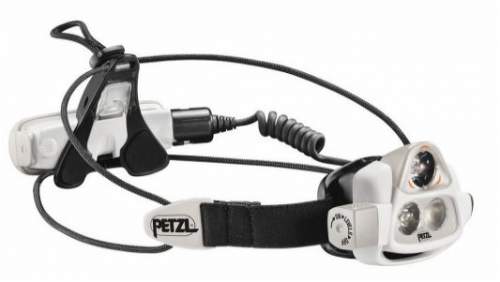 The lamp instantly adjusts to the surrounding, and it provides just the right amount of light that is needed. As you realize this is not simply about the amount of power but about using it intelligently. When you look at a map you will have the light reduced automatically, but when you look in any other direction it will increase instantly. There is a free OS software by Petzl which will allow you to fine-tune the lamp to achieve optimal performance and burn time.
You have many features here. The power indicator is available, wide angle LED, focused LED, you have constant lighting mode (which means stable lighting which does not diminish during the entire burn time), and the mentioned reactive mode. You also have two lighting levels: max power (with brightness prioritized), and max autonomy (with burn time prioritized). Lock function is there as well.
It comes with a 30 cm USB cable, it is rechargeable and programmable through the USB. The battery is Lithium-Ion 2600 mAh rechargeable, it is compatible with alkaline and lithium batteries.
Specifications
Brightness: up to 575 lumens.
Weight: 187 g (6.6 oz).
Burn time: 1 h – 20 hours.
Water resistance: IP X4.

---
11. Coast HL7 Focusing 285 Lumen LED Headlamp
This Coast HL7 headlamp is a part of a series of 8 headlamps, with the lumens in the range 100 – 800. This just to know if you want something more powerful, or perhaps lighter as well because of the differences in the weight of all these models. You have an incredible beam power and beam control, and this is one of the most affordable headlamps here in the list. Can you believe that its price is only $33?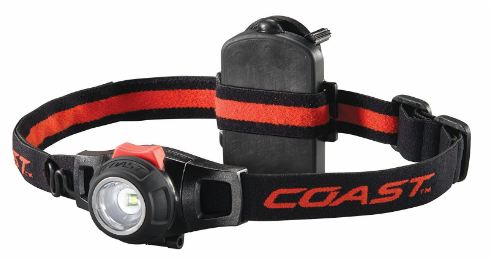 This headlamp has been on the market for some time already and it has been modified recently so do not get confused. The link below points to its latest version.
This headlamp is perfect for close proximity because of its very even beam without hot spots and the control you have over the brightness, and the width of the beam. And speaking about brightness, you have 119 meters beam distance here.
As you realize from the picture, this is a split design with the battery on the back, so this should be a great option for runners. But because of such an even beam, it is great for the camp as well.
They give the statement that it is impact resistant and weather resistant but I have not seen an official rating. You should know it is backed by Coast's lifetime warranty against defects. Note also that this is a lamp with only one bulb.
Specifications
Lumens: 285.
Weight: 250 g (8.8 oz).
Runtime: 1 hour 30 minutes – 70 hours.
Beam distance:
– High: 119 meters (390 ft).
– Low: 13 meters (42 ft).
Lifetime guarantee.

---
12. Princeton TEC APEX rechargeable headlamp
This is a headlamp with head strap and crown strap, similar to the Black Diamond Sprinter above, so it is most suitable for runners. The rechargeable lithium-ion battery pack clips to the head strap but you can also fix it to the belt.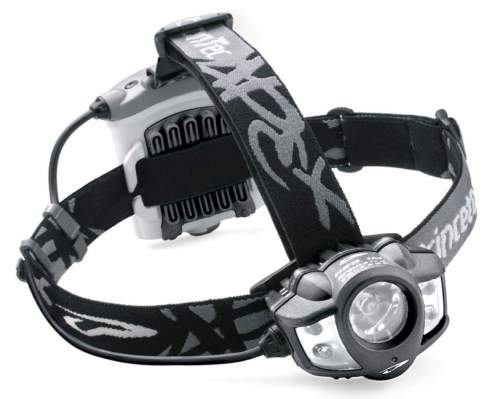 You have a USB charging cable included in the package. Note that there are several options to choose with the luminosity in the range 200 – 350 lumens.

Specifications
Lumens: 275.
Weight 283 grams.
Burn time 90 hours.
13. Petzl Ultra Rush Headlamp
This is an ultra-powerful headlamp with constant lighting technology and it provides an incredible lighting power of 760 lumens. They describe it as a tool for the most demanding situations where you need lots of light, like mountain biking, trail running, and skiing.
It has 4 lighting modes: minimum, economic, optimum, and maximum, and those can yields a burn time anywhere between 2 hours and 38 hours.
This is a split system with the battery on the back, and with the top band; you will need it because this is a quite heavy design.
Designed for intense activities, this lamp provides constant lighting, so the brightness will not diminish for the entire burn time, and this is what you need in such situations. So how they managed it? Well, it switches to reserve mode when the battery is close to becoming flat, so the brightness is maintained.
You have ACCU 2 ULTRA Lithium-Ion rechargeable battery (2600 mAh); 100/240 V charger with interchangeable EUR/US plug included in the package.
Specifications
Weight: 370 g.
Watertightness: IP 67 (waterproof to -1 meter for 30 minutes).
Long-distance beam up to 170 meters.
Burn time: up to 38 hours.

---
14. Petzl Ultra Vario Headlamp
This impressive headlamp is designed for specialized activities where lighting needs and conditions are very specific, like hunting, caving, cycling, orienteering, or fishing. You have a constant lighting technology here.
There are several modes here. The ambient mode provides a wide and less powerful beam for an optimized burn time and for avoiding blinding other people in the group. This gives up to 40 hours burn time. The proximity mode is with a flood beam for proximity vision with up to 10 hours burn time. The movement mode is up 2:30 hours, with a mixed beam which optimizes power for route-finding and for illuminating large areas. You also have the distance vision mode with an incredible 210 meters beam and 4 hours burn time.
Energy for this headlamp is ACCU 2 ULTRA 2600 mAh Lithium-Ion rechargeable battery which is included in the package.
Specifications
Weight: 370 g (13 oz).
3 beam patterns: wide, mixed, focused.
Watertightness: IP 67, waterproof to -1 meter for 30 minutes.

---
15. Petzl Ultra Rush Belt Headlamp
Here you have one of Petzl's specialized headlamps again based on constant lighting technology, and with powerful uniform lighting up to 760 lumens. This is a split system of a particular type with the battery attached to the belt.
The four modes you have here are as follows: minimum (with up to 73 hours burn time), economic (with up to 14 hours), optimum (up to 10 hours), and maximum (up to 4 hours).
Specifications
Price: $460.
Weight: 222 g head elements plus 288 grams belt battery. Total 510 g (18 oz).
Operation at: -30 to +60 C (-22 to +140 F).
Ultra-powerful uniform lighting up to 760 lumens.
Bulbs: 6 LEDs.
Long-distance beam up to 170 meters.
Waterproof to -1 meter for 30 minutes.

---
Final words
So this was my introduction to headlamps and my list with best outdoor headlamps that are currently available on the market. As you realize, the differences can be big in the main three parameters I mentioned above (the weight, luminosity, and price). You have 20 times difference in the weight, and roughly the same is with the price. Regarding the luminosity, they are in the range 50 – 760 lumens.
This is plenty of options to choose for a variety of outdoor activities. All these are top notch tools from very reliable brands. Please follow the links given in the text to see more. If you have any question or comment, please use the comment box below. Have a nice day.

---