---
This Petzl Tikka Headlamp review is about the new version of the popular Petzl model. With 200 lumens, this headlamp is more powerful than ever.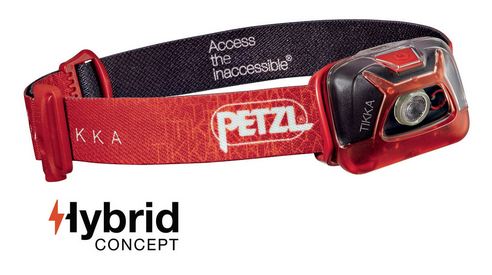 ---
Standout features and key benefits
Lightweight.
Very reliable.
Good value for the money.
Glow-in-the-dark locator.
Emergency whistle included.
Compatible with Petzl Noctilight Lantern.
Hybrid model.
Designed for working in extreme conditions.
---
Many Tikka headlamps on the market
This could be the most confusing of all headlamps on the market, only because of its name. Right now (March 2017), I can see at least 10 different models on Amazon. Just see the list: Tikka 200, Tikka 100, Tikka 80, Tikka +160, Tikka +110, Tikka R+ 180, Tikka HP 180, Tikka XP 160, Tikka RXP, Tikka PRO 100. I hope I did not miss any.
But do not be fooled with slight differences in their names. There are substantial differences in their features. Some of them are very advanced tools with intelligent reactive technology, like the Tikka RHP and Tikka R+, but some others can be very basic.
So let's be clear about the topic; this text is about the latest 2017 model, the Tikka 200 lumens mentioned in the list.
---
Petzl Tikka 200 – description
I would describe the Tikka 200 as a general-purpose headlamp. Petzl itself describes it as a compact tool for proximity lighting and for some movement. The 'proximity' here implies a wide beam and this is its best mode. The new 200 model is quite improved, several new features have been added (red light, strobe, extra mode, it is lighter than the previous version), and yet the price is practically the same.
This headlamp is with a standard but pleasant and easily adjustable headband, but here you have a really low-profile safety whistle, see the picture below. The lamp is simple to use, thanks to its single button with which you can quickly and easily select the lighting mode.
The body of this new lamp is thinner than what you have in the existing 'previous' models. The top button is a bit smaller and you will notice that it works silently, no clicks as in the previous versions. The housing has the usual tilt feature so you can direct the light.
Where does the Tikka 200 belong?
This headlamp belongs to Petzl's classical series. Yet another tool from this series is the Tikkina 150. The meaning is that it works on classic batteries that have maximum power when fully charged and the brightness decreases in time. This is a standard feature for this as well as for any other brand.
So this is different from the constant lighting which you have in several other models from Petzl, like the Petzl Nao. and the two Tikka models mentioned above, the Tikka RHP and Tikka R+. This headlamp also does not include the mentioned reactive technology.
Lights and batteries
Petzl Tikka 200, the model 2017, has white and red lights, completely enough, you will see below about their working modes. The red preserves night vision and stealth, and in the same time, it prevents members of a group from blinding each other. The red color is with strobe function and in this mode, it is visible up to 700 meters, in my view this is a great feature. In this strobe mode it can work for 400 hours.
This lamp uses three standard AAA batteries, and it comes with 3 quality Duracell batteries included. With such batteries, it has an exceptionally long burn time of 240 hours, see more below, so this makes it a great tool for outdoor activities like camping or trekking, or for traveling. This is 10 days, so with one single set of such batteries, you have a light source even for very extended tours. Note, it is recommended not to mix brands of batteries, and also not to mix new and used batteries.
The Tikka 200 is equipped with a phosphorescent glow-in-the-dark locator. It charges when the lamp is on and it helps you find the lamp in the dark, see the picture below.
It is designed to work in a wide range of external conditions, for temperatures in the range -30 to +60 °C (-22 to +140 °F). This looks pretty impressive to me.
Hybrid headlamp – compatible with CORE battery
The Tikka 200 is also a Hybrid headlamp that is also compatible with the Petzl's CORE rechargeable battery. You can read more about the CORE in my separate text. Here to stress that this rechargeable battery is equivalent to 900 standard AAA batteries, a great economical and ecological option.

Compatible with Petzl NOCTILIGHT Lantern
The Tikka 200 (as well as a few other Petzl's headlamps) can be used with the Petzl's NOCTILIGHT Lantern, you simply put it inside and attach the Lantern where you want. There is a switch from the outside, so you have a diffusive light in all directions. This is very handy for tents, it has an integrated string and you can hang it anywhere, see how it looks like:
Here is a very short promotion video from Petzl, so please have a look:
Specifications
Light output: 200 lumens.
Weight: 86 g.
Beam pattern: wide.
Energy: three AAA/LR03 batteries (included), or CORE rechargeable battery (available as accessory).
Battery compatibility: rechargeable Ni-MH.
Watertightness: IP X4 (weather resistant).
Glow-in-the-dark locator.
Guarantee: 5 years.
Housing box colors: black, green, red, blue.
The working modes
The white light has three working modes, and red light has two. See the performances in each of the modes:
| | | |
| --- | --- | --- |
| | White light | Red light |
| Max autonomy | 5 lm; 240 h; max 10 m | |
| Standard | 100 lm; 60 h; max 40 m | |
| Max power | 200 lm; 60 h; max 60 m | |
| Strobe | | 400 h; visible 700 m |
| Proximity | | 2 lm; 5 h |
Those are both 2017 models. As you see from this title, there is a difference in lumens, 200 and 150, respectively.
But in Tikka 200 you also have: a) glow in the dark feature, b) red light, c) strobe function, d) emergency whistle, which you do not have in Tikkina 150.
There is a difference in price, the Tikka is $30 and Tikkina is $20. The Tikkina is with 220 hours of autonomy, as compared to 240 in Tikka.
---
Summary & rating
To conclude this Petzl Tikka Headlamp review, what you have here is the latest and improved version in the line of several versions of this popular headlamp. It has some really outstanding features, the burn time being the most important one. Even in the maximum power mode, you have no less than 60 hours of light.
This is a reliable tool from a renown brand that I trust. I have been using their headlamps in my more than 3 decades of mountaineering. I can fully recommend this headlamp. See below how I rate it:
Note again that with its design and most of the features, the Tikka 200 is very similar to the Tikkina 150 headlamp. If you need something more specialized for trail running, please see this Black Diamond Sprinter 200 headlamp.
Thank you for reading. In the case of question or comment, please use the comment box below. Have a nice day.