---
Petzl TIKKINA Headlamp 150 Lumens is one of the headlamps from the Petzl Classic series which includes several types of lamps, practical and simple tools for everyday use and for outdoors. This is a completely new model that appeared recently on the market.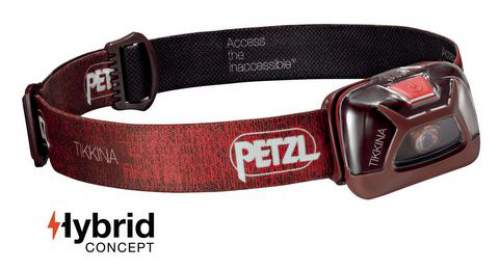 Key benefits
Great price.
Easy to use.
Hybrid type.
Tikkina 150 – description
The new Tikkina 150, 2017 model, is very compact and lightweight, 85 grams only, with one button for the three possible power modes.
This is standard lighting technology where the power stored in batteries is the strongest at the beginning of the operation, with fresh batteries, and it decreases gradually in time. The Tikkina offers 150-lumen maximum brightness and a wide beam for proximity lighting. Its maximum burn time is an incredible 220 hours.
This is a hybrid type, which means it is also compatible with the CORE rechargeable battery, this is the common feature for all Petzl's headlamps from the Classic series.

The head of the lamp tilts as usual. The headband is pleasant, it is removable and washable. This is a wrap-around type (without over the head part), good enough for a casual and comfortable fit without helmet, and I know from my own experience that this type is more convenient for a climbing helmet. I use Petzl Elios helmet and you can see it in my text if you follow the link. The headlamp sits nicely on the forehead and it is with a really low profile.
The lamp and the headband come in several different colors, black, blue, red, and pink. The body of the lamp is a sturdy plastic, and the warranty for this tool is no less than 5 years.
When you open the headlamp, all is well marked inside and adding batteries is easy. When you start the lamp, it is in the lowest mode, an additional click is all you need to get to the next power level.
How different is it from the previous Tikkina 80?
The Tikkina 150 comes after the well known Tikina 80. So, perhaps I should start with what is almost the same, and this is the price, you can see the previous version, the Tikkina 80 on Amazon. So, indeed Petzl did a great job here again, they managed to keep the price the same and came out with a completely new headlamp.
The new headlamp is physically smaller and less bulky, and you will realize this immediately. The button on the top of the new battery is smaller and softer as compared with the Tikina 80 model.
But as their names suggest, the new Tikkina is with almost double power for almost the same price. The previous Tikkina 80 had two working modes, as compared to three in the Tikkina 150, while the burn time is considerably longer in the new model.
Three working modes
The lamp has the following three working modes:
| | | | |
| --- | --- | --- | --- |
| | Brightness, lm | Distance, m | Burn time, h |
| Max autonomy | 5 | 10 | 220 |
| Standard | 100 | 40 | 60 |
| Max power | 150 | 55 | 60 |
So you really get a lot of life from these batteries and the maximum power is truly great.
Weather resistance 
The Tikkina belongs to the group of weather-resistant tools. This implies that it can withstand water splashing from any direction, but not submersion. This is described with its factor IPX4.
For those who are not familiar with the terminology, there are lamps that are with IPX7 and IPX8, those should work even if submerged to -1 m (IPX7) and -5 m (IPX8). In this case, we speak about watertight tools. You can see more about this terminology if you visit Wikipedia.
For outdoor activities, it is absolutely essential to have a tool that is weather resistant. In one of my tours to Teide, my headlamp failed, I was walking through the cloud and everything was wet from the air full of moisture. So I was forced to walk more than an hour in total darkness.
Hybrid design
The meaning of this term is that the headlamp runs with both the CORE rechargeable battery (a lithium-ion battery that charges via a USB) and three AAA/LR03 batteries, without any adapter. Note that the headlamp comes with three standard batteries.
So this is a practical and flexible solution that allows the user to take advantage of each of these energy sources, depending on use. The rechargeable battery is most suitable for frequent/intensive usage. This is better for economical and ecological reasons. 
The economic aspect should be more clear from this: 1 Core battery = 900 AAA/LR03 batteries. The ecological aspects are therefore obvious.

Note also that the term constant lighting is normally associated with rechargeable batteries, and declining lighting with classic non-rechargeable energy sources. Some great headlamps with the constant lightning are available in my page about headlamps, be ready to pay more for such a type.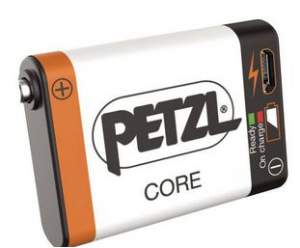 The CORE battery itself is some $30 on Amazon at the moment of writing this text, so this is an investment but it pays off. You should know also that it can be used with several Petzl hybrid lamps, Tikkina, Tikka, Zipka, Actik, and Tactikka, so it is worth investing.
I should stress also that the CORE battery is very lightweight, 23 g only. You can thus reduce the overall weight of the headlamp because you have 33 grams in the three AAA/LR03 batteries.
As you see from the image it has its own universal USB port, no adapters are needed for charging. It performs well even at low temperatures, and it has a very long storage time.
Here is a short video by Petzl about their Classic series, have a look:
Summary of specifications
Weight: 85 g.
Three modes.
Water-resistant: IP X4.
Hybrid lamp.
Guarantee: 5 years.
It comes with three standard AAA/LR03 batteries.
Combination with 

Petzl NOCTILIGHT
Petzl has yet another ultra-lightweight tool, a carrying case for several of their headlamps, including Tikkina, Tikka, Zipka, Actik, Actic CORE, Reactik, Reactik+, Tactikka, Tactikka+, Tactikka+RGB. It is designed to double as a lantern in the camp. See more information here.
---
Summary & rating
To conclude this Petzl TIKKINA Headlamp 150 Lumens review, with under $20, this headlamp is a great gift for anybody, and a nice tool for you at home or in your outdoor adventures. Simple to use and reliable, the Tikkina is really bright, with a wide beam, with three modes, with an incredible burn time, and with an equally incredible five-year warranty. Such a warranty speaks about Petzl's confidence in their new tool. So keep your receipt in a safe place.
The Tikkina 150 is designed to be simple, with not too many features. The Cons mentioned below are indeed not essential and I point them out only to let you know if you need them.
The red light may be useful if you are in huts, to walk around without waking others up or to do anything at close distances where you do not need much light, or to use it if you ride a bicycle.
The strobe is a blinking light, so it may be useful for riding a bike at night or perhaps to use in the case of emergencies outdoor, this in particular if used as a red light. So definitely not bad to have it, but this is not a must.
Having a power lock is more important, to avoid unpleasant surprises when you take the headlamp from the pack or from your pocket and realize that it was on and the battery was flat. The same holds for the battery indicator. But with the classic batteries, this you can feel even without an indicator as their power decrease in time. In any case, please see how I rate it:
I have already mentioned this lamp belongs to the group of Classic headlamps, and you might want to know that Petzl as a renown brand has several other types like Active, Performance, and Specialized. You can see many of them in my section for Headlamps. If the Tikkina is too basic for you, see this Tikka 200 with several extra features.
You might want to see this latest version of the Black Diamond Storm headlamp with 350 lumens and the Cosmo headlamp from the same brand. If you need something as an emergency light source, please this extraordinary simple but reliable Petzl e+Lite headlamp.
I hope this text has been useful. If so, please share it with others. I love to hear from you, so use the comment box below. Have a nice day.