Climbing Mt Teide is always demanding and this holds in particular if you make a tour of 20 kilometers as I did in my 5th climb to the mountain. This time I followed the route which starts at the hotel Parador and continues to Pico Viejo from its south side, and then to the west-side El Teide route.
[Bach – Erbarme dich, mein Gott.]
This was my farewell to the great mountain. I climbed it twice before coming to Tenerife. During my present stay on the island, I climbed it again 2 times. My stay on Tenerife is coming to the end, so I decided to do my last pilgrimage.
I decided for the approach which I have not done in the past: to climb El Teide together with Pico Viejo, and to traverse the mountains. This is my report of the tour.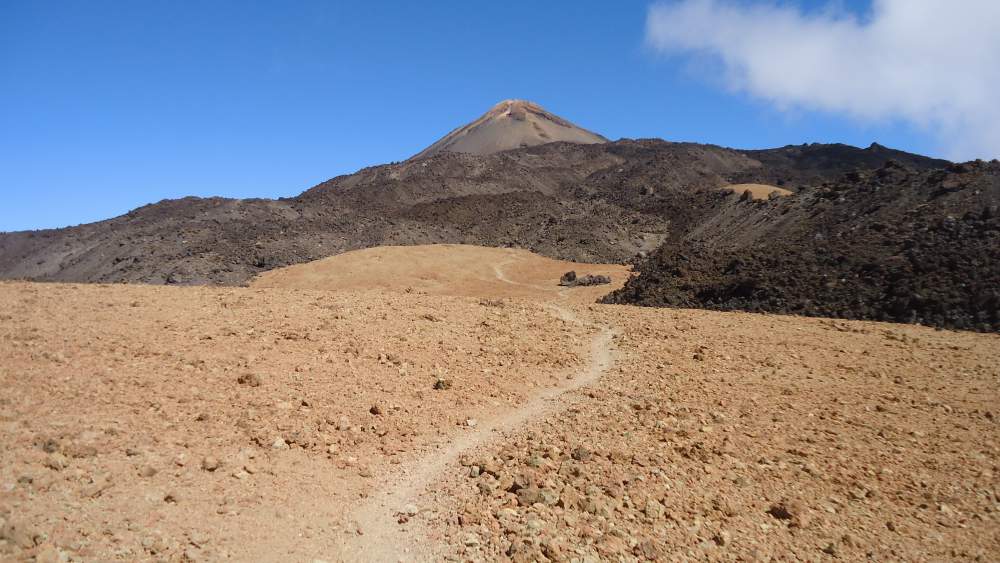 Equipment
You do not need any special equipment to do this route. Any hiking shoes or boots will be good enough. Here is a short summary:
From Parador to Pico Viejo
I came from Santa Cruz along the Esperanza road, parked the car at Montaña Blanca parking in order to have it there when I descend the mountain after climbing it from the other side. My intention was to continue by bus to Parador.
I still had more than half an hour to wait, but luckily there was a car just leaving the parking. It was a girl from Bulgaria, I asked to give me a drive, she agreed and saved me half an hour. At Parador I thanked her and started the tour at 10:30 am.
The route has the number 23; it passes Roques de Garcia at the east side, which is closer to Parador. After 20 minutes you are off the usual touristic path which goes around Rocques, and you will be heading toward Pico Viejo.
The path is clearly visible, there are some markings on the rock, it is never steep so you will make progress fast. Compared to the west side route to Pico Viejo, which passes Narices del Teide, this south approach is far easier. The former is far steeper and with soft sand. I described that west route and my climbing Pico Viejo in my another post.
Somewhere in the middle of this part of the route I met a group of people descending from Pico Viejo, no other people after that.
So within three hours exactly I was at the saddle which separates Pico Viejo and Teide. At this point, the crater is just a few hundred meters on the left.
The clouds were coming all the time and they were going higher and higher, and I was worried about the rain. The forecast for the island was not favorable but I was hoping to be above clouds just like during my first climb to Teide mountain 6 years ago. So I did not waste time and I continued toward Teide.
Here are a few photos from the Parador-Pico Viejo part of the tour.
From Pico Viejo to Teide
The beginning of the section from Pico Viejo is simply beautiful: a pleasant path up along an area covered with orange volcanic sand, hard surface enough and not steep at all. You can see it on one of the photos below. The route is marked as number 9.
After that, I was in black lava boulders area. This is not so simple to navigate through, and I would not recommend to pass it at night time. At one point I took a rest, enjoying watching the crater of Pico Viejo below me; it was filled with clouds.
But the view was changing rapidly and a huge cloud front was rolling from the west. I could see such an internal motion in the clouds very clearly, they were nearly at my altitude and approaching fast. It looked a bit scary, this gave me some extra push in the thin air. A few drops of rain but nothing serious, I was just in front of the clouds all the time.
Somewhere in the middle of the boulder area, I met a woman descending from Teleferico lift station. I asked if she was waterproof and she said yes, I knew she would be OK.
I arrived at the area with the lift station far ahead of schedule. My initial plan was to wait till guards go home with the last lift back to the big crater are below. But I had 90 minutes to wait. So instead of waiting, I found a shortcut and avoided going to the checkpoint. Soon after that, I was on the final part towards the summit. This saved me a lot of time and this meant that I should spend less time later descending in the dark.
⇒ Related: Can You Climb Mount Teide Without a Guide?
It was sunny on the summit, clouds were below and they looked magnificent. But the wind: in some moments I was afraid it could blow me away from the path.
I was on the summit at 4:30 pm, so this was in 6 hours from Parador, not bad timing. There was nobody around, and nobody was coming. Perfect for my purpose of being there: to say the last goodbye to the mountain. And I did it.
I think I have never experienced such a strong wind anywhere at all. To stay there, I had to take shelter behind a rock. After just some 10 minutes I left. I could see the storm below the mountain, but no rain around me; it was inside me.
Here are some photos.
Descending by Altavista hut to Montaña Blanca parking
The descent route was well known to me, I passed it 4 times earlier. In the middle of the lava boulders above the Altavista hut, I met one person. He was staying there with the camera and waiting to capture some nice moments of the sunset. He was shivering quite visibly. It was cold, the night was coming. I could understand his passion well. I said goodbye and continued.
Below Altavista I prepared my torch and it was working properly, but I did not need it yet. I met several groups climbing up, obviously to stay the night at the hut. Later, on the lower part below Montaña Blanca I wanted to use the torch, and it did not work. I was in the cloud, so I guess it was the matter of condensation from the air. I shall not have it in my equipment again.
I continued for another 3 kilometers through the night, almost no visibility at all. I was at the Montaña Blanca parking at 19:40. So I did the tour in 9 hours and 10 minutes.
It started raining heavily and it remained so all the way along the Esperanza road toward La Laguna. It turned out that my rented Fiat Panda was not waterproof. But all was fine in the end, I was in Santa Cruz at 21. What a day, one of the best ever! Well, nothing less one can expect from climbing Mt Teide, a natural wonder.
---
If you plan to go to Tenerife, just to know that you can do your accommodation reservation through Booking.com. I have used their services many times in the past and can fully recommend them. Did you know that they have their Genius Loyalty Program, so you can save a lot if you book through them several times.
Thank you for reading. I shall be happy to have some comments in the box below. You might like to read a few other texts within this site about climbing on Tenerife: