---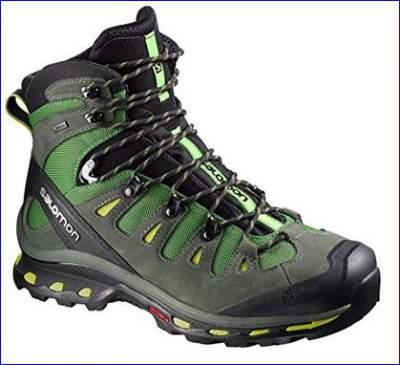 In this text I present the best waterproof hiking boots for men by taking into account the following 7 most important criteria:
protection from elements,
durability,
comfort,
stability,
price,
weight,
versatility.
The criteria mentioned above are given in no particular order.
Ideally, boots should satisfy all these criteria at least up to some level.
---
My list of 7 best hiking boots
Here are the boots in alphabetical order, all described in detail in the site: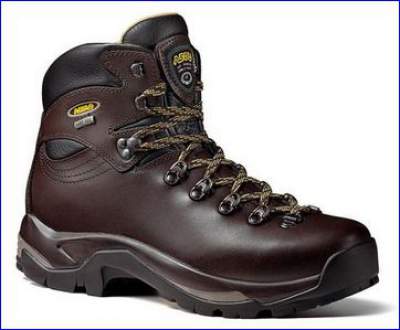 To read more about these boots please follow the links. Observe that these are not insulated boots and they are not with rigid soles.
This implies that:
none of them is suitable for step-in crampons or hybrid type crampons, but
all of them will be perfectly fine with so called strap-on crampons.
About this terminology please see my page about equipment. So these boots will be good enough for any non-technical glacier walk with flexible crampons. As for their use for hiking and backpacking, this will depend on the type of tours you plan. The text below may help you in making decision when you buy boots for you.
---
Protection from elements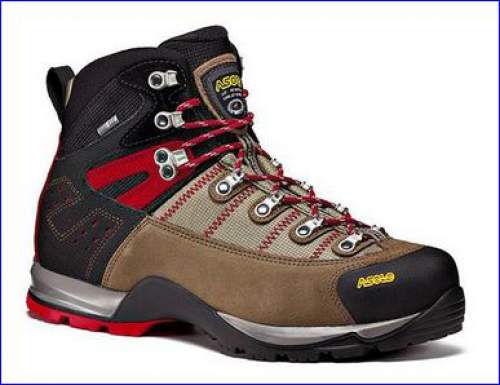 This criterion implies that the boots are waterproof, but it necessarily goes together with breathability. All the boots listed above are waterproof and breathable.
When I think about boots I usually bear in mind Alpine conditions. This implies sudden rains or snow, and walking over snow fields even in mid summer. Therefore I do not consider boots and shoes which are not waterproof.
The waterproof technology used in the boots from the list is Gore-Tex (all except Timberland White Ledge). Breathability is thus a part of the package, and it is enormously important.
---
Durability
In general, with respect to durability, I would expect most from the all-leather boots like Asolo TPS 520 GV.
Such boots are with the minimum number of seams. Seams are generally weak points in any boots and shoes, in particular with respect to leaks, even if they are taped. So the less seams the better.
---
Comfort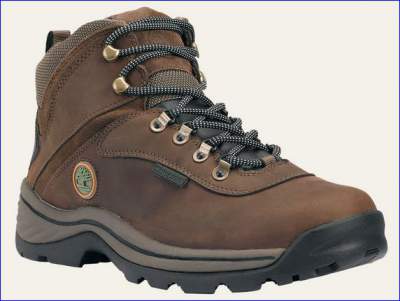 Several of the models from the list are so nicely built that they need no break-in time. They are ready for long walks literally out of the box.
The Adidas model is the first that comes into mind. They are with such a design that they can be used even for trail running.
But on hard terrains and with a heavy load, to avoid fatigue, you will need boots with a more hard sole, and with more ankle protection.
Just bear in mind that most of them need a proper break in period. For some very hard boots (like my own Meindl boots) this may be no less than 100 kilometers!
Comfort is also closely related with breathability. So it all depends on the environment. See my comment below about my climbs on Tenerife island. In a warm environment, you will not mind if your feet get wet from outside, but you will want to have boots with a good ventilation.
So for very short and very fast tours I would go for Adidas boots. For extended hard backpacking and hiking tours my preference would be any of the Asolo boots or Salomon boots. Anywhere in between, I guess, I would go for Vasque St Elias.
---
Stability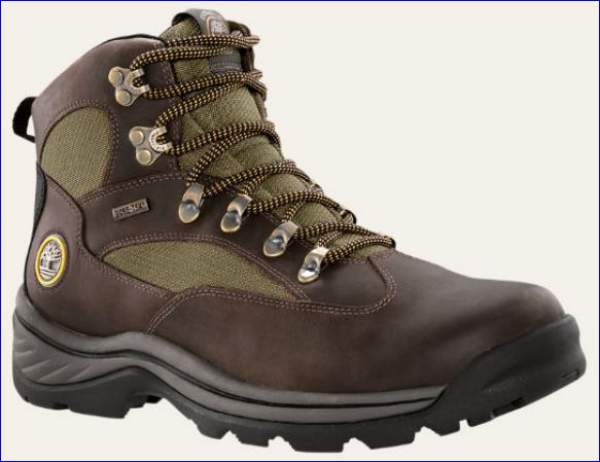 All the boots presented here are mid cut. So as a rule, they do not provide the best possible ankle support and torsional stability. But full cut boots are usually far heavier and far more expensive.
But even in this case, there are differences in the height. You will notice that the Adidas model is rather low, therefore great for going light and fast, and for a not too hard terrain.
But if this is about carrying heavy packs and about long walks over rough terrain, you might want to consider some other model from the list, like Asolo TPS,  Salomon Quest model, and Vasque St Elias GTX.
---
Price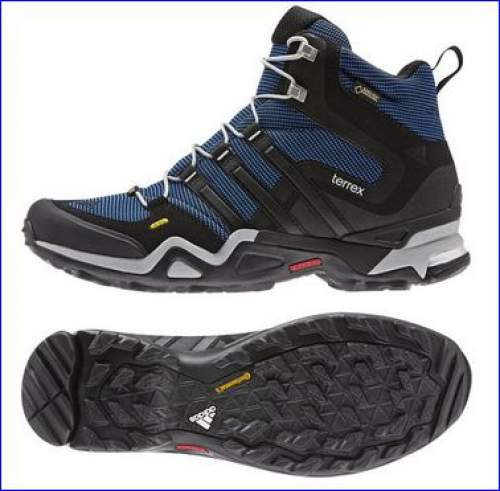 Buying a pair of good boots is an investment, but they will serve you for years.
My own main mountaineering boots are from 2007, a pair of Meindl hard boots which I use with crampons as well. So after almost 9 years of wear, they are still in a very good shape, you can see them in this page.
Almost all climbing tours in the Alps I have done using those shoes, have a look into the pages about Swiss, Italian, German, and Austrian Alps. So the point is, I am ready to pay for good boots and shoes.
In the moment of writing this text, the prices for the 7 models in the list are in the range $80 – 289. The difference is clearly huge. The least expensive are Timberland White Ledge and the most expensive are Asolo TPS. It is interesting to observe that in fact both of these models are pure leather boots.
---
Weight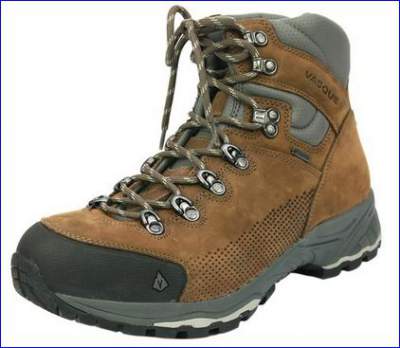 This may be of importance for many, but I would not stress too much about weight as a criterion. The reason is simple.
Some boots are indeed heavier, but there are good reasons for that, like their construction (e.g., their height, the type of the sole), and material (leather is generally heavier than synthetic).
The shape and the material of the boots will tell you what they are designed for. So, knowing this, you will not count grams. You will buy boots that serve the purpose.
You will not choose those Adidas boots if you are on an extended tour with a 60 or 70 liters pack on your back. Remember, you need support and stability, so a good ankle support and hard soles are essential.
---
Versatility
This may be important because of the following. Will you use the boots for outdoor activities only occasionally or frequently?
You have seen the pictures above. The Adidas and both Timberland models can clearly be used in an urban environment, around town, for your daily work, and for any work at home. But I would not use Asolo TPS boots for the same sort of activity.
---
My favorite?
OK, I am ready to tell you, this is Salomon Quest 4D.  Do not ask me why, I simply love these boots, the combination of synthetic and leather, the design.
I guess you will agree that they really look good, their price is in the middle of the range mentioned above, and their features are just extraordinary.
Though my choice is not absolute. You know, recently I have stayed one year on Tenerife island and climbed all mountains there. Some of my hiking and climbing tours (but not all of them) are described in the site. So for such a volcanic but mostly dry environment, waterproofness was not essential. Breathability? Definitely yes.
---
What will you choose?
I would not dare to suggest you anything. You will know best the purpose of buying boots for you. I am hopeful that I have presented all essential facts about them, just follow the links above. If you need a pair of hiking boots for women please see this text.
If you need reliable insulated and waterproof boots, please check this model by Oboz.
---
Thank you for reading. It will be great to have some comment from you. Have a nice day.
---
Here is a useful video about choosing right boots for you, have a look:
---