---
Recently, Petzl has launched what they call the CORE battery for their hybrid headlamps. So what is Petzl CORE battery? You will find the answers here.
---
Benefits
Versatile, suitable for many Petzl headlamps.
Very economical solution.
Easy to use and to charge.
Lightweight.
---
CORE – Rechargeable battery compatible with Petzl HYBRID headlamps
This battery should not be mixed with the Accu Core rechargeable battery that was popular some six or seven years ago. This CORE is a completely new product.
What are Hybrid headlamps
In the title you see the term Hybrid, so a few words about this first. Those are Petzl lamps that work on both classic AAA type batteries and on the CORE battery. These are the following headlamps from several Petzl's groups:
Classic Series:
– Tikkina.
– Tikka.
– Zipka.
Active Series:
– Actik.
– Actik CORE.
Specialized Headlamp Series:
– Tactikka.
– Tactikka+.
– Tactikka+ RGB.
So the CORE works with all those headlamps, more versatile it can hardly be.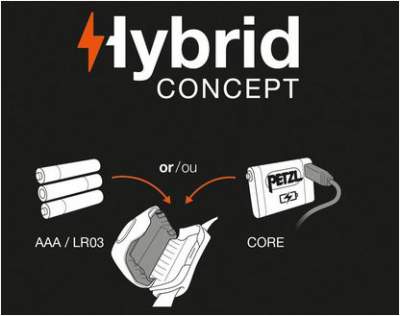 What is the CORE and how it works
This is a high-capacity Lithium-Ion 1250 mAh rechargeable battery. For climbers and mountaineers, it is good to know that it is designed to work even at low temperatures, and it recharges directly through the integrated USB port, no adapter is needed for this. Note that it comes with a micro USB charging cable. Using it instead of AAA batteries makes your headlamp some 10 grams lighter.

The CORE is perfect for frequent use, and according to specifications, it is equivalent to 900 AAA batteries. This is equivalent to a trash bin full of AAA batteries, literally, with all nasty chemicals they contain. Quite impressive for such a small tool.
If you assume that good batteries are around $0.3 – $0.5 per piece, you would spend $300 -$450 for these 900 batteries. Note that the CORE is $30. So these are great economical as well as ecological reasons for using such a rechargeable battery.
There is a charging indicator on the body of the CORE, the red indicates charging and green means it is fully charged. As you see in the picture, you can charge the CORE even without taking it out from the housing.
When not used, it is recommended to store the CORE in a dry and ventilated area. But charge it before extended storage, and recharge it after the storage.
The optimal work temperatures for the Core are in the range from 0°C to +45°C (or from +22°F to +113°F). However, the battery is able to operate in a much broader range from -30°C to +60°C (or from -22°F to +140°F).
---
The burn time
This is depicted in the picture:

You can compare this with the data for Tikkina headlamp when it is used with three AAA batteries:
Max autonomy: 220 h.
Standard: 60 h.
Max power: 60 h.
Obviously, the classic batteries provide far more burn time. The lamp's lighting performance changes when you switch from standard to rechargeable batteries and the difference is in lighting stability. Basically, the power changes by following different curves.
The initial power with standard AAA batteries is stronger, but it decreases faster in time. So some 30 minutes later, the power of standard batteries will drop below the power of a rechargeable battery. But later, the power of the CORE drops below the power of the classic batteries. You could visualize this as an exponential and linear decrease for the classic battery and the CORE, respectively.
You could visualize this as an exponential and linear decrease for the classic battery and the CORE, respectively, so that the two curves cross each other twice.
In this video, you can see how the CORE is used with one of the headlamps mentioned above.
---
Specifications
Weight: 23 g (0.8 oz).
Type: rechargeable Lithium-Ion 1250 mAh.
Recharge time: 3 h.
Guarantee: one year or 300 charging cycles.
Charging via the USB port.
Charging indicators.
Charging cable included.
---
Summary & rating
So to conclude this text, I hope that now you have a more clear picture of what Petzl CORE battery is. It is perfect for frequent use, at home or wherever you have the possibility for recharging. This can be the standard wall power, or solar power if you are on the trail. Also, did you know that now there are even wood-burning backpacking stoves with an energy transforming mechanism so that you can charge such batteries while cooking on the trail?
In view of its relatively short burn time, on the trail, it is best to combine the CORE with a set of classic batteries. Clearly, the CORE is a great tool, so many of Petzl headlamps are designed to work with it, and their number is growing. You can see one of them, the recent model Tikkina 150 presented in the site.
Note, in general, Li-Ion rechargeable batteries lose their capacity in time. But after 300 charge/discharge cycles, the CORE still has about 70% of its initial capacity. Please see how I rate this product:
Thank you for reading. I love to hear from you so let me know if you have a question or comment, there is a comment box below. I wish you a pleasant day.