---
As the title suggests, this Black Diamond Cosmo Headlamp review is about the latest version of the popular headlamp, more powerful than ever, with 200 lumens.

---
Key benefits
Very reasonable price.
Completely waterproof electronics.
Very bright.
---
What is new in the new model
Physically, you will not see the difference, so if you order it, make sure it is the latest version.
The new version is with 200 lumens, as compared with 160 in the previous 2016 version.
The burn time for the new model is 180 and 30 hours (for low and high modes, respectively) as compared to 250 and 50 in the previous model. So clearly, this is not an improvement.
The beam distance for the new model is 70 and 10 meters  (high and low), as compared to 60 and 12 in the previous model.
The most important difference is in the IP rating. The new version is IPX8 (so totally waterproof electronics) as compared to IPX4 in the previous model.
There may be the difference in price, dependent on where you order it.
Note, there is still the 2015 model available on Amazon and elsewhere, but this is quite different by design and you will not get confused. It is with 90 lumens.

---
More about the features
The most important to start with is the waterproof housing with the rating IPX8. If you are not familiar with this terminology, please see here more. This is practically the highest level. Though, there is yet another with the number 9 but this is about hot water, so probably not something to consider in any case.
The meaning of the number 8 is that the headlamp can survive water immersion down to 3 meters. So this is definitely a reliable tool, much better than its previous version which was weather-resistant only. There is a big difference between the two. You will see in the video below how the Cosmo works in a jar of water.
The lamp is with two working modes, you will see this in the video below, spot beam and proximity mode. The maximum number of lumens 200 in the specifications is for the case when the two lights are combined.
The red light is with strobe function and it can be dimmed as well. The lamp works on three AAA batteries, so this is a classic lighting technology, no reactive features or constant lighting. The maximum power is in the beginning and it decreases exponentially.
Regarding the beam distance, with 70 meters the Cosmo is slightly below the Black Diamond Spot and the Storm headlamps, which have 80 meters beam distance. Not a big difference for sure.
See this short video about the new Black Diamond Cosmo headlamp:
---
Specifications
Lumens: 200.
Weight with batteries: 84 g (2.9 oz).
Max distances:
– High: 70 m.
– Low: 10 m.
Max burn time:
– High: 30 H.
– Low: 180 H.
IP rating: IPX8.
LED Type: 1 TriplePower, 1 DoublePower, 1 SinglePower.
Batteries: 3 AAA, included.
Colors: 4.
---
Comparison with BD Storm 
There is a new version of the Black Diamond Storm headlamp, so see here how the new Cosmo compares with it:
Black Diamond
Storm

Black Diamond 




Cosmo

Weight (g)
110

84

Max lumens
350

200

Max burn time, h
160

180

Max distance, m
80

70

Rechargeable
no

no

Power lock
yes
yes
Constant lighting
no

no

Reactive
no

no

Strobe function
yes
yes
Waterproof
yes, IP67

yes, IPX8

Battery power indicator
yes
no
Dimming
yes
yes
Hybrid
no

no
---
My own Cosmo headlamp
I own this headlamp, I was lucky to find it in our local outdoor shop in Belgium where I live. The price was reasonable for such a quality tool, I paid 34 Euro. You can see it in the picture below.
I am preparing for my tour to the Austrian and Slovenian Alps, not completely sure yet where I shall climb next week because of such an early season, there is still a lot of snow (I am writing this in early May). So, the Cosmo from the picture below will be in my backpack. I am sure I have a reliable waterproof tool, this is what I shall need there.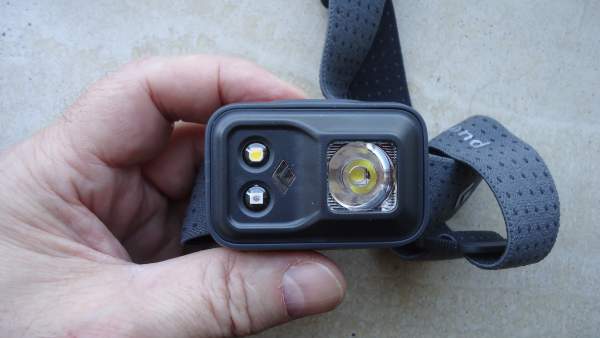 ---
Summary & rating
So to conclude this Black Diamond Cosmo Headlamp review, this is a reliable tool, simple and functional, no wow factors and bells and whistles. This is a tool designed to do the job. I own this headlamp, and I trust the brand behind it, and therefore I can fully recommend it.
I would love to have a rechargeable option for frequent use, like in the case of Petzl's Hybrid headlamps, like Tikkina 150, which use both the CORE battery and classic batteries. This is more economical and ecological. Please see how I rate it:
If you feel this is not what you need, please see my page with many great models described. One of them is the Petzl Tikkina 150 with a simpler design, but see also this Petzl e+Lite ultra-lightweight lamp. Note that the Black Diamond Spot headlamp has also been redesigned and the version is available on the market.
Thank you for reading. In the case of comments and questions, please use the comment box below. I wish you a pleasant day.