---
The new Black Diamond Spot Headlamp is a completely redesigned and waterproof version of the most popular headlamp. It is submersible for up to 30 minutes and it has an incredible maximum power of 200 lumens, and the maximum burn time up to 200 hours. 
Note, there is a new version of this headlamp, please see below more.
General description
BD Spot headlamp is a great tool in any of its versions. It is suitable for any outdoor activity, like mountain climbing, hiking, backpacking, or for emergency situations. The design is simple and easy to use.

The differences between the old and the new version are such that it is surprising they did not launch it as a completely new model. The shape is redesigned so the lamp is rather rectangular. The power is increased to a maximum 200 lumens in the maximum mode.
This new version has IPX8 waterproof rating. This implies it will work even if submerged up to 1 meter in water, for 30 minutes. Truly amazing for such a simple lamp, in particular in view of its price.
It has SinglePower red light LED. On the front, it has an integrated three-level power meter which you can see in the picture above. It indicates how much power in batteries is left.
The lamp has a lockout feature, to avoid having it on while stored in the pocket or in the backpack.
The headband is elastic and comfortable, easily adjustable to any head and helmet size.
How it works
You have essentially two different modes, for white light and red light. Within each of these two, you have a possibility to dim to various levels, going as low as a few lumens only. For the white light, you can choose between the triple and single powered LEDs.
All is regulated by the button on the top and by the PowerTap button on the side. These are the same features you have in the old model as well. You will be able to see this in the video below.
What is new in the new version
The changes are in the design (imho, not so good) and in the technical side (very good). Here is the summary:
The shape is different and this is the first thing you will notice. The new model is more rectangular, see it below on the left. I am not sure if I like it more than the old version. See them both in the pictures below.
The position of the LEDs is changed. Instead of single-powered LEDs positioned on both sides of the main LED, in the new model these two are on one side. So you have an asymmetric design now.
The new version is waterproof. You can submerge it for 30 minutes and it will still work, see this demonstrated in the video below.
The power output is increased to 200 lumens, instead of 130.
Technical specifications & summary of features
Weight with batteries: 90 g (3.2 oz).
Size: 2.25 x 1.5 x 1.25 in (5.7 x 3.8 x 3.2 cm).
Maximum lumens: 200.
Maximum burn time:
– TriplePower LED: 200 hours.
– SinglePower LEDs: 80 hours.
Max light distances:
– TriplePower LED: 80 m.
– SinglePower LEDs: 10 m.
One TriplePower LED, one SinglePower white LED and one SinglePower red LED.
PowerTap feature allows for simple transition between full and dimmed power.
Red night-vision mode has proximity and strobe settings. It is activated without going through the white mode.
Three-level power meter shows remaining battery life for three seconds after switching on headlamp.
Settings:
– full strength in proximity and distance modes,
– dimming,
– strobe,
– red night vision,
– lock mode.
IPX Rating: 8.
Waterproof; submerged up to 1 meter for 30 minutes.
LED type: 1 TriplePower, 2 SinglePower (1 white, 1 red).
Batteries: 3 AAA, included.
Colors: 5
Users' experience
The new version of BD Spot Headlamp has been on the market for several months only. Nevertheless, there already exist a number of reports at several sites. It is nicely rated by Amazon customers, who gave it a very high average rate.
New version
Yeah, you are reading correctly, a new version is available on Amazon. The weight is the same, the IP rating the same, the main difference is the power. You have 300 lumens in the new version. There are differences in the LEDs setup, see the picture: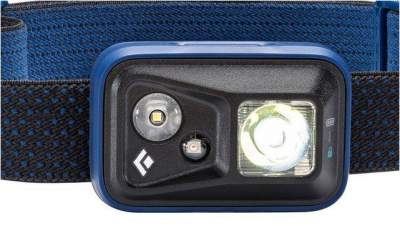 Conclusion
To conclude this review of the new Black Diamond Spot Headlamp 2016, this lamp has some incredible features like the power and burn time. In addition, it has been made waterproof. With this all in mind and in view of the price below $40, I rank it higher than other top brands,  some of them mentioned in the table above.
You might want to compare this headlamp with the Petzl Tikkina 150, a new model that appeared recently, and with the Black Diamond Storm.
Check at REI
I hope this text has been useful to you. If this is so, please share it with others. Check the links given above for the latest updates about the price. Note that you might be eligible for a free shipping as well.
Thank you for reading. I shall be happy to have some comment from you. Have a nice day.